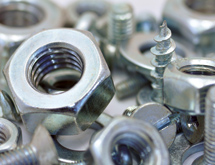 About 98 percent of Blue Grass Plating Co.'s business is from the automotive industry, and that works very well for the business based in Richmond, Ky. In fact, Vice President of Operations Todd Burchell explains that the company is most proud of the fact that a family owned business successfully caters to one of the biggest industries in the world. Even better, right now that business is booming.
"We have been very busy," Burchell says. "Customer demand and sales are as high as they've ever been. Our customers are very strong, and we are working a lot of weekends because of the demand we're seeing."
Blue Grass Plating offers cathodic epoxy e-coat, trivalent zinc chromate and high-volume zinc electroplating metal finishing services, as well as black oxide, zinc phosphate coating, passivating, cleaning and pickling, and hexavalent and trivalent chromates. Founded in 1969, the company operates out of two facilities – each more than 100,000 square feet in size – with a ISO 9001:2008 certification.
"We work with automotive customers and suppliers, Tier II, Tier III and the OEMs," Burchell says. "We operate off of engineering specifications – if a customer asks us to quote a part or coat a part, we first look at the engineering specs to see if we can even do it. It is important to us to ensure things are in place to support the function, and we try to do everything to the letter.
"Additionally, with anything we do, we have verification tests – outside testing, laboratory testing and destruction testing – to verify a part prior to shipping," he adds. "We want to ensure all the parts meet the specifications and expectations of our customers."
Standard Setting
For Blue Glass Plating, its dedication to quality is just part of the service it provides. The company invests a lot into its more than 130 people because it knows that they are the frontline when it comes to the quality and service it delivers. Its quality program is very extensive, and Blue Grass Plating has personnel on staff to help it enforce quality.
"We focus on safety and quality because of customer demands – we have to maintain a certain standard to work with some customers, and we are happy to do that," Burchell says. "We have the ISO quality certification in place, but we also send our people to other certification programs. We work closely with our people so they understand the standards and work under the ISO guidelines."
The company also is making investments to enhance its quality and efficiency. "We're focusing on more environmentally friendly coatings to reduce waste, and we no longer use any hazardous materials," Burchell explains. "With new technology and environmentally friendly coatings, we've really helped our customers reduce costs."
Important Impact
Blue Glass Plating purchased its second facility six years ago, and since then has expanded into electrocoat painting for steel parts. Within the past four years, Burchell says, the company has grown to four times its original size, and expects to double its current size within the next two years once it purchases another painting machine.
"We are very experienced and very service-oriented, and that drives our business," he says. "We compare ourselves to our competitors, and we do not lose customers because of quality, turnaround time or price. We have a good technical staff and a good support group."
He explains most competitors have a one- to two-week turnaround time, but Blue Glass Plating can provide next-day or same-day turnaround.
With these capabilities in place, as well as its ongoing dedication to quality, safety and service, Blue Glass Plating is confident of its continued growth and success with its customers. "This is a privately held, family owned business, and we are proud of the impact we have on a rather large industry," Burchell says. "The service we provide helps with warranties and corrosion protection, and that is valuable to our customers."