Disruptive recruitment
Supported by next-generation technology, Blue Octopus has developed an innovative talent acquisition platform to save time and money for its clients, among which are some of the biggest names in the manufacturing industry
For many years, the manufacturing industry has shown scepticism towards the use of advanced technology in its recruitment process. With the digital revolution still in full swing, though, cagey views are starting to give way to a greater open-mindedness and desire to take advantage of the time and cost-saving solutions that are available.
In many respects, Blue Octopus' technology is years ahead of the conventional in terms of recruitment for the manufacturing industry and many other sectors. A veritable ambassador of a bold approach that joins the dots for everyone involved in the process, the Leeds company has developed an applicant tracking system (ATS) like no other. Called Octo, the talent acquisition platform has a plethora of in-built features that help it to excel in functionality, providing Blue Octopus' clients with a holistic system that saves time and money.
"Technology underpins everything that we do and the disruptive model we have established with Octo adds great value to the recruitment process of some of the world's biggest manufacturing companies, such as Saint-Gobain, the NSG Group, and Kimal," discusses Chris Coleman, co-founder and Director of Blue Octopus.
"It is the agility of the system and of our operation as a company that is our biggest strength," Chris continues. "Our capability to continuously modernise the technology and adapt it to our clients' needs has been instrumental to its popularity. We can easily integrate Octo Platinum with third-party software and, crucially, it is a tool that can be adapted to integrate with new divisions within a growing business.
"Another key capability of Octo is the talent bank it can create, where the details of quality candidates are saved, thus allowing the employer to reach out to them, should a suitable vacancy open up later in time," he points out. "This is another example of how the system saves our clients money, because it gives them direct access to a healthy pipeline skilled professionals,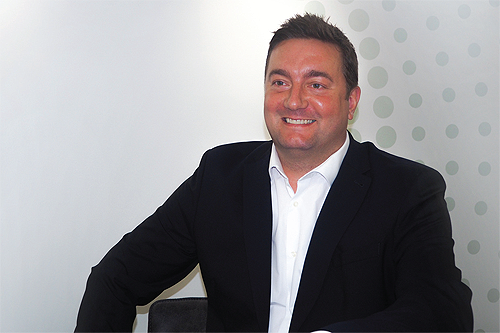 eliminating the need to use agencies."
What distinguishes Blue Octopus in the market, is its ability to think from the applicant's perspective. By putting itself in the candidate's shoes, the company has discovered that offering a branded product on behalf of a client is something that contributes to the applicant's positive experience. "As I said to one of our customers recently 'the platform is your shop window and our goal is to make sure that we are keeping people engaged and looking at that shop window.' The ATS is branded in the client's logo and colours; so that the candidates never feel that they are being redirected to an external system. It is all about creating the best experience and when all the positive features reveal themselves to the applicant, they understand that they have the opportunity to join a forward-looking business that keeps its finger on the pulse of technology. In fact, we can track how many of the people hired through Octo have stayed on with the business and the data shows unambiguously that the retention rate is very high," Chris explains.
"Naturally, we continuously look at how we can improve the software, but it is, first and foremost, the feedback we receive from all interested parties – clients, candidates, and HR professionals – that drive any changes we introduce," he notes. "We want to listen to them, but we also make sure we are kept in the loop regarding the release of new software or methodologies, too. We go to a lot of networking events and conferences, in order to follow how technology develops and get inspired as to how we can maintain the agility of our product."
Chris goes on to define one of the main challenges lying ahead for Blue Octopus in the coming years: "We still need to educate some representatives of the manufacturing industry that technology is good. There is a bit of a generational issue where the older population can be a bit nervous of utilising it, but when they get to see it, they start to realise that it really does solve problems. We are also aware that, despite the multitude of features it contains, the ATS should not feel overloaded for the candidates, so we have to make sure it continues to be easy to navigate."
Following some fresh investment from a small number of new shareholders that joined the business, as well as the appointment of a Commercial Director, Blue Octopus is set to grow its turnover again. In addition, the company has now set its sights on global expansion, with other European markets and the US being its main targets. "Software as a Service (SaaS) can definitely gain traction in America," Chris opines. "Moreover, the system already has multilingual capabilities because a lot of our clients are very large groups that have offices all over Europe. Octo can easily be adapted to these locations to further enhance the customers' experience.
"As we continue to go from strength to strength, we will remain open to new ways of working with our clients. One size does not fit all, so we adapt existing solutions to suit the needs of a particular customer. We have welcomed many new clients on board recently and have had lots of renewals from existing ones, bringing excellent results. Long may that continue," he concludes.
Blue Octopus
Services: Talent Acquisition Solutions
https://blueoctopus.co.uk