A blueprint for success
When demand for Bluetree's core services dropped as a result of the Covid-19 pandemic, the UK's largest online printing specialist transformed itself into a key manufacturer of surgical masks, and in doing so, added a lucrative new string to its bow
When James Kinsella and his childhood friend Adam Carnell launched Instantprint from a small and 'freezing' office in Newcastle, the pair aimed to make the world of print as easy as possible for small companies. After making a name for itself with initiatives such as advice for start-ups, artwork checks, and free design templates,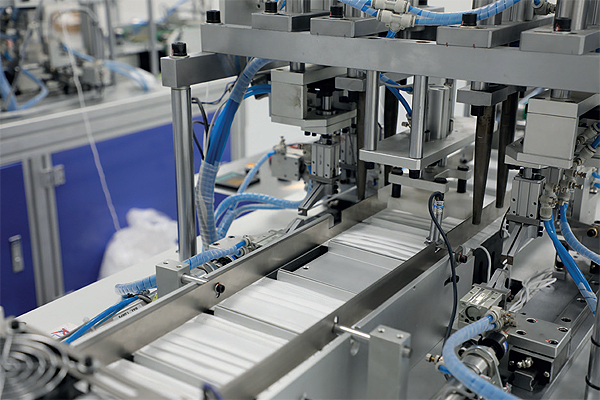 Instantprint joined forces with Bluetree Design and Print, a traditional screen printer focused on selling large format print to major corporate clients.
"Back in 2012, Bluetree dealt with large customers offline and Instantprint worked with small customers online," James says. "We saw an opportunity to put the two businesses together so that we could sell large format products online and small format products offline. That was how Bluetree Group was born."
Now Bluetree Group's Co-founder and Owner, James has seen the business evolve significantly over the last decade. In particular, the firm has experienced rapid growth in its online sales, and as a result, has actively taken steps to improve the offline side of the operation.
"As we stand today, we've got two brands," James explains, "Instantprint and Route1. These brands are directly targeted at two different types of customers. Print buyers want to buy in different ways, so in order to give the best Grouppossible experience, we want to give them more targeted platforms.
"On the Instantprint side, the customers are all small firms and microbusinesses and the real challenge there is trying to make it as easy as possible for them to buy print in a sector that can often seem saturated with jargon and complexity. Route1, on the other hand, is aimed at print resellers. These customers are very experienced print buyers and their business is reselling print. They might be graphic designers, small printers, and sign makers who have print as an additional service, so the type of experience they need is very different to that of the small business. That is why we run the two different brands."
Comprehensive range
Over the past decade, Bluetree has established itself as the largest online print company in the UK, and alongside winning Company of the Year at the Sheffield Business Awards, the firm has twice been named in The Sunday Times Fast Track 100. Bluetree's success has been built on its ability to deliver a comprehensive range of marketing materials, of which the company offers its customers a variety of production options including flexible run lengths.
"When it comes to marketing materials, our specialism is standardized products like flyers, leaflets, business cards, brochures, posters and roller banners," James remarks. "We call our production process 'industrial manufacturing' rather than approaching it as a craft industry and our clients can choose from a handful of options to suit their needs. If you take our flyers for example, we offer three different stocks and 12 different run lengths, so obviously it makes the purchasing decision much easier for the customer. Run lengths tend to be on the shorter side – up to about 50,000 – because that's the area of the market upon which we focus. From a manufacturing perspective, standardizing production and grouping products together is highly beneficial for us and our clients because it means we can produce a larger volume of product more effectively."
Having solidified itself as a leading force in the market, Bluetree was expecting the firm's growth trajectory to continue in 2020, but, like the majority of businesses around the globe the company was halted in its tracks by the widespread impact of the Covid-19 pandemic. As the virus took hold in the early part of the year, Bluetree saw its print sales plummet dramatically. With revenues hovering at around 20 per cent of the company's regular takings, James and his team took decisive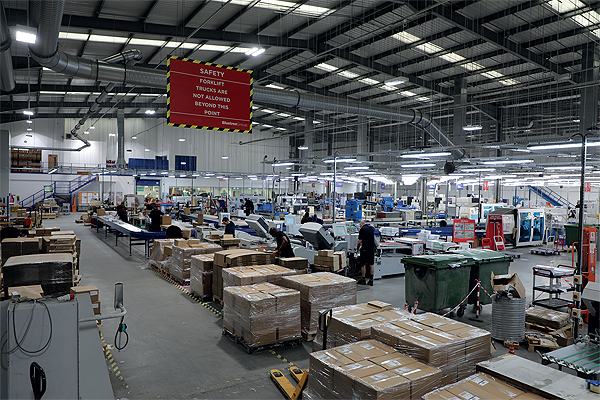 action.
"The first move we made was to adapt our print ranges in order to serve companies fighting the pandemic," James states. "We introduced new products to do with social distancing like floor stickers and signage. We then turned our hand to visors and it was at that point we began to consider manufacturing facemasks. At first, we wondered whether facemasks were actually something we could produce, but we soon discovered that we were really well positioned in that area. We'd recently purchased a new 45,000 square foot unit adjacent to our 100,000 square foot main site. With print sales dropping, we made the decision to convert this space for the mass production of Type IIR surgical masks, becoming the first company in the country to make these.
"I think we are incredibly fortunate because we've got an amazing team and they've been able to adapt really well to all the challenges that have come our way. We built the clean room environments, retrained team members, and moved people across from the print side of the business to the surgical mask side. The initial plan was to support local businesses and help them reopen, but we realized there was a much greater need in healthcare, so we focused on that as well. We've currently got six machines installed and are producing 1.4 million surgical masks per week, but we plan to add around 30 new machines by September, taking our weekly capacity up to around 20 million units."
Perhaps the biggest challenge Bluetree has encountered throughout this period is a difficulty in acquiring the raw materials necessary for mask production, which, understandably, have been some of the planet's hottest commodities. One key solution the firm has devised is to produce its own meltblown material, a vital and highly sought-after fabric used as a filter layer in all grades of surgical mask. James is confident that Bluetree will have its new meltblown facility up and running by August. It is the latest noteworthy event in what has been a transformative year for the firm.
"Both sides of the business are growing," James asserts. "As we continue to expand the surgical mask side of our offering, the economy is beginning to open up again. For most of this year, our product mix on the print side shifted dramatically and we were almost exclusively producing social distancing signage and materials related to Covid-19, however, we are now starting to receive requests for our more standard, pre-pandemic range of products.
"We are confident that the work we've done this year will put us in good stead for future business. Certainly, in terms of surgical mask production, we're seeing a long-term future ahead of us. I think Coronavirus has encouraged a lot of companies to look at the stability of their supply chains and we're already seeing quite an appetite for domestic products. We're hoping that will continue into the future."
Tremendously impressed with the way Bluetree's workforce has performed throughout the pandemic, James believes that the company's values-driven focus is continuing to play a key role in the firm's success. By focusing on values, rather than skills, in its recruitment, induction, and appraisal processes, Bluetree aims to ensure that the right people are in the right positions at the company, and in turn, futureproof the firm's prospects for decades to come.
"At Bluetree, we are really focused on what we call organizational health, which is all about everyone in the team knowing how we behave as a unit and where we're trying to get to as a business," James reports. "Our management team endeavors to ensure that everyone truly understands our mission and goals. By doing this, we can delegate a lot more decision making to other members of the team and I think that has really helped us continue to grow and accelerate our expansion.
"We think the future is bright on both the print and surgical mask sides of the business. Throughout the pandemic, we've demonstrated how well we can adapt and I believe we're well positioned to continue growing in both of these segments."
Bluetree Group
Products: Printed goods and surgical masks
www.bluetreegroup.co.uk