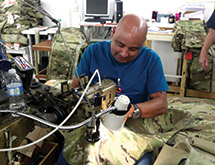 Bluewater Defense CEO Eric Spackey vividly recalls the difficult times the company endured five years ago. There were no large contracts in the pipeline, and the future was uncertain. "It was a very rough way to start in this business," Spackey says.
Today, the Puerto Rico-based military apparel manufacturer produces 3,000 to 4,000 pairs of Army combat trousers each day as a result of a Department of Defense (DOD) contract it was awarded in January 2013. "Bluewater Defense has a tremendous track record, producing more than 20 million units spread across various items in multi-year contracts, including 5.8 million coats, 5.2 million combat trousers, 4.6 million duffel bags and approximately 1.0 million GEN III extreme cold weather parkas and trousers," Spackey says. "In addition to these prime contracts, we have provided significant manufacturing support for Patagonia, New Balance, Drifire, W. L. Gore, Atlantic Diving Supply Inc., KDH Defense Systems, Protective Products Enterprises and other key vendors supporting the defense industry."
Long Road Back
The road from tough to more prosperous times was not an easy one, but the significant culture change Spackey led when he took over Bluewater Defense in 2009 is largely responsible for the company's renewed success, he says.
"The contract for combat trousers was a direct result of the changes we made throughout the organization and leadership team," Spackey says. "The DOD recognized they were dealing with a high-quality, responsive organization that was willing to adapt to the changes/needs of the market."
Bluewater Defense did not always have a reputation for quality. "Nobody viewed us as a quality manufacturer when I started in 2009," he says. "The hardest thing for me was to change the company culture and mindset of the team from thinking they were the customer. With help from key stakeholders like David Brown, Aida Mendez, Sharon Birk, Jose Figueroa, Kyli Hanson, and other team members, we promoted discipline and accountability, starting with each sewing associate on the shop floor."
Spackey's mission was to convince employees of the importance of assembling uniforms for the military. "It's not just a product," he says. He eventually learned that 40 of his employees had family members serving in the military, and he soon displayed posters of soldiers throughout the plant to remind employees of who they were serving. In addition, he setup a wall with pictures of the employee family members who are military members or veterans.
"We have pride that we're making something for America's men and women in uniform," he says. "My team is very proud of serving those who serve us. That's our customer." Today, the company's goals are straightforward: deliver the highest quality product on time and on budget, Spackey says.
Helping a Neighbor
Spackey, who had a lengthy career in the telecommunications industry, never expected to become an executive for an apparel manufacturer.
"I fell into this by accident," he explains. "My neighbor asked if I could help him." His neighbor started and ran the company for more than 20 years as DJ Manufacturing Corp. He oversaw many successful years when the military had a significant need for uniform apparel.
But the company began to experience difficult times as the DOD reduced its combat apparel spending. The cuts coincided with the country's decreased military involvement in the Middle East, Spackey says. "My neighbor was looking for an infusion of ideas on how to win contracts," he adds. "The market was changing, and the company was positioned wrong for the market and structurally not competitive. The industry hit its peak spending in 2008 and sadly began its historic decline in 2009."
Spackey became a shareholder and took over the day-to-day operations in 2009; not knowing the industry was about to experience a cataclysmic decline. His first step was to identify and fill key leadership positions, setup a board of advisors and hire consultants specializing in commercial apparel operations. "I knew my costs were out of line and we weren't competitive in our approach to the market and manufacturing," he recalls. "I was not from the apparel world, and knew I needed to seek advice from the experts."
Spackey was advised to "make significant changes across all aspects of the business" in order to adapt to the changing landscape of the industry and ensure Bluewater remained competitive. He achieved this by restructuring the organization and leadership team, consolidating facilities and accepting short-term contracts and subcontractor work.
The decision brought new business to the company at a time when Spackey was faced with being forced to close the doors due to a lack of long-term contracts, he says.
Spackey laid off 1,500 employees and closed three manufacturing plants because the amount of work decreased, and many workers did not possess the skillset necessary to adapt to the changes required by the market, he says. Today, the company employs 480 people to handle the military trousers contract, with the capacity to employ about 800 people, if required.
"We're a very different company today as my customers and supply-chain partners will attest," he says. "We also have focused a great deal of our efforts on building strategic relationships with our supply-chain partners to help ensure the success of the trouser contract. Companies like Navajo Fabrics, American & Efird, Insect Shield Manufacturing and many other key suppliers have helped our team meet our requirements, and we wouldn't be where we are today without them."
New Leadership
Spackey also altered the company culture by bringing to his leadership team recent college graduates who had no experience in the apparel industry. But he was not deterred by his new employees' lack of market knowledge. Rather, he harnessed their enthusiasm and desire to share new ideas to make the company a success.
"They just jumped in," Spackey explains. "They weren't afraid of anything, which helped motivate the rest of the team to push forward at an increased tempo."
He also hired retired apparel industry professionals, who had considerable knowledge and advice to share. "They also served as mentors to my younger colleagues and me," he says. "I was blessed to find people like Harvey Weinberg, David Brown and Bob Buchanan, who have significant knowledge, patience and desire to help guide the team forward. It all comes down to good leadership, in my opinion. That's an important part of our success. Everybody has a part to play, and each manager is given the tools and support to lead their respective team members.  Like the military, we take leadership and accountability seriously, which was an important change in the company culture."
Spackey is grateful the company is once again the beneficiary of a big government contract. "I've been blessed by the challenges we faced and the team that supported me during those difficult years," he says. "Without them, we would not be here today."
But his plans for the company go beyond manufacturing military apparel. "This is not where we're going to stay," he says, adding that the company has begun working with academic and industry leaders to develop new wireless wearable technology to be integrated into military garments and equipage. "It's exciting to be able to lever my telecommunications and technology background and integrate this into apparel and equipage. This is the future," Spackey says.