Future Focused
As the world's largest provider of classical heat treatments and specialist thermal processing services, Bodycote's unique mix of experience, knowledge and its global network is helping the group carve out a path to long-term prosperity
Ask any industrial company to describe the year to date in 2019, and the vast majority will likely agree that uncertainty surrounding trade patterns and the associated slowdown in demand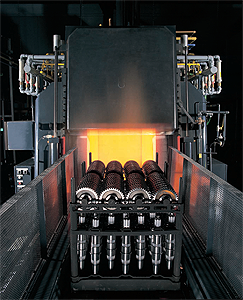 has made for challenging times. There are those, however, that are managing to weather such conditions, and one of those businesses is Bodycote, which provides heat treatment and specialist thermal processing services.
"As an organisation, we have a very clear strategy as it relates to achieving future growth, which we have been investing around, and this continues to pay off as we move forward," begins Bodycote's Group Chief Executive Officer, Stephen Harris. "While every business, rightly, thinks about what is coming their way tomorrow, I have found it is best to focus as much, if not more, attention on what the medium-to-long term will bring. While that is admittedly difficult in today's geo-political and economic environment, what we have done is initiate comprehensive Bodycotescenario planning that is helping Bodycote to enact decisions that are making the group ever-more robust, flexible and capable of growing in what could be a very different environment in three-to-five years' time."
Glancing over Bodycote's credentials, it is easy to see that this is a group with a supreme track record and one whose decision making has more than proven its worth. Indeed, since its founding by the Bodycote family in the early 1900s, the group has grown into an international powerhouse in thermal processing, employing more than 5000 people worldwide, and operating from over 180 locations.
"Our business can essentially be divided into two categories," Stephen explains. "The first is classical heat treatment, which has been around for quite some time, but is an area in which Bodycote has established itself as a global leader thanks to our unrivalled levels of service and quality.
"The second area, and the one which we believe makes us stand out even more from the crowd, is our specialist technologies category, which we have been investing in heavily for the best part of a decade now. Here, we specialise in developing new-to-market, and often new-to-world, technologies that feature a very high rate of differentiation from classical heat treatment solutions and – in recent years at least – much higher rates of growth. An example of this would be our work in the field of additive manufacturing, and more specifically the use of our Powdermet® technologies. Powdermet® is made up of a group of manufacturing processes used in the production of complex components using powder metallurgy, and represents a fantastic breakthrough in terms of technological advances. Our strategy as a group is to pursue both of the aforementioned core categories, promoting their respective value propositions and level of service that Bodycote provides universally."
Turning to the topic of what have been some of the highlights for the group over the last 12-to-18 months, Stephen reflects upon some of the potentially future-defining moments that have occurred. "For one thing, we have been hugely successful in further penetrating into the aerospace market," he states. "If we turn the clock back 18 months, our largest market sector was general industrial with the automotive industry coming in a close second. Today, through our targeted efforts to achieve long-term growth from clients within the aerospace field, it has moved up to become our second largest source of revenue. In truth, this is something that we have been working towards for the better part of a decade and we are now witnessing the fruits of our labour in the form of signing a number of agreements with major customers to be a sole source supplier, in some cases for the next 15 years."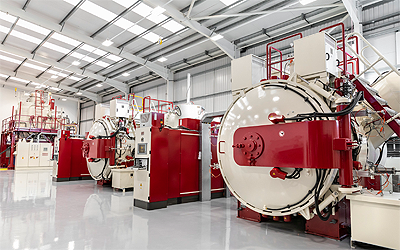 Meanwhile, from an infrastructure perspective, important developments have occurred both in the UK and internationally in recent times. In December 2018, the group held the official opening ceremony for its brand-new facility on the Advanced Manufacturing Park (AMP) in Rotherham, Yorkshire, to support its ongoing relationship with Rolls-Royce. Now fully operational and supporting customer requirements, this advanced heat treatment centre offers a range of services and was established to primarily support the aerospace and power generation markets in the UK and Europe. Such has been the level of interest in the new facility since it was first announced back in July 2018, the group has gone on to invest in further capacity and technology to meet future demand.
Internationally, among Bodycote's more recent steps in Europe have been its acquisition of bolt-on businesses and facilities in Slovakia and Sweden. "In the case of the former, the primary focus of the technology in the business is the electric vehicle market, which makes it a great strategic fit when it comes to our existing automotive activities," Stephen continues. "The Swedish acquisition, on the other hand, focuses on the mining sector, which has previously been a somewhat underrepresented part of the group. Furthermore, we have two facilities currently under construction in the United States, one dedicated to classical heat treatment technology and the other to specialist technology."
Being a large business with multiple locations worldwide, Bodycote relies upon a very talented workforce, and thus bringing through the next generation of employees is of great importance. The group has had an existing, and successful, graduate programme in place for some time, however, it was in July 2019 that it introduced a second scheme, also designed to bring highly skilled, smart, young people into the business. "Under our pre-existing programme," Stephen details, "what we generally did was introduce graduates to the business by first bringing them into our central marketing function as part of our customer response team. Here, they are able to learn about the business by handling tasks such as taking inbound enquiries, before then moving into different areas of the group.
"The new initiative is somewhat different, in that it provides our graduates with a more structured three-year programme, where their first point of entry is working on our various ERP systems. We have found this to be a great way of getting people to understand the way that Bodycote operates throughout the world as a geographically diverse organisation, while also getting to meet the people at the centre of our operations and, perhaps most importantly, contributing real added-value themselves. After a period of around one year, they then embark on other work in one of a number of businesses within the group, before finishing the three-year programme with a defined role within Bodycote."
As referenced at the beginning of our conversation, Bodycote has a clear strategy that it is wholeheartedly committed to, and Stephen is confident about the future trajectory of the group. "I have no doubt whatsoever that the growth plan and value creation potential of Bodycote is very strong indeed," he proclaims. With the vast array of exciting developments occurring throughout its network of businesses at present, who could argue with that assessment?
Bodycote
Services: Thermal processing services