Too hot to handle
Bodycote is the world's largest and most respected provider of heat treatment and specialist thermal processing services. Serving some of the biggest names in the aerospace and automotive industries, the company runs 187 facilities, spread across 24 countries worldwide
Thermal processing is an essential part of any manufacturing process and includes a variety of techniques and specialised engineering processes, which improve the properties of metals and alloys, such as their strength, durability, and corrosion resistance. This being said, it is crucial for manufacturers to work with a reliable provider of thermal processing services, and there is no better choice than Bodycote. Founded by the Bodycote family in 1923, the organisation has developed through organic growth and a number of strategic acquisitions to become the
international leader in thermal processing, employing about 5500 staff across its 187 facilities worldwide. The large network allows customers to take advantage of economies of scale, with local technology being made available globally.
"At the time I joined the business in 2009, it was oriented towards what we call classical heat treatment, but today, although we still provide this type of service, a large percentage of our work is in specialist thermal processing technologies," begins Bodycote's CEO, Stephen Harris. "We define these as 'specialist', because these are processes that are largely unique to the company, used to enable product manufacturing techniques that cannot be achieved in any other way. Undoubtedly, our capability of delivering advanced services of this kind has been one of the biggest drivers of growth for the business."
It would not be an exaggeration if we say that Bodycote is streets ahead of the competition in the discipline of heat treatment, and this is confirmed by the fact that the company is five times bigger than its nearest competitor. "It is a vital technology. Every metal has to be heat-treated and we are in the strong position of being the world's largest provider of thermal processing services.
"In recent times, we have seen an increased demand for our hot isostatic pressing (HIP) service, which combines very high temperatures, very high pressures, and inert gas to eliminate porosity in castings and consolidate powder into dense materials. The pressures can be up to 30,000 psi – equivalent to that at the bottom of the Mariana Trench," Stephen explains. "This allows us to transform the metal in innumerable ways and we can also produce alloys that simply cannot be made through a different method. Through HIP, we can bond dissimilar materials together to manufacture unique, cost-effective components. Every week, a typical HIP plant processes many tonnes of titanium, aluminium, steel, and super-alloy castings, removing porosity and improving the performance of parts, such as turbine blades and oilfield components. We have the largest HIP operational capacity in the world and are the undisputed market leader in this sphere."
Due to the vast array of options Bodycote's processes offer, the company has been the preferred partner for multiple industries. While it has been engaged in sectors such as oil and gas,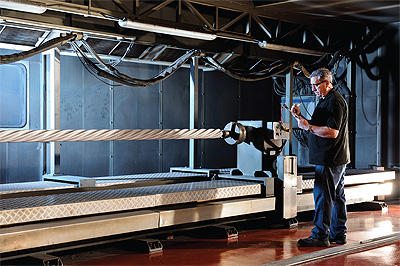 renewables, construction and civil engineering, mining, and others, historically, the two most buoyant markets for Bodycote have been aerospace and automotive. "Everybody keeps saying that the latter is going to get weaker over time, but this does not seem to be the case with us, as it remains a very prominent source of work for us," Stephen remarks. "As to the aerospace industry, I would highlight the support we offer to Rolls-Royce and Safran on their Trent and LEAP engine series, respectively."
Bodycote is currently serving a 15-year agreement with Rolls-Royce to provide specialist heat treatment services to the manufacturing giant. "As it is a sole source contract we are operating under, meaning that we are Rolls-Royce's only supplier for thermal processing on particular components, we have to meet certain standards, in terms of capacity. In order to achieve that, we opened our latest UK facility in July 2018, in the Advanced Manufacturing Park, in Rotherham, where we offer numerous heat treatment processes, the principal ones being HIP and vacuum heat treatment," Stephen reveals. "The good news is that we have already started expanding the new site, shortly after we built it. Rolls-Royce is not the only customer available to us; we are looking to support other clients, too, but at the moment, Rolls-Royce is especially demanding for our services, which is helping the Rotherham factory grow very fast."
Up until the summer of 2018, Bodycote had been registering growth across every geography the company operates within. The US trade wars, however, have had an impact on the industry, causing shifts in the way the working process is organised. "Even if we are not directly affected, there certainly is a disruption to our customers' supply chains. What we are seeing now, is our clients moving the sourcing of their components to different parts of the world. This is not a trend that upsets our normal service, because we are based in 23 countries worldwide that cover the strategically important regions for us; nevertheless, the shift is there. For example, bits of work that used to be done for China from Europe have now been moved inside the country. It is becoming quite parochial, in a way, with companies bringing their supply chains back to their home countries," Stephen discusses.
"Compared with where we have come from, I think the business is in very good shape. We have got very strong management teams that ensure the strength and depth of the company, so I feel that everybody is ready to take on something bigger," he hints at Bodycote's future intentions. "We are looking to enter a period of very aggressive growth, both organically and through targeted acquisitions. Our ambition is to grow the specialist technologies division further, as well as the classical heat treatment side of the business, and these two tasks are high up on the agenda for the next 18 months."
Bodycote
Services: Thermal processing services