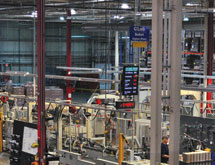 Innovative manufacturing and printing techniques, environmental stewardship and lean manufacturing methodologies add up to make Boehmer Box LP a sought-after supplier of quality packaging.
The Kitchener, Ontario-based company produces roughly 3 million printed cartons per day for private-label and name-brand food industry customers. Boehmer Box has both extensive pre-press and production capabilities and takes advantage of vertical integration provided by sister company Strathcona Paper LP, which supplies it with recycled paperboard. Strathcona's mill is the only 100 percent recycled clay-coated paperboard mill in North America that is ISO 14001-certified, according to the company. Both Boehmer Box and Strathcona Paper are owned by Toronto-based parent Canampac ULC.
Pre-Press Capabilities
The company's pre-press team is capable of perfecting customers' existing branding and artwork and helping clients turn their ideas into reality. Boehmer's in-house art department is able to design packaging and logos and produce samples for customers.
Designers and pre-press operators take advantage of a fully integrated digital platform, which includes:
Project management
Structural design
Digital asset and promotional copy management
Database-driven art production
3-D design animation
Web-to-print
Online collaborative workflows
Color management
Digital quality assurance
Automated computer-to-plate
Boehmer Box is a pioneer in the use of extended color gamut printing and utilizes several proprietary seven-color technologies. These patented digital printing processes reproduce the traditional Pantone spot color library in a cost-effective single pass as opposed to using four different plates. This, complemented by the use of high-definition screening, offers brand owners some of the most impactful packaging in retail today, the company says.
This unique printing process also helps the company reduce waste and energy consumption by limiting the amount of inks and chemicals used, hence reducing the number of volatile organic chemicals (VOCs) released into the atmosphere.
Managing Changeovers
Boehmer Box's manufacturing process begins with large rolls of raw paper being fed through a sheeter machine, which then cuts the material down. Boxes are fed into 51-inch and 56-inch lithopresses, which are capable of six-color and UV printing, Director of Operations Corey Deschamps says.
Cartons are then processed through one of the company's many Bobst die cutter machines, then into gluing. The company operates multiple straight-line gluers, as well as right-angle gluing machines with four- and six-corner features.
The company specializes in short production runs of roughly 80,000 cartons per customer. "Many of our competitors pursue customers where print runs may last up to two weeks on just one die line," Deschamps says. "With most of our customers, we typically print for short runs, then change over. The market is changing and so are our customers' buying trends. Our world here is all about short runs and fast make-readies."
Leading with Lean
Manufacturing adjusts to these frequent changeovers by grouping products together and maximizing up-time, one of the many efficient practices that characterizes Boehmer's operations.
"Lean manufacturing is the main building block for us and touches everything we do," Deschamps says. "Continually improving our manufacturing efficiencies and quality helps keeps us competitive."
Boehmer's production floor features several electronic boards measuring daily and job production targets, which helps reduce downtime and waste. "Everybody here is aware if they're having a good day or a bad day," he adds. "Our employees are very engaged in the day-to-day metrics on the shop floor."
Manufacturing employees lead two kaizen events monthly. "Our employees are responsible for the quality of our products," Deschamps says. "We believe in quality by committee and not by dictatorship."
Employees also work side-by-side with maintenance mechanics to ensure the equipment they work on each day works properly and efficiently. Individual pieces of equipment are shut down weekly for inspection and maintenance as opposed to summer shutdowns, he adds.