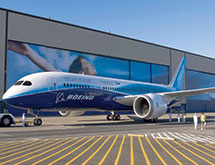 There is no question that Boeing is the world's largest aerospace company – it supports airlines and U.S. and allied government customers in 150 countries. The company is continuously in search of new innovations and developments that will improve its current products and technologies, as well as create new ones. Boeing does this not only to maintain its leadership, but also to ensure customers can rely on it for the most-advanced, highest-quality products that also demonstrate the foremost focus on safety.
"We are constantly working to ensure the quality of our product with new technology and materials," says Dianne Chong, vice president of Materials, Manufacturing, Structures and Support with Boeing Research & Technology, the company's central research-and-development unit. "We also are developing new inspection techniques, because the quality and integrity of the product must be apparent."
Quality and integrity are not just buzzwords for Boeing – they are critical aspects of every sector of its operation. It is organized into two business units: Boeing Commercial Airplanes and Boeing Defense, Space & Security (BDS).
Boeing's Engineering, Operations & Technology (EO&T) organization helps to connect the two business units and enhances growth and productivity by driving technical and functional excellence across the company. Leaders talk about the advantage and power of "One Boeing" – combining the strength of Commercial Airplanes and Defense, Space & Security with the technical and functional leadership provided by EO&T to create a company greater than the individual sum of its parts.
Success in each of these areas requires a strong manufacturing and technology base. Whether Boeing is using Lean+ manufacturing to work smarter, diversifying its employee base or driving stricter safety standards and protocols, it constantly demonstrates that being the global leader requires ongoing diligence in all areas of quality.
Working Smarter
Boeing's "Build Something Better" advertising campaign showcases the company's ongoing dedication to innovation. Last November, for example, Boeing and NASA completed wind tunnel testing of a full-scale 757 vertical tail model equipped with active flow control technology. One of the goals of the tests was to show that active flow control can enhance the performance of a vertical tail enough to enable future designers to reduce the size of the structure for an entire family of airplanes. Additionally, a smaller tail can help reduce and airplane's drag and weight, improving aerodynamic efficiency and fuel efficiency, respectively.
During the wind tunnel tests, the Boeing team observed "a wide array of flow control configurations across the whole low-speed flight envelope of the vertical tail," explains Ed Whalen, the Boeing Research & Technology project manager for the testing. The team plans to choose the most efficient and/or effective flow control configuration for future flight testing "to see how it performs in the real flight environment," Whalen says.
Boeing constantly is working on projects like this – developing new technologies or enhancing current systems to create better products that provide its customers with further benefits. Innovation is a major aspect of Boeing's business, but the company always strives to work smart, and that is why it has embraced Lean+ manufacturing.
"Lean+ manufacturing is very important at Boeing," Chong says. "We're not really trying to eliminate work, just find ways to do our work better. Our people are really starting to embrace it, and they are getting really creative in applying Lean+ to enhance productivity and eliminate wastefulness. That, coupled with putting in new technology, makes for a very strong operation."
She explains that Lean+ is standard on Boeing's manufacturing floor, but it is spreading across the entire organization. "It's a big part of what we do, because Lean+ can improve productivity no matter where you are in the company," she says.
Hand-in-Hand With Lean+
A lean operation results in enhanced productivity and an improved focus on innovation, but safety plays a big part in Lean+ and productivity, as well. Last year, Boeing implemented its "Go for Zero" program, which aims to change the culture of the business and achieve zero injuries. As Ray Conner, vice chairman and Boeing Commercial Airplanes president and CEO, explained during the program launch, "We strive for a perfect safety record for our customers, so why wouldn't we do the same for our own team?"
Conner noted that the Commercial Airplanes Propulsion Systems team had logged 2 million work hours over the course of a year without a single injury. With proof that the company was capable of achieving the zero-injuries milestone, Boeing encouraged everyone in the company to stay alert, watch out for each other and ensure safety is purposefully considered.
"As we try to improve, it's about not doing it in a rush, but doing everything very carefully and remaining mindful of the safety of our workforce as well as the safety of our products," Chong says. "We have to watch out for each other, and Go for Zero has become our operating principle. I talk to people all the time, and I don't start a meeting without talking about safety first. Our people have really taken it to the next level with the things they can prevent from happening."
For example, she says, her employees have developed safety checklists for different tasks throughout the operation. "I am very proud of this and it has been very enlightening to me – our workforce really stepped forward to do these things. They understand that this, too, impacts the quality of our products and the quality of life for our employees."
Boeing implemented Go for Zero anywhere its employees work – office areas, labs, the manufacturing floor – and is raising the focus on safety to another level.
"It's great, because safety goes hand-in-hand with Lean+," Chong says. "A clean work area is safe and lean. We are focused on ergonomics and the safeguarding of people. Someone on my team designed a little button that says 'Ask Me About Safety.' I love this, because it elevates the safety discussion and keeps safety in constant focus."
Workforce Development
Boeing understands that its dedication to innovation, quality and safety depends on a top-tier workforce, and Chong is dedicated to ongoing development of the company's people and driving diversity. She also is focused on bringing more women to Boeing and all of aerospace.
Chong has been an engineer at Boeing and its predecessor, McDonnell Douglas, since 1986 and has held a variety of key positions within the company. In addition to her technical acumen, Chong is an active mentor to minorities within the company and has performed outreach on the company's behalf for years, through programs at various universities and at workshops encouraging young women to pursue math and science careers.
"I focus a lot on the training of people in general," she says. "We always strive to identify leadership – whether managerial or technical – which is key to maintaining our position in the market. But I'm also much engaged in having more women in STEM activities because the diversity of the workforce will help further develop a strong and powerful operation. Encouraging people is really very important to us."
As a leading global innovator, Boeing attracts a top-tier workforce, but is dedicated to encouraging its people to develop and grow further. More than 140,000 of Boeing's people hold college degrees – including nearly 35,000 advanced degrees – in nearly every business and technical field from approximately 2,700 colleges and universities worldwide. This, Boeing says, results in "one of the most diverse, talented and innovative workforces anywhere."
And this, Chong notes, is exactly what she is most proud of about working for Boeing.
"Our workforce is full of talented, committed people focused on manufacturing technology," she says. "And I'm talking about the entire system, not just one aspect. We have our Senior Technical Fellows who are leading experts, but also an interdisciplinary system that puts the right people with the right technology to benefit Boeing. With this in place, we can produce the end-product that allows us to keep doing a good job."