Extracting success through technology
Embodying close to three decades of industry experience, BOFA International Ltd. is a leading company in the development and manufacture of fume extraction and filtration systems across several industry applications
Set to celebrate its 30th anniversary in 2017, BOFA International Ltd. was originally founded during April 1987 to provide filtration systems for the electronics industry in the UK. The roots of the business date back to 1984 when its founder and company chairman, Dave Cornell, identified a rudimentary Swedish filtration system for extracting the harmful colophony fumes away from printed circuit board (PCB) assembly line operators. Shortly thereafter Dave became the sole importer of the technology and the only person able to offer a fully filtered extraction and filtration system for the electronics industry within the United Kingdom. By 1987 the sales potential of the company's fume extraction technology was clear and BOFA UK LTD was
formed to serve the UK market. By 1999 BOFA had developed its range of systems for the filtration of laser borne fumes in response to a newly emerging market and following further growth the company moved to its current factory in Poole, Dorset in 2006.
During 2008 BOFA Americas was incorporated to extend the company's support for global partners and in 2012 the company was ultimately awarded the Queen's Award for Enterprise for International Trade. Throughout its history BOFA has also broadened the market sectors in which it operates and now supplies solutions in laser, electronics, printing, mechanical engineering, medical, pharmaceutical, dental and beauty applications. As a consequence the company has continued to expand its factory and warehousing space in the UK and America. The business today employs over 200 staff, manufacturing over 18,000 systems within the UK every year for delivery direct to end users within the domestic market and via OEM and distribution partners globally. Eighty per cent of BOFA products are presently sold into the export market, reaching end users in over 100 countries.
"At BOFA we design, develop and manufacture fume extraction and filtration systems for a wide range of industrial sectors and applications. Our products ensure operator safety by capturing harmful fumes, which are generated duringproduction processes. Hazardous particles and gases (fumes) are captured and filtered out before the cleaned air is recirculated back into the production area, to give a cleaner, healthier working environment," explains European Sales Manager, John Twigg. "Until recently BOFA was a family owned business. A £23 million management buyout in 2015 secured investment to accelerate growth plans, with additional investment being made in research, product development, operations, staffing and infrastructure to ensure we have the best resources and processes to help the business grow."
As a result of a continued programme of development and investment into its manufacturing facilities, the BOFA HQ in Poole encompasses 55,000 sq ft of factory space, incorporating the entire production process. This includes research and development (R&D) with CAD/3D design, mechanical, electronic, software and fabrication engineers; fabrication including CNC turret punches, CNC press brakes, guillotine and notching, welding and hand finishing; assembly using wiring looms, filter assembly (unique to BOFA patented designs) and test centre; quality control; and packing and logistics. Further to a global network of sales representatives, BOFA also maintains a distribution, sales and service facility at its BOFA Americas site in Illinois, US and is also planning a further office within Germany.
"Maintaining the company's activities inhouse means we have a wealth of resources at our fingertips to develop, deliver and support innovative, world-class product and service solutions. We apply a collaborative approach to everything we do, which ensures that we offer value beyond just the extraction systems themselves. We truly add value for our customers at every step of their journey with us. We invest heavily into R&D, which helps us to stay ahead in the market as well as being extremely beneficial in catering to customer demands. Many of our OEM partners require bespoke systems or slight changes to traditional systems and our in-house R&D and manufacturing facilities gives us the flexibility to provide these products. We can quickly design bespoke solutions for new processes and bring cutting edge products to market. Our partners find this capability invaluable and it enables us to deliver attractive and profitable solutions," John says.
"By designing and assembling our own filters, we ensure our customers get the highest standard with every purchase they make. Our filters are unique BOFA patented designs that comply with maximum health and safety standards and allow for easy handling. We are a quality-led business and work hard to maintain the highest quality standards. Every unit is safety and functionality tested to ensure performance reliability. This includes our own SureCheck safety checks and we always strive for continuous improvement, monitoring changes and trends in quality terms to make future-focused business decisions. As well as having our quality standards team in-house we ensure our quality objectives are communicated across the business and relevant training is provided wherever required," he continues.
"We invested in an in-house human resource (HR) function after the management buyout because we recognised that to get the right talent resource in the right parts of the business we needed an expert in-house HR resource. It enables close liaison between the company and its employees, improving understanding between all parties, and maintaining and improving culture. It safeguards the company ensuring it is compliant, recording accurate information to pass to appropriate stakeholders. We can also ensure quality talent is recruited and inducted into BOFA based on an understanding of the company's needs. Strategic HR projects to improve and enhance BOFA are more effectively undertaken as they are specific to the company."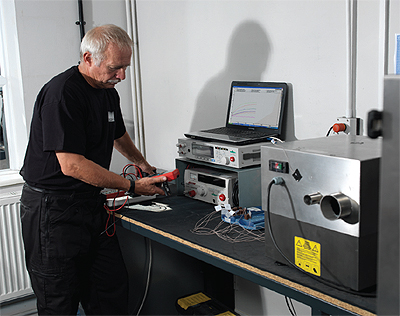 BOFA is renowned for innovative filtration technology, ranging from blower design and patented filters to interfacing and real time data logging and strives to remain the world leader in its market. The company's most successful product is the AD ORACLE, which can be used to provide filtration on many process applications. It is the predominant system for the filtration of the fumes produced from laser ablation and was initially introduced in 2009 with many features including, reverse airflow, deep pleat duo prefiltration, H14 HEPA filter and advanced carbon technology to ensure the fume is filtered to the highest standard while providing the lowest cost of ownership. "Our award-winning patented intelligent operating system (iQ) digital interfacewas launched in 2012, adopting the proven Best in Class features of the ORACLE to provide customers with a clear understanding of the status of the system while providing a data log for ease of service and maintenance. It revolutionised fume extraction and systems monitoring, taking performance and safety parameters to a new level while helping maintain and enhance productivity through reduced maintenance and all the while being easy to operate," John elaborates.
"The market for filtration systems is still very buoyant with continued growth. We are supported by Health and Safety legislation, preventing companies from releasing dangerous fumes into the atmosphere. Globalisation means first world values are merging into third world countries – so even where legislation may not exist, western practices are increasingly being introduced promoting measures to take better care of workers and equipment," he adds. "As well as continuing our growth in marketswe have a proven success in, such as laser, we are continuing to explore and move into new markets, such as dental and 3D printing. Our extensive knowledge of fume extraction means we can work with experts within industry and combine our expertise with their requirements. As manufacturers continually strive to achieve efficiencies in their processes, so the opportunities change and increase for us – a current example is the change in the printing industry with the emergence of 3D printing. The fluctuating Pound is always a challenge and uncertainty surrounding Brexit may be something to face in the near future but these challenges are potential opportunities, which will become clearer over time as we receive more detail of the trade deals."
The innovation of BOFA and its willingness to listen to the specific needs of its customers to be able to design and manufacture systems to meet those requirements sets the company apart from its competitors. Its enthusiasm, experience and technical understanding of the extraction of the fumes created by the manufacturing process enables BOFA to offer extraction design ideas to customers that help them build in efficiencies within both processes and machines. The company's patented filter technology also ensures a safe working environment and value for money. "Our reputation sets us apart from the competition. We are the trusted brand of choice in a range of market sectors, from laser and electronics to printing and mechanical engineering and users and sellers acknowledge our expertise and the value we provide. We are recognised as 'best-in-class' offering products that are easy to install and support, with trouble free, reliable operation, highly effective fume capture and great filter life," John concludes. "BOFA is a very dynamic company with a financed plan for continued growth, we expect to exceed our target for the next financial year with ambitious targets up to 2020. In the next 12 months we expect to launch the next generation of iQ interface to satisfy the needs of Industry 4.0. We also expect to introduce further pre-filtration technology allowing our products to filter a wider range of industrial processes. During the coming three to five years I expect BOFA to be the clear 'go to' leader in our market with continued new development in products and new markets."
BOFA International Ltd
Products: Fume extraction and filtration systems