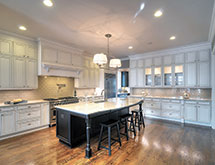 Bonterra Builders has been building its reputation as an exceptional homebuilder over the past 14 years by delivering high-quality products that are recognized throughout the industry. The company was awarded the Quality Builders Warranty Corp.'s "2013 Builder of Integrity" award for its demonstrated commitment to excellence in customer service and quality construction.
"We offer features that are considered a better end-product by the consumer," Vice President of Construction Operations Mark Panzik says.  "Darren Sutton – the president of Bonterra Builders – is a person who has a relentless passion for homebuilding and customer satisfaction. He has a feel for architecture like I have never seen before. You can see the difference in what we build in the way out homes present themselves from the exterior. Once inside, our floor plans do not disappoint."
The Matthews, N.C.-based company was founded in 2001 and closed its first home one-year later. Bonterra Builders offers five floor plans with options for homebuyers to customize things like finishes, cabinetry and flooring, for example. Structural changes can be a limited option depending on the stage of construction. "Buyers are looking for certain things, want what they want and are ready to buy it," Panzik adds. "We offer a wide range of selections and options with the ability to offer a personal touch."
The designs of Bonterra Builders' homes involve careful planning, innovation and award-winning floor plans with emerging trends and exceptional materials. During the homebuilding process, the company keeps its eye on delivering comfort, value and energy efficiency. Its homes are built in conveniently located communities with a variety of amenities, and range in price from $250,000 for a townhome to $1.2 million for a single-family home. The company also dabbles in multi-family and commercial developments, as well as land development.
Professional Builder Magazine named Bonterra Builders one of the 50 "Big Gain Builders" in 2013 for its revenue growth in 2012 and before the recession in 2007 the magazine also named it the "Fastest Growing Builder in the Country." Bonterra Builders' goal is to reach $500 million in sales next year. "I have been here for two years and the company has grown at a pace I couldn't have imagined," Panzik notes. "In this time, all of the employees have embraced the changes needed to grow our business."
Enticing Features
Homeowners today are doing away with formal dining rooms because it is now considered underutilized space. People are looking for more functionality and usefulness out of their homes, Panzik explains. "They don't want five bathrooms anymore, for example, because they realize they have to clean them all," he says. "That's something I would always mention to homebuyers."
Today, Bonterra Builders is seeing more requests for lifestyle-type amenities. For example, home automation is an emerging trend that Panzik says is becoming a popular request among homeowners. Buyers are also still interested in open floor plans, indoor/outdoor living spaces and hardwood floors. "We put site finished hardwood in several of our neighborhoods to differentiate ourselves in the market," Panzik says. "We are one of only a couple builders that can offer a job site finished product versus a factory site finished product."
One trend that has yet to pick up in momentum in the North Carolina market is green building, but every Bonterra Builders home is Energy Star-certified. "I'm personally excited about it because I love to see the new products emerge as we trend towards more energy-efficient products," Panzik notes. "We include Energy Star certification across the board and we are probably about 10 years from going to net zero energy homes like California is doing now."
An inspection is performed on the home by a third-party inspector three times – first in the framing stage and again in the final stages – to certify the home. Energy Star-certified homes are designed and built to standards well above most other homes and deliver energy efficiency savings of up to 30 percent.
"There isn't enough demand as of today for green homes," Panzik says. "Customers are not yet prepared to pay for the cost increase needed upfront. We make little tweaks inside the home that make a big difference, such as sealing the drywall and caulking to hold in heat. Energy Star-certified is assumed with us because we are committed to it as a company."
Trusted Partners
Bonterra homebuyers choose from a variety of kitchen and laundry appliances from the Electrolux family of brands, ranging from innovative entry-level to inspired design premium suites. The variety of appliances is designed to meet the needs of each homeowner, Electrolux says. Most of the products offered are Energy Star certified, which meet the demands of Bonterra constructing eco-friendly homes. Headquartered in Charlotte, N.C., Electrolux Major Appliances says it is proud to be part of the success of one of the most respected new homebuilders that has been building the future for people in North and South Carolina for more than a decade.
The company believes that its open communication and prompt payments with trade companies has helped it maintain positive relationships and keep a core team together. If however, a contractor it has worked with for a long time is not able to keep up with demand, Bonterra Builders will bring in a new company and is careful to always communicate that with its current tradesmen. This is key to maintaining relationships within the market.
Moving forward, Bonterra Builders will continue to offer a diverse array of floor plans to meet its customers' needs while focusing on continuing to be one of the nation's top-growing firms. "We offer a higher-end product and have a reputation that supersedes that of others," Panzik says. "Our customers expect more and we are able to deliver more than any of the other competitors because of a team of employees who are committed to one of the nation's fastest-growing homebuilders."