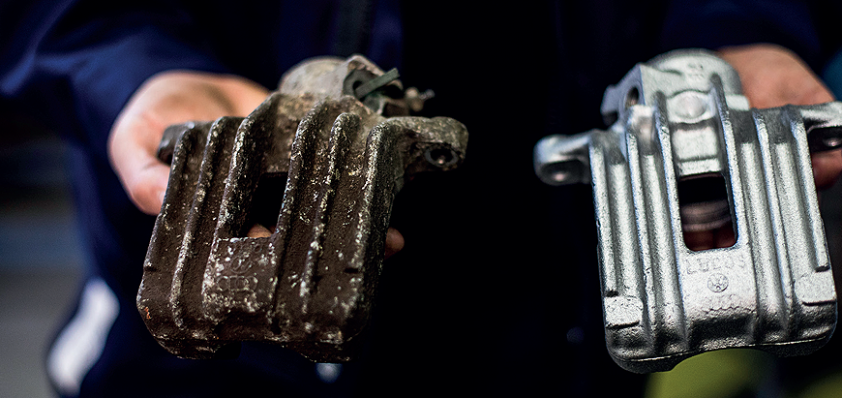 A collective effort
Since Schouw & Co acquired the company in 2017, BORG Automotive, Europe's biggest independent automotive parts remanufacturer, has been launched on an impressive trajectory of growth
With more than 40 years of history behind it, BORG Automotive has experienced its fair share of important milestones on the road to becoming Europe's foremost automotive remanufacturing company. In 1991, the company moved its production to Poland – a move that would give BORG a financial advantage over its competition for years to come. In 2004, the company was assigned the main European license for Lucas products and between 2007 and 2012, BORG made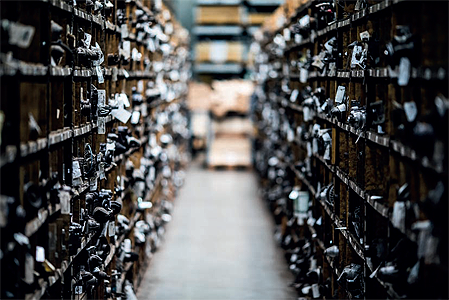 ey strategic acquisitions in the shape of competitors DRI and CPI.
Though all these landmark events have played a key role in BORG's rise to prominence, none has been more instrumental than when Schouw & Co purchased the remanufacturer in 2017. A major investment group with a diverse portfolio of companies on its books, Schouw & Co boasts a turnover more than 20 billion DKK and is known for its active, value-creating, long-term ownership. As far as BORG's Business Development Director Jesper Møberg is concerned, Schouw's investment has been nothing but positive.
"It has enabled us to have a much more aggressive growth strategy," Jesper reveals. "The good thing about Schouw's ownership is that we know they are not in it for the short-term. They have a long history of being in projects for the long run and they have proved time and again that they are not a company that wants to just optimize profit and sell a business on.
"Schouw's investment has boosted our growth, our development, and it has opened up opportunities for us to confidently tackle different markets. Most importantly, it has given us a solid foundation for taking BORG Automotive to the next level and I think that will be made abundantly clear in the coming years."
Offering more than 12,000 part numbers across eight main groups, BORG prides itself on having one of the industry's broadest and most diverse product ranges. Among its collection of starters, alternators, compressors, brake calipers, EGR valves, and three steering system components, BORG supplies a number of rare and specialty units to help secure the company's position as the only supplier its customers will ever need to rely upon.
"The vast range of products we offer covers 96 per cent of all references and that is what sets us apart from our competition," Jesper asserts. "We are able to go to a customer and provide a full programme of remanufactured products and services, so I think we have a huge competitive advantage. Product development is key to staying at the head of the market and the process we use is two-sided. When it comes to our existing products, we have a whole NPI process that is driven by technology out of the factories. We understand that we must extend our range at all times in order to maintain our 98 per cent market coverage. By carefully analyzing the sector, we can identify gaps in the market and then develop something that will soon move into the factories and onto our process line.
"In terms of new products, we are guided by indications from the market and by observing what is moving at the scrapyards. Collecting this information is what gives us an idea of what our customers require and from there we have a whole process of development and looking into individual business cases. Due to the fact that we are not developing brand-new products – we are remanufacturing existing ones – it is very important for us to reman what our customers need and then incorporate this as part of our product portfolio."
Serving wholesalers as well as Original Equipment Manufacturers and Suppliers, BORG benefits from a network of modern production facilities located across Europe. All BORG remanufacturing sites adhere to the company's focus on lean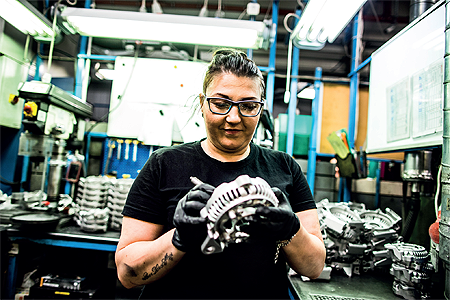 assembly and thorough testing processes to ensure that all the company's products are of an equal or superior quality to its competitors.
"I think what is important to understand during remanufacturing is that you are working in line with a huge range of preferences," Jesper says. "The nature of our work means we produce small batches, so it is very difficult for us to use automation. We rely greatly on the skill of our workers and the efficiency of the layout of our factories."
Core focus
Even through periods of severe market uncertainty, such as the Covid-19 pandemic, BORG is able to maintain high levels of efficiency thanks to some of the industry's largest warehouse facilities and most comprehensive stock management systems.
"We want to ensure fast delivery on our broad range because if our customers have that competitive advantage, then we will be able to produce more products and make more money," Jesper comments. "For us, it is important to use our warehouse and stock management strategies to enable us to be proactive with our customers. We truly believe that we are not just another supplier – we are more than that, we want to forge partnerships. We manage stock for customers, replenishing it when needed and helping them build the right stock profile in their warehouses to enable them to be competitive. We are trying to get much closer to the customer in that sense and also in exchanging data on inventory status. We believe in working together as part of an eco-system in a circular economy."
Sustainability has always been a core focus for BORG and the company is committed to a business model that reduces CO2 emissions and works towards creating a greener environment for all. The Fraunhofer Institute has calculated that remanufacturing saves up to 79 per cent of the energy used when manufacturing an original product. When applied to the remanufacturing industry worldwide, this is an annual energy saving equivalent to the power generated by eight nuclear plants or 16 million barrels of crude oil.
"When it comes to creating a circular economy, we are a highly-advanced company because we do not just dispose or dismantle scrap, we prolong the life of the unit, keeping it alive again and again. This is the finest form of sustainability," Jesper declares. "Studies show that remanufacturing uses 85 per cent less CO2 than new product manufacturing. I think this whole agenda is of critical importance and that is why we are an active part of the European Climate Research Association and similar organizations because we need to highlight the sustainability capabilities of the reman sector. We need to work out how to improve our visibility and change public perception so that someone who needs a new starter or alternator actually requests a remanufactured product."
Although BORG has experienced a significant fall in demand since the Coronavirus pandemic began, the company is starting to see its order book filling up again and Jesper believes the company is now entering a period of revival.
"Yes," he begins, "we are seeing an increase in sales again after a very difficult period in April and May, but there is still work to be done. We will continue to rebuild this year, but the impact of Covid-19 will be felt well into 2021 due to mobility issues and social distancing. Still, thanks to our progressive ownership that is keen to invest, we see opportunities to come out of this crisis even stronger. Before the pandemic, many companies were relying on Chinese suppliers, but I think this crisis will show that having a reliable second supplier in Europe is a good idea. As a remanufacturing company, we believe we can draw something positive out of this challenging period."
A truly value-driven business, Jesper believes BORG will continue to build a better future by focusing on its key principles of responsibility, competence, independency, interdependency, and continuous improvement. Within the next three to five years, Jesper hopes the company will be able to expand its product range and ultimately, harness the power of its workforce to double the company's turnover and profit.
"Our parent company believes that it is people who create profit," Jesper states. "We are very much focused on the human aspect of our business and our workers' ability to add value to the company. Going forward, we will be pushing for growth as a collective and we are looking forward to exciting times ahead."
BORG Automotive
Products and Services: Automotive parts remanufacturer
www.borgautomotive.com