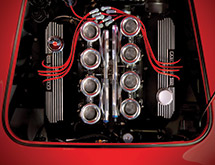 Borla Performance Industries
Whether the customer is a vehicle owner looking for aftermarket parts or a major automaker looking to incorporate quality components into its products, the name "Borla" means the same thing. For nearly 40 years, Borla Performance Industries has supplied manufacturers and aftermarket distributors with high-quality exhaust systems made to last and provide the best performance on the market. Vice President of Sales and Marketing David Borla says the company continues to hold its ground as a market leader despite the intense competition it faces from all sides because it has never stopped working to improve its products.
Based in Johnson City, Tenn., Borla Performance Industries supplies exhaust system products to distributors on the aftermarket side of the auto parts industry as well as designs and manufactures exhaust systems and parts for major OEMs such as GM, Ford and Volkswagen. The business is divided equally between those two customer bases, Borla says, so Borla Performance Industries faces strong competition from the hundreds of companies that sprang up in its wake.
The company has been an innovator in the exhaust system market from the very beginning, being the first in the world to offer a complete aftermarket exhaust system that could be bolted onto an existing vehicle as well as the first to offer a long-term warranty on those products and the first to use stainless steel. All of Borla Performance Industries' innovations are more impressive when one considers the highly unusual path its founders took to get into the business.
Borla's parents, Alex and Alyse Borla, founded the company in Brooklyn in 1978. Alex Borla came to the United States from his native Romania at the age of 10, speaking no English but having some experience in a blacksmith's shop repairing bicycles. A German immigrant in his neighborhood took the elder Borla under his wing and taught him to repair Volkswagens, a skill Alex Borla developed further as a mechanic for a Volkswagen and Porsche dealership. After learning all he could about the dealership business, Borla's father started his own exotic car dealerships, but discovered that selling parts for imported cars was more lucrative.
`Within a few years, Borla's father became known for supplying Rolls Royce parts throughout the Northeast, but when one of his key overseas suppliers disappeared overnight, he took matters into his own hands. Using his own equipment, Alex Borla manufactured more than a dozen exhaust systems rather than fall behind on his orders, and from there the company's destiny was determined. "He did such a great job with those exhaust systems that he decided to reinvent his business," Borla says.
Superior Products
One of the biggest keys to the company's early success was that Borla Performance Industries did not treat any of its original exhaust systems as a custom product, but maintained detailed drawings and part numbers so that it could have customers order from a catalog. Borla says the company's ability to easily recreate any of its systems for any customer made it popular with manufacturers as well as vehicle owners. Borla says the company's brand carries a lot of perceived value thanks to its association with prestige OEMs like Aston Martin, and he likens that connection to people buying certain brands of sneakers because of their association with certain athletes.
But there's much more to the success of Borla Performance Industries than name recognition, and Borla says the superiority of the company's products is due to a number of factors. First and foremost is the fact that the company never stops working to improve its products. "We're a product-based company; we devote the majority of our resources into improving the product," Borla says. "What really separates us is the attention to detail that we put into our products."
Those details include patented technology that can't be found in any other exhaust system, Borla explains. Borla Performance Industries also provides something more than its competitors in terms of reliability, using heavy and robust welds to join its components. "The real beauty is how they work and how they fit," Borla says.
One Step Ahead
As vehicles become more technologically advanced, Borla Performance Industries has worked hard to keep up with the requirements placed on it by manufacturers and environmental regulations. For example, Borla says, the company is now involved with electronics systems elsewhere in the vehicle, something it did not have to worry about before the advent of emissions control systems.
He says many manufacturers use cylinder deactivation as a fuel conservation feature in cars, automatically shutting down cylinders within the engine during highway driving, for example. Borla says the company's exhaust systems need to work in coordination with these systems to reduce noise. On the aftermarket side, some car owners want the option to run their exhaust systems in "loud" or "quiet" mode at the flick of a switch.
Borla says it isn't always easy for the company to keep up with the changes in the marketplace, but it's essential that Borla Performance Industries does so to protect its position in the marketplace from the competitors that continue to move into the industry.
"There are always more competitors in the space every year, and it's very important that we not rest on our laurels," Borla says.
Into the Future
Borla says that now that many American manufacturers are expanding their efforts to sell performance cars like the Ford Mustang overseas, Borla Performance Industries is preparing to make a bigger push globally.
"International expansion is a very big part of our efforts," Borla says. "We see ourselves pushing pretty hard in some of the emerging markets."
From a product standpoint, the company is branching out into other areas of performance products, specifically on the induction side. Borla says that as long as the company holds true to its winning formula and continues working toward consistent improvement, Borla Performance Industries will be a name people trust.
"We just have a real sense of what it takes to make the products right," he says.