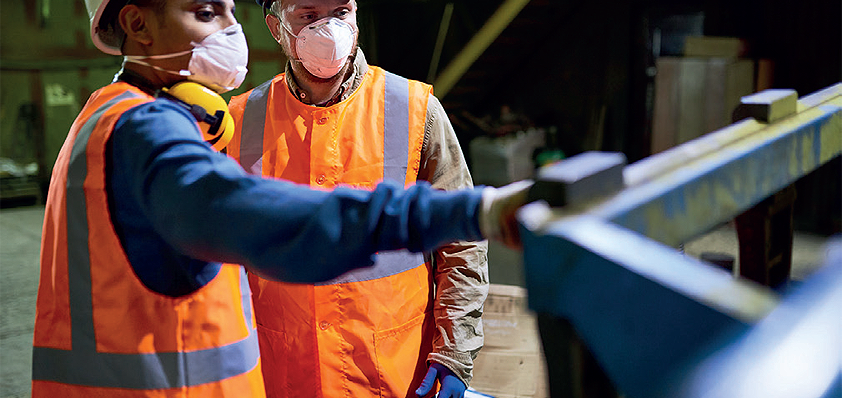 With uncertainty over the current lockdown and Brexit recently being pushed through, attention has once again turned towards the prospect of reshoring, and how it could potentially help the UK manufacturing industry recover.
Following the Brexit deal coming into force on 1st January this year, there has been a lot of talk around the best strategies for businesses to ensure they can continue operating effectively. There's no time like the present to look at strategy either, as a lot of work needs to be done to repair the damage done to the UK manufacturing industry over the past year. We've already seen the impact of huge setbacks with deliveries of goods from EU countries to the UK over Christmas and New Year, due to the increase in Covid numbers in the UK and lorries queuing in Dover for days on end. Businesses need to ensure that they're prepared for any similar events that may take place due to Brexit. Reshoring is a viable option to eliminate any of this risk whilst helping to improve the state of the manufacturing industry in the UK.
Reshoring involves returning the manufacturing of products for UK businesses to the UK, rather than having products exported from abroad. In simple terms, this process alleviates any issues related to overseas suppliers, transport
delays or extra fees from EU suppliers, now that we don't benefit from our previous EU trade deals.
The uncertainty of the current situation is only exacerbated with growing unease over the reliability of China as a host for business, due to the effects of Covid on global supply chains. Add to this the worries about the potential fall-out of trade sanctions being imposed as a result of the American-Chinese trade war, as well as global concerns about the security of technology, and you begin to see the real risks that come with an international supply chain at the moment. With a new US president recently taking the stand, it will be interesting to see how the relationship between the US and China develops, and how this will impact us here in the UK.
At a time when there are so many variables impacting global supply chains, is it too risky to rely upon manufacturers in other countries? During such a turbulent time, in the midst of Covid, Brexit and trade wars, bringing as much manufacturing back to the UK seems like the safest option.
Reshoring will also bring more market share of manufacturing to the UK economy, while helping to strengthen innovation and opportunities for the UK workforce, at a time when redundancy is at an all-time high1.
It will help to rebuild communities where manufacturing was once strong by offering new opportunities across the nation, reducing unemployment, and increasing vigour in supply chains. These benefits will be wholly delivered to the UK economy rather than being consumed by the economy of the 'host' nation.
Many customers of manufacturing firms might be the ones who are now out of work, so looking into the option of reshoring, creating those jobs and bringing production back to the UK will show customers and stakeholders that these companies are actively trying to help address the UK's current employment issues.
Not only would reshoring provide a much-needed boost for our economy, but it would also help the manufacturing industry continue its journey to becoming more sustainable. Cutting out overseas exports will inevitably decrease each company's carbon footprint and have a huge impact on the industry as a whole. Sustainability should now be a key focus for all businesses and industries, and we all need to play our part to ensure that we're taking steps to becoming eco-friendlier. If reshoring is a viable way to achieve an eco-friendlier supply chain, then I would encourage other companies to look into their options for this.
Recent examples of companies turning to reshoring include Nissan, which in January announced that it will commit to the future of its factory in Sunderland and build batteries in the UK. In doing so, the company is helping to sustain the economy in Sunderland, keeping the 6,000 people who are already employed working and potentially creating more jobs for locals. At the same time, Nissan will avoid the export tariffs incurred via the new Brexit trade deal.
Nissan has been praised for its decision to move all battery manufacturing to the UK, showing much-needed confidence that the economy is set to improve once again, and hopefully paving the way for many more large companies to follow in their footsteps.
Now more than ever it's important that we pull together and do what we can to uplift the UK economy, and create opportunities and jobs for local people, whilst aiming for a more sustainable way of working. As we see certain companies moving operations out of the UK, such as Dyson relocating to Singapore, we need the vote of confidence from other giants, such as that shown by Nissan, to ensure that we can bounce back from the set-back we're currently experiencing, and the UK manufacturing industry will be thriving again in due time.
1 www.bbc.co.uk/news/business-52660591
Paul McFadyen
Paul McFadyen, is Managing Director of metals4U. metals4U was founded in 2002 as the UK's first online supplier of metals, plastics, tube clamps and engineering consumables. It is now an industry leader in supply of superior quality grades of steel, copper, bronze, and brass, power and hand tools, PPE, workwear, and engineering products to retail, wholesale, hobbyists, artists, DIY, construction, and industrial sectors.
Its dedication to sourcing and supplying high quality products has positioned the business as a driving force in the engineering products marketplace.
www.metals4u.co.uk