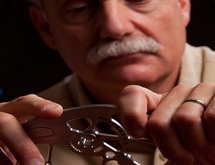 So, it is no wonder BowTech Archery, a manufacturer of bows and arrows in Eugene, Ore., employs a number of archers in its work force, including President Mark Pezzoni. "Because so many people are passionate archers, it helps us understand what real innovation is and what constitutes great archery products," Pezzoni says.
"That said, it is very important that we avoid being archery arrogant. We truly listen and try to learn from our retailers, customers and our suppliers."
BowTech Archery has turned this passion for the sport into a reputation for designing some of the most innovative products on the market. The company was founded in 2000 and immediately caused a stir with its Black Knight bow, which was the "fastest bow in the world." That year at the Archery Trade Association show, the company challenged its competitors to shoot their bows against a chronograph alongside a Black Knight. BowTech would gain sales that were 10 times more than it expected in the company's first year.
With help from additional product innovations, the company outgrew its facility by 2007 and expanded by 25,000 square feet. In October 2007, Savage Sports Group purchased BowTech and remains its parent company today.
Pezzoni came on board after a 13-year career with Snap-on Tools in Kenosha, Wis. While on a hunting trip, Ron Coburn, president and CEO of Savage, offered Pezzoni the opportunity to run a company that made products he was passionate about using.
"I took the chance and fell in love with the business," Pezzoni says. "I've been an archer a good portion of my life, so I thought, 'Here's a chance to combine passion with my business life.'"
Today, Pezzoni continues to build on BowTech Archery's reputation for innovation throughout the archery industry. "A lot of people talk about innovation, but are they truly innovative?" he says. "There have been significant steps taken to change our products. We strive and push for innovation with a purpose – to provide a better archery experience when our customer is hunting."
New Demands
As much as innovation changes the way archers pursue their recreation, two demands stay the same: quality and accuracy. When hunters track game, BowTech Archery's products must withstand punishment endured in the great outdoors.
"Bows are used to hunt game of all types," Pezzoni says. "They are not necessarily treated with kid gloves in the field, so that requires that they not only be accurate, but that they also are durable."
To fulfill this promise requires BowTech's employees to align to some business priorities in order of importance: 1) safety, 2) quality, 3) customer service, and 4) cost.
BowTech Archery also innovates in the way it responds to customer demands for value. The recession has changed the buying habits of even the most avid archers. The company has responded by using lean manufacturing techniques to keep costs in check and offer a product line-up that accommodates multiple price points.
"Economic belt-tightening is very important to pay attention to in the way we go to market with our products," Pezzoni says. "We've designed products to have all the innovation in addition to high efficacy all at a great value price point for the archery market. Our goal is not to be the highest price. It is to provide the highest innovation and efficacy at whatever model and associated price point we choose to provide."
BowTech started the lean journey late compared to some other manufacturing concerns. "I was very fortunate to have some great training through Snap-on and to share some of what I learned with the people here at BowTech," Pezzoni says. "It is evident BowTech's employees see the value in lean and that they are quick learners. Today, they are a leading manufacturer of innovative archery products and are growing despite the current economic woes that plague many companies today."
Pezzoni admits BowTech Archery's initial adoption of lean was spotty. There were alterations in various areas of the facility, but results were not dramatic enough to drive the needed wholesale changes.
Instead of attempting to change every area simultaneously, BowTech eventually focused on a single area of the operation to use as a model. The company first improved its assembly cells, where it increased its bows per man-hour by more than 70 percent. This success gave employees in other departments something to strive for and emulate.
"The key cultural and paradigm shift for our people had to do with understanding that lean is all about eliminating waste and that it requires continuous improvement. Good enough is simply not good enough."
Making the Bows
BowTech Archery focuses on the production of compound bows, which require a high level of technical and engineering detail, extensive testing and constant advancements. Pezzoni says the compound bow has evolved from the traditional stick-and-string version to an advanced weapon that the most novice archers can handle.
"The compound bow has made archery accessible to people who do not have the time to shoot every day as they would with the traditional stick-and-string type bow," Pezzoni says. "So, we want to be able to control key components to the compound bow by producing them here to insure our bows are more forgiving, accurate and durable."
The company manufacturers its own strings, limbs and risers, among other components. When BowTech Archery outsources accessories or components, they are designed by passionate archers who are BowTech employees and then quality checked to the highest standards.
The R&D department gave the manufacturing crew a real challenge when the company introduced the Invasion, its new bow for the 2011 cycle. This bow has four patent-pending features – hardcore limbs, center-pivot technology, flexguard and an overdrive binary cam system.
According to BowTech, Center Pivot Extreme redefines accuracy with a new deflexed riser design and with the help of ultra low friction components, it can reach the speed of 343 fps more easily than other pivots.
Each of the seven layers of BowTech's HardCore Limbs  have a special set of properties working in conjunction with the surrounding layers, which result in a limb with intense speed and extreme durability, the company says. On typical limbs, according to BowTech, most of the bow's energy is stored near the outside of the limb while the core stores minimal energy and serves as little more than a spacer. HardCore Limbs put the core to work, storing energy not only near the surfaces, but also inside the limb.
The flex guard, which goes by the proprietary name FLX-Guard, offers flawless execution in terminating riser torque. BowTech's OverDrive Binary dual cam system achieves the highest levels of tuning and consistency, the company says. By attaching a 100 percent tunable split buss cable harness to the ends of a cam synchronizing axle, cam stability is maximized while maintaining perfect synchronization for unmatched accuracy and a comfortable draw cycle.
"This was a really tough assignment for manufacturing," Pezzoni stresses. "Every year we are significantly changing the product. While this is a strain on design and engineering, it is also up to manufacturing to get all the components lined up and get quality testing done. That overrides and trumps everything."
Priorities in Order
For BowTech Archery, the priority always is on the safety of the end-user, with quality a close second. The third and fourth priorities are customer service and cost. This is the blueprint the company applied to its lean manufacturing initiatives to ensure it remained true to its values.
"We're interested in keeping our cost points down and improving through lean, but not at the expense of safety, quality or customer service," Pezzoni says. "Innovation is at the heart of everything we do, and we direct that innovation toward producing the very best archery products. I think our tag line for BowTech says it well – 'Refuse to follow.'"