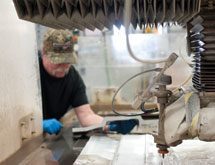 "Refuse to follow" is good advice for archers – you don't want to take a shot from behind someone else, do you? – but it's also the guiding business principle at BOWTECH Archery. As a global leader in the market of compound bows and archery equipment, the company strives to deliver the most innovative features to its customers, but it does not innovate simply for the sake of dazzling the market with something new it has never seen before. BOWTECH's innovation comes directly from the expertise of its workforce, as well as listening closely to its customers, retailers and suppliers. The goal, in fact, is to "refuse to follow" by delivering goods that truly advance the sport forward.
And the market's response to BOWTECH's innovations in the last couple of years is a good demonstration of how the company is doing in achieving this goal. In the past year, BOWTECH's products have received more than 20 awards from industry-leading publications such as Field and Stream, Petersen's Hunting, Inside Archery, Bowhunt America, Bowhunting World and Outdoor Life.
"Our products have been recognized by editors and by shooters who have a passion for archery – these are people who know quality archery products," President Mark Pezzoni says. "We design and build our products in-house, which allows us to be recognized because we are responsible for the quality we put in."
BOWTECH always has been known for its innovation, he notes, but in the past few years customers have embraced the company's prioritized business principles: 1) safety, 2) quality, 3) customer service and 4) cost – in that it strives to contain costs and provide customers with value, but not at the expense of safety or quality.
"These four principles guide our business, while innovation is the over-arching banner," Pezzoni explains. "These principles are printed on placards throughout the facility so our people see them all the time. They are there to guide everyone in the day-to-day decisions people make in their jobs."
Meeting Demands
Not only was 2012 a success for BOWTECH in terms of market recognition, but it also increased its profitability by 7 percent over the previous year. Pezzoni credits this to the company embracing lean manufacturing.
"In terms of the building of our strings, it's fairly labor intensive," he says. "In 2012, we had three separate kaizen events in that one area to achieve one-piece flow, line balancing so there is no bottle-necking in the production process, and to improve the floor layout.
"That area is rocking now," he stresses. "With lean, we are really flexing well to how we meet the demands of the factory."
He notes that with the recent addition of Purchasing Manager John Sharps to the BOWTECH staff, the company also is improving its supplier management. Sharps left Microsoft to come to BOWTECH because he loves bow hunting so much, Pezzoni says, and since joining the company he has been improving its supply chain issues.
"Supplier management is not just purchasing – I cringe when people talk about 'vendors,'" Pezzoni says. "When I think of vendors, I think of a soda machine where you pop something out of the bottom. We work with suppliers, and suppliers are extremely important – they are like an extension of our employees."
BOWTECH is using supplier scorecards to evaluate how suppliers are performing in several areas, such as on-time delivery, ability to work with BOWTECH on cost savings and quality consistency.
"It really ranges from infancy to infinite performance," Pezzoni says. "There are guys who will see low scores and give excuses, but there are others who will see low scores in some areas and want to get better. We only want to work with companies that are focused on improving with us. With all of this information we're getting, we're developing a qualification plan for new suppliers and they have to meet specific standards. If we didn't do this, we would be taking a huge risk because we wouldn't know the companies we were dealing with."
Market Reception
BOWTECH has found that its profitability and efficiency benefit when it is better about designing for manufacturing. "We would often design to create innovative, best-in-class products, but they were a nightmare to produce on the manufacturing floor," Pezzoni says. "Now our engineers are working more closely with the manufacturing floor when they are designing new products."
All of these areas of improvement, he says, will enable BOWTECH's ongoing growth. The beginning of 2013 has been very positive for the company, following the fall 2012 introduction of its Infinite Edge bow, which has set records for volume and market penetration. By continuing to improve with lean manufacturing and providing the market with innovative products, Pezzoni expects BOWTECH to continue to grow and break more records.
"The market has been so receptive to our new products," he stresses. "We were just at the Archery Trade Association Show, and with the introduction of the BOWTECH Experience – our flagship premium bow – we set the all-time record for most units sold at the show. We had a 35 percent increase in volume sold, and our previous record was set just last year.
"We will continue to innovate and respond to the market," he continues. "I truly believe that you can fall prey to innovation – any strength overplayed can become a weakness. We can innovate, but if people don't care, we will exist in a vacuum. We want to provide what shooters are looking for."