Boxes and Packaging (Doncaster)
Thinking out of the box
Celebrating its 40th anniversary Boxes and Packaging (Doncaster) continues to go from strength to strength in the corrugated packaging industry
Packaging is vital for business in several ways, ensuring products are transported through the supply chain, communicating product information and delivering brand visibility.
One company that has been part of the evolution is Boxes and Packaging (Doncaster) which has been part of the Boxes and Packaging group for the last ten years but has seen a corrugated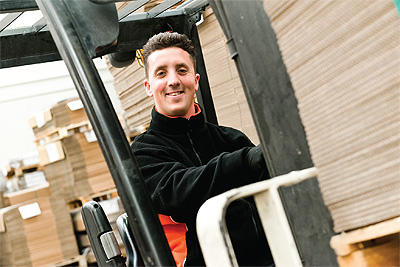 packaging factory on the site for a little over 40 years. With other companies spanning the country, Boxes and Packaging is a well-respected business with its Doncaster site hitting the headlines recently when a £1 million investment was announced.
Increase in capacity
One person who has seen significant changes in the 25 years he has worked in the industry is Managing Director Stacey Austin who has enjoyed the last ten years of his career with Boxes and Packaging (Doncaster) and is now driving forward the latest investment as part of its growth strategy. "We started off as a privately-owned company, have been through myriad owners and are now proud to be part of the Logson Group, the fourth biggest manufacturer in the UK packaging industry. During my career, customer expectations have changed with demands becoming much higher – however, with investment in technology, lean manufacturing processes and a commitment to delivering bespoke packaging solutions, Doncaster continues to prosper within the Boxes and Packaging group. The 2018 investment will see our capabilities increase further, changing our manufacturing operations to two shifts and the creation of around ten further jobs in the local community."
The investment vision
The investment will see the installation of a new Dong Fang two colour printer slotter with rotary die cut facility alongside a new pallet press and material handling equipment, all part of the organisation's investment in its Doncaster manufacturing centre.
Stacey commented: "These are exciting times as Doncaster moves into another phase giving us the opportunity to seek out more business and drive forward the continued success of the company. It will allow us to diversify into new product markets, increase our capacity and challenge our current boundaries."
This is especially important as Boxes and Packaging (Doncaster) is known for the bespoke service it offers, tailoring its designs to meet the needs of a diverse range of business sectors. In recent years, it has established an 'inplant' for a global automotive components manufacturer, a stock and serve service for an international blue chip filtration business and provided endless supply chain solutions for everything from baths to beer and beyond!
Instrumental in some elements of this growth and unique offering is the 50,000 square foot distribution centre which opened a few miles away from the manufacturing site in 2015. With 4500 pallet spaces, order picking, split pallets and storage are now available so that a broad range of customer requirements can be met.
Sustainable success
Corrugated continues to grow in popularity due to its sustainability, something that Stacey insists has been an intrinsic part of its success."Corrugated material has always been highly recyclable and consumers and businesses are now even more aware of this – whether putting it in the skip for recycling business waste or in a specific bin for household waste. Our raw material is manufactured from 80 per cent recycled material and is 100 per cent recyclable, no other packaging material has such appealing environmental credentials. The improvement in paper making over the years has seen a vast improvement in the performance of recycled papers, and as such many customers have moved to fully recycled materials, a trend that we expect to continue."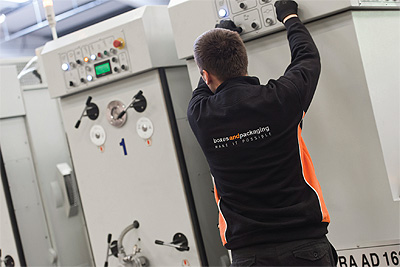 Group strengths
The Doncaster site continues to seek out ways to build on its success and a big influence is the parent company, Logson Group, and the investment and security that offers. Whilst each Boxes and Packaging site plays to its own strengths within the market place Stacey believes that working within a collaborative group has some significant benefits.
"Being part of a larger group gives confidence and security to our customers in terms of material supply, manufacturing supply and disaster recovery, all of which are infinitely more challenging to deliver as autonomous businesses. It is this type of security and vision of the executive board and senior management team that has allowed us to develop a five-year business plan to deliver 50 per cent growth in that time – a plan which we are currently around half way through. Such strategic investment and vision is critical to business growth and being able to draw on collective experience and drive is inspirational."
With turnover currently around £9 million, and a strategic plan to achieve £12 million by the end of 2019, the future is not without its challenges. However, by mid-2018 manufacturing capacity will have increased and together with the distribution centre a strong infrastructure will have been established. With a clear methodology and determined ambition Boxes and Packaging (Doncaster) is well placed to achieve its growth targets.
With 25 years of corrugated career experience and ten years at Boxes and Packaging (Doncaster), Stacey remains philosophical about what the company is capable of.
"We can't always reinvent the box but what we do so well is finding new ways to create exceptional designs, find innovative solutions and build strong working relationships as our customers' packaging partner. Combined we can continue to meet and exceed our customers' expectations and ensure the ongoing success of Boxes and Packaging (Doncaster), the other Boxes and Packaging sites and the Logson Group. It's something that I am very proud to be part of."
Boxes and Packaging (Doncaster)
Service: Bespoke packaging specialists