Moving on up
With its relocation to a new purpose-built production facility, Bradbury Group is now producing its award-winning steel doors in greater numbers and shorter timeframes than ever before
The year 2018 was quite the 12-month period for the UK's leading provider of steel doors and physical security solutions, Bradbury Group. Despite the overall market remaining relatively flat, business for the Scunthorpe-based company steadily increased throughout the year and into 2019, as it continued to prove to its extensive portfolio of customers that it is able to deliver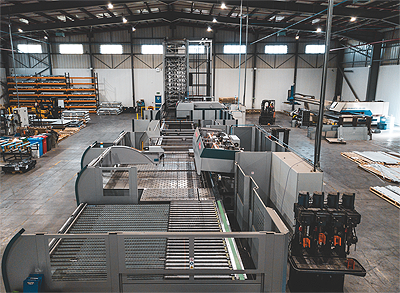 a higher quality product than its peers, more consistently and in a shorter space of time.
"When it comes to customers undertaking building projects and the like, the ordering of doors is typically one of those tasks left to the tail end of the process, and a by-product of that is that said customers tend to want them delivered quickly. While many of our competitors have in fact increased their lead times to between six and eight weeks, we at Bradbury Group are delivering our doors in as little as four days," explains Managing Director, Tim Strawson.
Tim's vision has long been to affirm Bradbury Group's position as Europe's best steel door maker, possessing the ability to make a massive range of genuinely tailor-made physical security products, quickly and right first time. A critical step towards making this vision a reality took place at the turn of 2019, with the Group's processrelocation to a new, £8 million, 135,000 square foot production facility on Scunthorpe's Foxhills Industrial Estate.
"The decision to move to a new facility came, primarily, as a result of a significant increase in turnover in the last decade and our outgrowing of our previous production space at Queensway Industrial Estate," Tim details. "In 2010, the Group recorded a turnover of £4 million, of which £2 million came from steel doors. Fast forward to today, and our turnover in 2019 from steel doors alone will reach £16 million. This provides you with an idea of the rapid growth we have experienced."
In order to facilitate this increase in demand at Queensway, the Group acquired several units on the estate, accumulating a total of seven by 2016. Not only did this ultimately prove impractical and inefficient, but the Group also found itself running out of adequate storage space. With this in mind, the decision was taken to identify and move to a site where all departments could be brought under one roof, and which could allow for the streamlining of Bradbury Group's production processes.
"Our Foxhills site automatically provided us with three times the production capacity that we occupied previously, meaning that we are now comfortably making 80 steel doors per day, with plenty of room for this to increase with demand," Tim enthuses. "The vast scale of the premises also now means that we can store up to 4000 finished units, increasing our storage capacity by ten times our previous levels."
Prior to this year, Bradbury Group's production structure meant that it typically took between four and six days to produce a single door. Today, its new facility allows it to do so in as little as four hours! What makes this all the more impressive is the fact that each door that rolls off the production line is, in itself, unique with its own colour, width, height and accompanying hardware.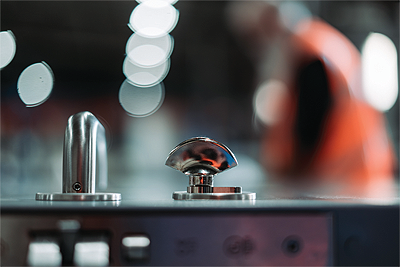 The individual nature of its door products naturally meant that a great deal of planning had to go into putting the Group's production processes into place. "It is imperative from the off that, ahead of a door starting its passage down the line, all the necessary parts or components are ready in the right place at the right time to ensure that the end product is created quickly and to specification," Tim adds. "This was a big challenge for us, and required something of a culture change within our manufacturing operations, but it has been overcome very successfully. A further benefit that comes from streamlining the entire process is that we are now able to place quality inspectors at four different stations along the line, whose job it is to constantly monitor the quality of our doors."
In other recent news, September 2019 also marked the announcement that the Group had completed its latest acquisition in the form of Liddle Doors, a trusted provider of physical security products, particularly to the utilities sector, for over 40 years. This subsidiary continues to operate from its site in County Durham, although the production of some of its products now takes place at Bradbury Group's headquarters. "Liddle Doors has been a great customer of Bradbury Group for some considerable time," Tim says. "We have worked particularly closely with Liddle Doors in the last couple of years, so its joining with the Group was a logical next step commercially. Acquiring its assets, and taking on both its people and its customer base, has made for a great symbiotic relationship, one that is allowing both brands to expand their respective operations."
As we enter the last two months of 2019, the immediate focus of the Group is to ensure that it continues to deliver optimum service levels in the run up to Christmas, a period that Tim reveals is known for marking an upturn in demand as customers look to meet end-of-year project deadlines. "As is the norm at this time of the year, we have made sure that we have the appropriate capacity in place to meet the needs of our customers, who are usually relying on short lead times," he adds. "Meanwhile, going into 2020, we are anticipating solid growth for the year as we make increasingly better use of our new infrastructure, while continuing to do what we do best, and that is making first-class steel doors!"
Bradbury Group
Products: Steel doors and physical security solutions