Casting call
Established in 1966 Brafe Engineering is a leading UK manufacturer of high-specification, specialist alloy castings for valves and pumps
Offering full traceability and quality assurance the business has seen growth across all of its markets adding more than £500,000 to its turnover in the last 12 months.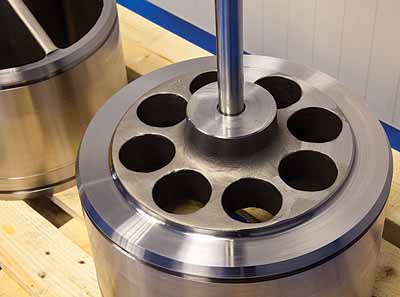 Based in East Anglia, UK, the business provides components for end use in power generation, chemical refining, nuclear and petrochemical markets and many more industrial processes. That level of adaptability has allowed Brafe Engineering to meet the rapid changes that its customers face and further assist with future challenges as the markets fluctuate. Recognising the growth within the nuclear sector and supported by the Manufacturing Advisory Service (MAS), the company has been able to make a number of improvements to its processes in order to better position itself to take advantage of nearly £60bn of investment in civil nuclear new build. Commenting on the development, Andrew Dalby, managing director, was reported to say: "We've been manufacturing and exporting goods to ASME nuclear standards for many years, but this was almost exclusively to overseas markets, with some 95 per cent of our output exported.
"We are only ten miles from Sizewell and combined with the growing UK market opportunity in nuclear new build and decommissioning, it made sense to turn our attention a bit closer to home." The changes have not only resulted in an increase in sales, but also an expansion of the workforce with the creation of 16 new jobs, including seven apprenticeship roles. "Our approach is to keep all of manufacturing in England. Whilst others decided to move offshore, we preferred to focus on adding value and securing the highest quality standards. Our base in Suffolk gives us the best chance of achieving this," he added. Offering a complete service from consultation and design through to manufacturing, qual ty control and certification, its modern well-equipped facilities and highly trained staff are capable of achieving a fast turn round of critical and challenging to produce components.
Whilst the business started as a predominantly Aluminium based foundry producing fittings for oil fired central heating, it was through continued investment and technical expertise that it grew to become a leading manufacturer of precision engineered castings worldwide, with expertise in advanced grade alloys including Inconel, Duplex, Monel and Titanium. Using a vast array of alloys with exceptional resistance to cracking, pitting and stress corrosion, its products are suitable for service in conditions of intense abrasion or attrition and at the extremes of high and low temperature. Combined with manufacturing facilities that include a foundry, as well as heat treatment, welding, machining and full testing capabilities, the business is a complete service solution for a range of international customers.
Increases in Brafe's forward order book have instilled a confidence to invest in the longer-term future, purchasing not only new machines but also an additional furnace to ensure the capacity and flexibility to meet the rise in demand. Maintaining a full range of manual machine tools alongside heavy-duty CNC machining centres, its machine shop is integrated with advanced computer-aided facilities. The core processes within its production are controlled by a computerised system that gives complete control at all stages, tested against a series of general, process, melting and quality procedures and work instructions. Its 'Magma' computer simulation and flow analysis, combined with the depth of knowledge and experience of its engineering personnel, has enabled the company to optimise casting methods and work towards a dedicated 'right first time' approach.
Highly skilled engineers are able to decipher the optimal way of casting, dependant upon shape, size and material grade, and using CNC operated pattern-making equipment combined with the latest CAD/CAM software, designs are methodised to determine the most suitable method of manufacture. The 3D CAD model, customer's requirements and CAM systems are used to produce patterns and core boxes, wax tooling and prototype patterns, allowing castings to be produced without the need to manufacture tooling. This provides the opportunity to check a design before committing to the full cost of pattern equipment. These services have been successfully applied many times to the reverse engineering of obsolete parts and the manufacture of special one-off components.
From its specialised silicate sand foundry with induction melting furnaces, the business has the capacity to cast up to 2500kgs gross weight in over 250 advanced alloy grades. Along with the main casting process, it offers the patented 'Repliwax' casting option, incorporating a balance of both traditional sand and the latest ceramic casting technologies, which provides the option to cast near net shape production castings, reducing machining time and cost. Having a choice of processes and techniques is a distinguishing factor that provides the flexibility to adapt to ever changing customer requirements. Offering a number of non-destructive and quality testing processes, its high standards are constantly maintained.
With a purpose-built NORSOK heat treatment facility, approved and qualified to 1250°C, Brafe Engineering provides the ultimate environment to produce high quality castings. In continual production, Brafe Engineering looks to the future with confidence, taking all opportunities to further improve its production process.
Brafe Engineering
Products: Alloy castings for pumps and valves
Sites: UK
Employees: 117