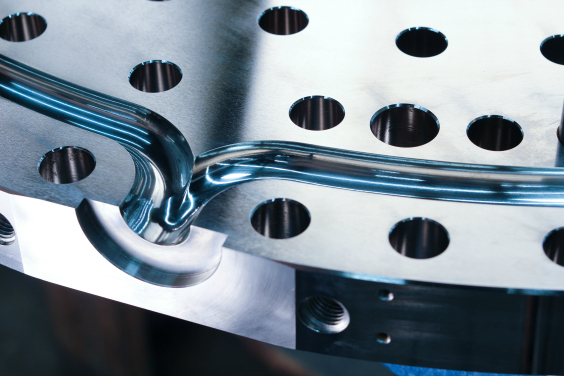 Brampton Engineering Inc.
Brampton Engineering Inc.'s customers have long looked to it to provide custom plastic extrusion equipment to meet a variety of consumer packaging needs.
The Brampton, Ontario-based company specializes in manufacturing custom blown film equipment used in the food and beverage, medical, personal care, health and beauty and electronic product markets.
"We're a small company in comparison to many of our competitors, however the reason we're able to sell to major brands is our specialty and leading technology in multi-layer barrier film," President and CEO Gary Hughes says. "We've been around for more than 40 years, our brand is well-known if you're making blown film."
Brampton Engineering's equipment is highly engineered and specialized. It includes systems that produce AquaFrost, a blown film that is cooled with water rather than air. "We have innovated and lead the industry in water quenched films," he adds. "Other companies are now marketing water quench, but we've been doing it for 15 years." The company also markets AeroFrost, multi-layered air-chilled film system.
The company's history of innovation and the quality of its products earn it high regard in the industry, even when measured against its much larger multinational peers. "We score highly in customer satisfaction," Hughes says. "If you're a company that has a special problem or challenge, that's where we get invited in, and that's how we've positioned ourselves – as the very flexible solution supplier."
Since its establishment in 1973, Brampton Engineering has supplied equipment to companies located around the world. More than 300 of the company's multi-layer barrier lines have been installed since 1990. The company is ISO 9001 certified.
A Modular Approach
Brampton Engineering is taking strides to ensure that it remains the first choice for specialized blown film systems among its customers. The company began implementing lean manufacturing processes and other significant changes to its operation three years ago. "That's a big change for us," Hughes says.
The company is adding kaizen and workflow improvements to its operations, and recently automated its design rules and algorithms. Brampton Engineering is also now taking a modular approach to custom manufacturing.
Rather than building a complete system from scratch, the company uses existing components such as winders, controls and cabinets. Systems are designed to customer specifications using these components. "For some of the people here, this is a huge change, and there's a fear that we are now making a standard line of machines, which isn't the case," Hughes adds. "Just because we're standardizing the components we're using does not mean we're standardizing our customers' solution."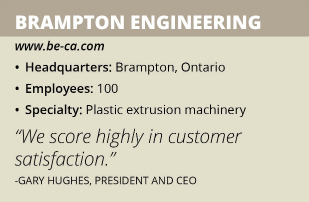 New systems are designed in conjunction with clients. "The conversation between our team and our customers begins with our asking them to tell us about the products they are looking to manufacture," Hughes says, noting the company receives metrics from its customers and then recommends a solution based on this information. "We also lead with 'what is your need, here is your solution,' then 'here is our product,' instead of just trying to sell a product line."
The tooling, or die, used in each machine is designed specifically for each customer and manufactured in the company's 104,000-square-foot facility. "The tooling is what makes the film unique to the customer and their needs," he adds. "We consider tooling to be the heart of our system, and design it very differently than our competitors."
One of the company's teams is dedicated to rheology – the science of polymer chemistry. "We look at what our customers can or cannot do with tooling, and come up with the solution of a die design that is key to that need," Hughes says.
Component manufacturing is outsourced to a number of manufacturing partners including Longbridge, which produces control cabinets used in Brampton's systems. Brampton pre-certifies its manufacturing partners and performs quality testing before parts are received. The company and partners such as Longbridge use engineering software to design system components. "Our supplier partners help us bring efficiency and lean principles into our operation," he adds.
The company believes in building cross-functional teams across its engineering and other operations that help it succeed. These teams include new employees as well at more seasoned employees. Brampton leverages its relationships with local universities and colleges to help it train and recruit staff.
Goal Setting
The improvements to Brampton Engineering's operations over the past three years are helping it meet its ultimate goal of customer satisfaction. The company intends to do this by streamlining its engineering processes, dramatically reducing assembly and test cycle times and eliminating inventory.
"Throughout all of the changes that we've made, we've had one overriding goal – to meet all of our commitments," Hughes says. "These are very technical and large projects, so we want to hit every delivery and performance goal and have our projects signed off on in a short period of time."
The company recently implemented an Epicor enterprise resource planning (ERP) system to help it meet its goals. The system helps the company track the key measures it uses to track growth, which include revenue, products and services and number of retained customers and new accounts. Before implementing the Epicor system, the company used a mixture of custom spreadsheets and manual entry to track these measurements.
"Using Epicor we now have a full view of resources and project status, integrated from customer order to after-market service," Hughes says. "Today we have project specific measures, at any time during the project, and have new measures for order fill time, at each process step."
The Epicor ERP system has helped the company grow and improve several areas of its operation. This includes operational efficiency, as it allows Brampton to track production cycle times and provides real-time costs to managers. The system also allows for data visibility across the company, which enables decentralization of ownership with data-driven decisions, he adds.
The system also adds flexibility and agility to Brampton's operations and enables it to improve its customer service. "Our managers have resources and information closer at hand, enabling quick response to changes," Hughes says. "With EPICOR our case management program is excellent for documenting, measuring issues through to conclusion, as well as building a data base for future reference to solve similar problems faster. Customers are impressed with our control of issues."
Epicor also improves the company's ability to manage its talent. "Data is often tied to persons, where key measures can be used to identify and recognize performance," he adds.