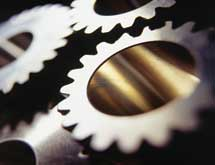 Cathodic protection is, essentially, peace of mind. For metal structures that are partially or completely buried or submerged, defending against corrosion is essential for protecting the investment and keeping productivity high. That's why customers in industries including mining, marine and oilfield production value a supplier that can provide them with high-quality cathodic protection equipment reliably and quickly. Those principles have kept Houston's Brance-Krachy Co. Inc. in business for more than 75 years, and the company says they will continue to be the foundation of its success well into the future.
Based in Houston with branch offices in Beaumont and Midland, Texas, Brance-Krachy supplies customers in a broad range of industries with cathodic protection solutions including cables, test equipment and instruments. "We fulfill the cathodic protection needs of customers worldwide with insulation, coating material, rectifiers, instruments, impressed current and galvanic anodes, test stations and cable," the company says. "Our cathodic protection product lines include zinc anodes, magnesium anodes, aluminum anodes, backfill material, junction boxes, test stations and rectifiers."
The company also provides power transmission components such as belts, sprockets and couplings. Brance-Krachy's customer base includes firms in agriculture, aggregates, utilities, chemical processing, food and beverage production, offshore drilling, and paper production. "We provide power transmission equipment from over 100 leading manufacturers to the industrial community," the company says. "Our power transmission product lines include Kevlar belts, AC Motors, bearings, V-Belt sheaves, roller chain, sprockets, oilfield mud pumps, gearbox repair, Falk couplings and Dodge couplings."
No matter what the company's customers are looking for or what type of application they need it for, Brance-Krachy says they know they can find it there. "Customers turn to Brance-Krachy for high-quality, dependable power transmission and cathodic equipment and supplies," the company says. "We strive to exceed our customers' expectations in service, quality and product selection."
Through it all, Brance-Krachy says its unique combination of experience, quality and support has been the driving force behind its success over the years. As long as the company remains true to these values, it says, it expects greater things.
Winning Combination
When it comes to dealing with highly technical components such as cathodic protection systems, customers typically would be wary about working with a supplier that only recently began selling them. Experience is one of the most important things customers look for in a supplier, and Brance-Krachy says its level of experience is virtually unmatched within the industry. Established in 1932, the company has accumulated more than seven decades as a whole, and its employees have gathered a fair number of years under their belts, as well.
"[Customers] know they can count on world-class products and support founded on a total of more than 260 years of technical expertise in domestic and international markets, and on Brance-Krachy's global reputation for excellence," the company says.
With that much experience and expertise under one roof, Brance-Krachy says the quality of the products it stocks can be guaranteed, which is another aspect of the company that customers have come to appreciate. Knowing that the components they are buying are of the highest quality is extremely important when considering how important the installations are that those components are protecting. The company says it has the system in place to ensure that every component customers order from Brance-Krachy is reliable.
"Brance-Krachy's quality is the key to reliable performance," the company says. "Our comprehensive management system demands rigorous testing, firm control and full traceability."
The company says it puts those products through such rigorous testing because it understands the importance of the products' quality not only to its customers but to its name, as well. "From initial inquiry through the purchasing and fabrication processes, every order we handle carries our reputation with it," the company says. "We continue to improve the level of quality and service to our customers."
Alongside the quality of the products it stocks and the experience within the company, Brance-Krachy says the level of service it provides for customers is another strong differentiator for it. "We support our customers through innovative and flexible purchasing and stocking programs designed to their requirements," the company says. "Wherever and whenever the need arises, Brance-Krachy customers can depend on our strategically located stocking centers for rapid, customized response.
"Whether the application is power transmission or cathodic protection, our customers can depend on a $2 million working inventory," the company continues.
"Computer databases ensure precision control, [and] customized programs closely match our stock to [a] company's individual needs for the consistently reliable just-in-time delivery," it adds.
Strong Partnerships
Brance-Krachy provides its customers with a strong partnership, and the company also teams up with other suppliers and distributors to create strong partnerships of their own. The company is a member of many industry organizations, such as National Association of Hose and Accessories Distributors (NAHAD).
"The mission of NAHAD is to promote a high standard of professionalism and integrity within the hose and accessories industry by providing a medium for communications, education and training, so that quality is maximized and profitability enhanced," according to the organization. "[The organization's] members include companies, worldwide, engaged in the distribution and manufacture of all types of hose, tubing, couplings, fittings, clamps and related accessories serving the industrial marketplace, as well as firms who offer services and products to the industry."
The company also is a member of the Power Transmission Distributors Association (PTDA). The organization describes itself as "the leading association for the industrial power transmission/motion control distribution channel.
"PTDA is dedicated to providing exceptional networking, targeted education, relevant information and leading-edge business tools to help [member] distributors and manufacturers meet marketplace demands competitively and profitably," the organization continues.