Powered by precision
With technical excellence, customer service and product value central to everything that it does, Brandauer prides itself on its ability to turn challenging requirements into positive manufacturing solutions
Founded more than 150 years ago, Brandauer is now one of the largest contract presswork and stampings companies in Europe, manufacturing precision metal components for customers across the globe. Recognised by its peers and by the multiple industry sectors that it serves as being a world-class engineering company that specialises in the creation of high speed precision stamped components in difficult materials, Brandauer's technical excellence allows it to offer a complete range of services, from prototyping, design and in-house production, through to high-quality manufacturing and logistics.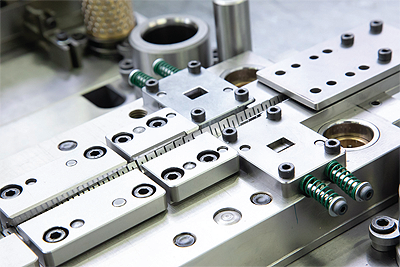 Most of the products that Brandauer makes are invisible to the user, yet are fundamental in making many everyday items work effectively. These range from electrical connectors that are fitted into around 90 per cent of the world's kettles, edge connectors for the dimming of rear-view mirrors in more than half of modern-day cars, and nose bridge clips – of which it produces some seven million per month – that are used predominantly in medical/personal protection face masks.
The epicentre of Brandauer's operations is its Birmingham factory, one of the largest and most efficient contract presswork facilities in Europe. Indeed, the scale of this location gives the company the flexibility within its manufacturing processes to deliver high quantity pressings to meet its customers' specific requirements. Within the walls of its building, the company utilises the latest production technology, with a press range from 5T to 125T. In addition to its range of Bruderer and Haulick Roos Power Presses (18T to 125T), it also operates hydraulic and hydro-pneumatic 5T Hare presses, as well as Seyi and Minster power presses.
The most recent addition to Brandauer's press capabilities was announced in July 2019, when the company confirmed its purchase of a Yamada Dobby NXT 80XL high-speed press – at a cost of £600,000 – as part of its three-year plan to boost its capacity and provide additional flexibility. The state-of-the-art technology gives it patented repeatability on quality and a 100 per cent reduction in press setting time, which frees up manufacturing space to take on new contract wins. This represents the first machine that the company has purchased a press from a Japanese specialist, and it tops off a £2 million modernisation of its facility, which also included the addition of a new GF wire cut EDM machine, two Andmar surface grinders, and an OGP Smartscope Vantage 250 to help with quality inspection.
The company also offers the latest in bespoke modular manufacturing systems for pre-forming, stamping and in-die riveting/tapping. These, along with a range of semi/automated systems, are designed to ensure minimal human involvement in the on-going production process, deliver cost savings and globally competitive pricing for its customers. Meanwhile, in terms of investment, Brandauer's ongoing capital purchases also focus on key technologies and equipment, including wire/EDM machines (all fully interfaced with the appropriate CAM software), modern presses, advanced 3D CAD equipment, and environmentally-friendly cleaning processes.
Technology aside, the company has never forgotten that it owes much of its success to its producing of first-class engineers. Indeed, the highly skilled staff that Brandauer boasts throughout the business help to bring in-depth technical and industry knowledge to bear on each new project. For the company's part, it focuses on attracting the right mix of employees, with appropriate training provided from traditional apprenticeships to NVQs, management/operational courses, and degrees at local universities. Once employed, its staff are given the resources and support required to develop and work to the maximum of their ability. The company also takes pride in its record of almost zero labour turnover, low sickness/absentee levels and high
proportion of long-serving employees.
The impressive efforts of Brandauer's people have been rewarded several times to date in 2019. In May, the company was named as the Midlands best exporter at a gathering of more than 250 of the region's finest manufacturers. The award in question – The Made in the Midlands Awards International Trade prize – was presented to the company in recognition of its increase in international sales, including £1.5 million of new contracts secured for grab rings, a turnkey tooling and stamping process, and stainless steel frames for a subscription razor company.
The above followed the announcement in April that, for the first time in its long and distinguished history, Brandauer was to be presented with a Queen's Award for Enterprise in the category of International Trade. One of only 16 firms based in the West Midlands to have achieved such an accolade, the award was given for Brandauer's services to making and delivering millions of precision parts across the world each and every week. Rowan Crozier, CEO, commented at the time: "The Queen's Award really is the icing on the cake for a great year and testament to the hard work, commitment and innovation all of our staff have put in to help make us a world leader."
Indeed, export growth has been a major feature in the company's success, with approximately 85 per cent of its £9.2 million annual sales being exported to international markets, half of which coming direct from its Birmingham factory. Since 2015, exports have risen four per cent year-on-year, and this has seen Brandauer operate in more than 20 countries, including a number that also play host to some of its most intense competitors, such as Germany, Israel and Saudi Arabia. The winning of its Queen's Award has since encouraged even great growth ambitions, particular in the United States and through expansion into consumer markets.
Brandauer
Products: Contract presswork and stampings