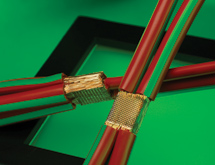 Branson Ultrasonics Corp.
Branson Ultrasonics Corp. is committed to providing solutions to meet the needs of its customers. It has become an industry-leading designer, developer and manufacturer of plastics-joining and metal-welding equipment as well as precision cleaning and liquid processing equipment. It offers the latest in product and process technologies.
Branson Ultrasonics is part of Emerson Industrial Automation, a business of Emerson that provides automation and power generation technologies and services to a wide range of industries. In addition to Branson, Emerson Industrial Automation includes a number of industry-leading businesses and brands that offer technology solutions, industry expertise and services that solve a wide range of automation challenges for customers around the world.
"Branson is the global leader in customer-focused solutions for plastics joining, ultrasonic metal joining and precision processing. Our industry experience helps customers get to market quickly, with quality products manufactured with the highest efficiencies. What we do fits with Emerson's platform of industrial automation because our core technology is used as part of a complete solution," says David Gerhart, vice president of global marketing. "Often, we sell pieces of completed solutions that may be offered through other parts of Emerson. Having access to the other component technologies in the Emerson portfolio strengthens the way we can go to market."
The focus for Branson Ultrasonics is on plastics joining, metal welding, precision cleaning and liquid processing technologies. Headquartered in Danbury, Conn., Branson serves the aerospace, appliance, consumer electronics, packaging, medical, automotive and construction industries.
"The largest industry segment we serve is automotive," Gerhart says. "We are selling them the technologies and equipment that joins the plastic parts that go into a car. Our primary customers are the auto producers and their Tier I suppliers."
Branson has a global presence with a Europe regional headquarters in Germany and its Asia regional headquarters in China. Its global footprint allows it to provide customers with local support such as engineering assistance, parts, preventive maintenance and training.
"We have several manufacturing sites in the U.S., as well as service centers around the country that can service customers in need of a quick turnaround," Gerhart says. "Challenging development and engineering work is funneled into our Danbury location. In addition, we have an assembly operation in Mexico."
Staying in Tune
In all of its markets, Branson stays in step with its customers' needs by striving to get involved in customers' design processes as early as possible. Through an emphasis on building close collaborative relationships, Branson can ensure its technology solutions are tuned into specific customer needs.
"We put a major focus on how our customers' technicians utilize our equipment and pay close attention to human factors in our designs," Gerhart says. "We are finding new ways to deliver our technology solutions for joining plastic parts in ways that better fit into our customers' manufacturing environments. This new focus is all about ease of use, throughput and uptime."
Branson is working to make better use of data intelligence, too. This is particularly important in industries like the medical sector, which has many regulations and specifications that must be meticulously followed.
"We're putting more intelligence and record-keeping capabilities into our equipment so all adjustments are logged and traceable," Gerhart says. "We are working on solutions to automate that for customers."
Market research is another area where Branson is focused. The company is using market research so it can look at markets in quantitative, formal and global ways. "As we develop technology for one vertical, we need to be able to leverage that and bring it to a wider audience," Gerhart says.
Unified Efforts
During the better part of the past decade, Branson has learned a lot as it navigated the tough recession. Given the troubles that hit the auto industry, Branson had to stay nimble. The company was able to continue to service customers and develop new products, keeping customers happy. Now that the worst of the recession appears to be behind us, the company is optimistic about the future.
"There are many growth opportunities for us," Gerhart says. "And we have a disciplined management process to prioritize them."
Branson plans to take advantage of its global presence and strong customer relationships to anticipate where the companies and industries it serves are heading. Branson also believes it can find synergies between its strengths and the strengths of other Emerson businesses.
"We have a strong presence in Japan, for example, and we can help Emerson find new opportunities to expand its partnership with our customers there," Gerhart says.
As Branson works with other Emerson businesses, it is likely to see the benefit of increased idea sharing and cross-pollination of industry knowledge across the entire company.
"Emerson has more than 100,000 employees in more than 150 companies, so we have a tremendous amount of talent and industry knowledge," Gerhart says. "By working together, we can apply our technologies and expertise to industry verticals where we may not have been before."
Branson will also work to maintain continuity across its global footprint so it can provide a single face to its customers.  Customers expect to have a global dialogue with Branson, so it must continue to keep assets close to customers and engage with them in a unified fashion across multiple fronts to make sure it remains aligned with their needs.
"Customer expectations change from region to region, and we must work to serve those different expectations while still giving them a continuous offering," Gerhart says. "At our core, we are engineers that are interested in finding common ways of looking at problems and offering solutions."