Thinking big initiatives
Russel Argo, President of Brenntag UK & Ireland speaks to MTE about developing the global number one chemical distribution company
Brenntag UK & Ireland was previously featured in Manufacturing Today Europe in August 2016. Could we begin with an overview of the company's developments since then?
Previously we set out our significant investment plans 2016/17, both in infrastructure and in people. We have completed a number of those projects already, for example, we discussed our Brenntag Blending Solutions (BBS) Services and the fact that it has been pivotal to our success in life and material sciences. We continue to focus on this area to create a step change in value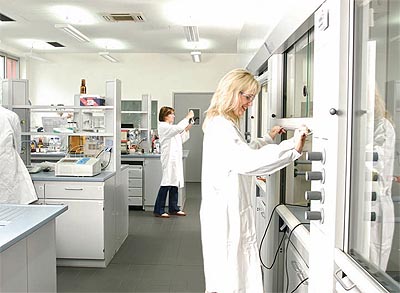 added services that we are bringing to our customers. A major redevelopment at our Bradford BBS facility is now complete, which is already producing high value, technically complex blends ranging from simple powder into water dilutions, to multi-component blends. The new quality control laboratory at Brenntag Bradford is now completed and fully operational to assist in blends development.
The development of the new large-scale material science industrial blending facility at Lutterworth, Midlands is half way through construction. Once completed this facility will provide enhanced capabilities of significant raw material and finished products storage to offer local blends to customers in the Midlands and to the South of the UK, and feature state-of- the-art equipment dedicated to making solutions and multi-component blends, both in small and large lot sizes.
We have also completed our new food ingredient technical centre in Widnes where our teams can undertake product trials and create new nutritional ideas under the 'Formulating the Future Together' concept. A big step forward for us is to complete our total market offering to our food manufacturing customers, namely product development, ingredient and formulation advice, nutritional improvement concepts, stability testing, flavour development and final product trials, as well as a portfolio of products unrivalled in the industry.
We are continuing to expand our already successful speciality chemicals business embracing new market sector segments and creating innovative solutions within markets where the market share we command is already significant. We have gained exciting new distribution agreements with a number of industry leading manufacturers. For instance, we now work with Specialty Minerals Lifford across life and material science sectors including pharmaceutical, and now offer BASF range of mining ingredients building on our successful partnership in the water treatment sector. We previously touched on the importance of building relationships based on trust and long term engagement, and we are delighted our business partners share the same ethos. We are expanding our presence in metal surface treatment and paper as well as developing our activity in agrochemicals with resource investment.
On the subject of the water treatment industry, we have been investing in our technical and commercial capabilities in this sector, polyelectrolyte flocculant and disinfection areas in particular, with the expansion of the technical team, creation of a new water treatment laboratory for customer specific trials, and extension to the product range to achieve a highly efficient delivery process for our customers.
We actively support both our customers and suppliers through the milestones associated with the biocidal products regulation (BPR) requirements across the material science industries. Our state-of-the-art laboratory in Halifax, West Yorkshire conducts customer specific projects on speciality pigments and dyes. We are also now offering innovative solutions to the renewable energy sector, in particular addressing the shift in the profile of power generation technology away from traditional fossil fuels to renewable sources. We believe this change requires a different approach from the chemical sector and consequently, we have put in place an experienced team and tailored our product portfolio to include those developed specifically for the sector. This will allow us to continue addressing our customers' increasing demands for renewables, as we are in a strong position to support the growth in this market segment.
So the truth is a lot has changed since we were last in Manufacturing Today Europe, but that is just par for the course with Brenntag, we are always moving to wherever the markets need us to.
The company has recently moved into a new head office; could you provide a little information on this new facility and the reasons for the move?
The company's expansion and development over the last ten years, particularly in the areas of speciality chemicals and focus market sectors has lead to a growing team of industry and technical experts as well as product management teams. So we just outgrew our old facility. The need for more key supplier meetings, technical briefings and training for our 750 employees meant a purpose-built facility was needed.
It took over 12 months of planning and design to come up with a headquarters to meet the needs of our employees, our customers and suppliers. We needed space for entrepreneurial thinking, industry focused design for the most professional sales and marketing teams and to be in a place which the best people want to work, working on new innovation, new application solution and new supply chain solution ideas.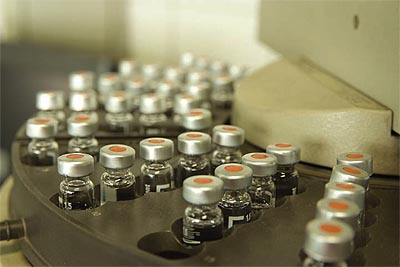 This is our primary hub training centre with extensive meeting and training capabilities and IT and presentation capability. We are proud of it, we hope our customers and suppliers enjoy the new environment, it certainly gives us a great base from which to grow further.
The company has received £50 million in investment from group headquarters, what will this investment be spent on? How will this investment strengthen operations?
I have already outlined some of this previously, for example the investment in added value technical blending capability, and new training and meeting facilities across the network, including the new UK head office. A sizeable amount of the investment is planned to continue to upgrade our UK operations network to continue to lead with unrivalled service capability and superb industry leading safety record and development.
There will of course be new exciting developments that we will be announcing shortly. You will be the first to hear when we are ready, but suffice to say we are thinking big.
What else gives the company a competitive edge in the market?
First and foremost it is our people. We encourage a problem-solving attitude, with dynamism along side technical expertise, whether it be in the arena of product development, specific industry focus, logistics and supply chain excellence, or a can do attitude to customer service. We have local account management and key account management to look after the multi-sited customers in the UK & Ireland, and also the European key account management capability to service the requirements of those of our multi-nationally located customer base. In fact we have the largest account management team in the chemical distribution industry that provides extensive sales and customer support. A strong culture of local customer services coupled with industry specific technical knowhow ensures we provide consistently high level of support locally, nationwide, Pan European and even on a global basis.
I'd also mention our flexibility, adaptability, our unrivalled product range, storage capability, legislative and regulative support services, and top class sustainability accreditation capability which are all geared to provide the best customer experience possible.
Sustainability is high on the agenda of the chemical industry. What are your advances in this area?
As the global number one in chemical distribution, we are aiming to set standards in our industry in the field of sustainability. The Brenntag Group has been involved in "Together for Sustainability' (TfS) since 2014, and has met all of the admissibility criteria to become a full member of the industry initiative – so far we stand alone as the only chemical distributor part of TfS. In the October 2016 assessment Brenntag increased its score to 66 points, which is significantly above average in the industrial sector in which EcoVadis categorises the company (42.2 in October 2016), and is among the top two per cent of all the companies assessed in around 150 categories. This fantastic result means Brenntag has been awarded the Gold Recognition Level of the international rating agency EcoVadis for sustainability management, and has successfully completed the on-boarding process of the chemical industry's TfS initiative, gaining full membership status. These excellent rating results confirm our efforts in continuously developing our sustainability strategy.
Sustainability as a market driver will only accelerate as more and more customers are asking for our help as industry regulations stipulate the introduction of more sustainable alternatives. For instance, the introduction of the EU Biocides Regulation in 2013 led to the development of Clorious2 – an innovative chlorine dioxide solution that allows manufacturers to overcome the limitations associated with conventional chlorine dioxide generation techniques by using a safer, more effective chlorine dioxide delivery system.
The Brenntag Environmental business is committed to offering sustainable solutions to customers, particularly in the areas of energy and water savings. Brenntag UK Limited was recently awarded the UK Water Efficiency Award by Waterwise in the Industrial & Business category for the product Heatsavr. Reducing evaporation from the pool surface is a key concern for pool operators, particularly at night. Heatsavr is a liquid pool cover, which can be used on any size or shape of pool. We estimate that UK commercial pools using Heatsavr are saving in excess of 10,000m2 of water annually and reducing CO2 output by at least 1500 metric tonnes.
Has the market been positive or challenging for Brenntag UK & Ireland since we last spoke? Do you see opportunities or challenges ahead?
The market is always challenging and we like it that way. Challenging markets allow us to leverage our maximum global and local supply positions to ensure as smooth a ride as possible for our customers. Recently there have been a number of uncertainties created post the Brexit vote, and these indecisions can create worries for our customers, over market security and issues over currency fluctuations affecting their profitability both good and bad. Brenntag UK & Ireland is uniquely able in these scenarios to help, either by ensuring the best supply chain possible to keep costs down wherever possible, or having the rapid ability to increase output supply quickly to ensure customers benefiting from increasing export sales can meet the market opportunity.
Supply security is important in uncertain times and we focus very hard on ensuring multiple supply positions are in place to keep our customers production rolling at all times, to ensure they have us as a key market advantage over their own competitors. Having Brenntag fighting your corner in tough times or in good is a huge advantage that we want our customers to benefit from.
Brenntag is also focused on ensuring we have the very best quality of offering, whether it is unique chemistry, speciality or innovative technology to give our customers final product advantage in their market. So in tough times or challenging markets Brenntag is a great partner to have by your side. Working together with our industry and speciality chemical experts on formulation or product design can give the customer the market advantage they need to succeed. We are proving this everyday with our sector specialists whether in water treatment, food ingredients, cleaning or coatings, to name but a few.
Brenntag UK & Ireland
Services: Manages complex supply chains for both chemical manufacturers and consumers by simplifying market access to thousands of industry leaders