Connecting chemistry
With roots reaching back over the course of many decades, Brenntag UK & Ireland is today the market leader in full-line chemical distribution, providing global business-to-business distribution solutions for industrial and specialty chemicals into diverse manufacturing sectors
Operating as part of the global Brenntag group, Brenntag UK & Ireland is part of an organisation with a proud history that dates back close to 150 years. The business that would grow to become the modern Brenntag was originally founded as an egg wholesale business in Berlin, during 1874, prior to entering into the chemical distribution market in 1912. Today Brenntag operates a worldwide network covering more than 530 locations in 74 countries, with a global workforce of more than 14,000 employees. During 2015 the global business generated strong sales of €10.3 billion.
The genesis of Brenntag within the UK and Ireland began in 1974 with the founding of Crystal Chemicals, which was followed by several other transactions and acquisitions until the company was finally acquired by Albion Chemicals in 2006. Prior to its acquisition by Brenntag, Albion Chemicals represented a leading distributor of inorganic liquids, solids, solvents and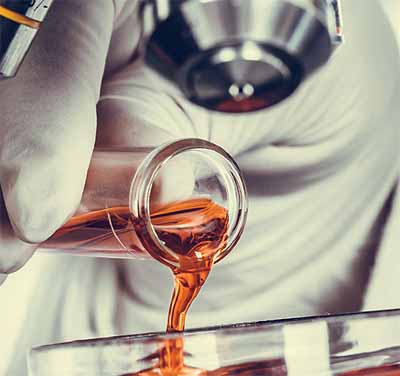 specialty chemicals, with full geographic coverage of both the UK and Ireland. Over the subsequent years Brenntag UK & Ireland has grown to employ close to 900 people across 22 strategic sites, including three sea-fed facilities with a dedicated fleet of over 100 vehicles, achieving sales of over €500m in 2015.
From its headquarters located within Leeds, Yorkshire, the company offers its business partners a wide range of products and value added services such as filling services, mixing and blending, as well as technical support inside of various industries within the life science, environmental and material science sectors. "Brenntag is a full-line chemical distributor of both industrial and speciality chemicals, which has been our superior and very successful business model for several decades. The chemical distribution sector is a highly granular market in which we offer a full-line portfolio of over 10,000 products, as well as value added services as a one-stop-shop to more than 20,000 customers in the UK and Ireland and in excess of around 180,000 customers worldwide," elaborates Russel Argo, President of Brenntag UK & Ireland. "The company benefits from being a full-line distributor by efficiently using one infrastructure for both industrial and speciality chemical products. Our commitment to developing business opportunities jointly with our partners is another important factor that contributes to the success of our business. As Brenntag co-operates with the best speciality chemicals suppliers and delivers top quality products, we are able to create true value for our customers in the specialty chemicals business."
Over the years the company has built on its established material and life divisions and embraced new market sectors including coatings, construction, cosmetics, pharma, rubber and polymers. Additionally, the proven experience of Albion Chemicals in its historical market of paper has been further driven by the Brenntag Colours business – a leading manufacturer and supplier of dyestuffs, pigments and performance products to the plastics, coatings, paper, board and janitorial industries worldwide. In line with this development, Brenntag UK & Ireland has established impressive technical resources across several industry sectors that have enabled it to work with prestigious industry names including Dow Cellulosics for the food sector; Elementis Surfactants for cleaning and other applications; Nynas Naphthenics for the rubber and coatings industries; Bluestar Silicones across several sectors; food flavour ingredients supplier Silesia; and the innovative cosmetics ingredients manufacturer Stephenson Group to name a few.
Brenntag UK & Ireland maintains a level of infrastructure and technology that is unrivalled within the chemical industry. This is supported by a continual investment into the company's warehousing and associated infrastructure to ensure compliance with even the most exacting requirements, whether they be related to third party accreditations or commercial demands. These investments have also utilised technology from the food processing and pharmaceutical sectors to adapt the company's warehouses to create high quality and clean space within its existing network, with further developments due over the coming years.
"We have invested heavily to expand the company's specialty chemicals capabilities in recent years and many of our investments during the last 18 months, as well as our planned investments leading in to 2020 and beyond, are designed to support our strategy of being the best solution provider. By this I mean addressing whatever challenges our customers are faced with, be they related to cost structure, stocking, storing, getting the correct blend, or getting the technical support from our team when required," Argo says. "In terms of life science investment in the north west, the Brenntag Widnes food hub site will also develop a new food application lab to allow us to work with our customers and suppliers to provide added value in the arena of flavour and ingredient development. This large-scale food application laboratory will feature formulation, product and stability testing operations and cover both flavour and ingredient development, with a view to allowing us to deliver real added value rather than just acting as a product supplier."
During 2016 Brenntag UK & Ireland will also invest in its Scunthorpe operations by further developing a new GMP filling facility, which will give the company greater access to the expanding pharmaceutical and cosmetics sector. The developed facility will complement its existing GMP-accredited laboratory and dedicated filling systems for pharmaceutical customers in Germany and the group's cosmetics formulation and development laboratory in France. In addition to its ongoing investment into its facilities and infrastructure, Brenntag has also recently acquired 12 brand new Volvo Globetrotter Tractor Units and six new Scania vehicles to further support the business. "These units have been added to grant additional support to the bulk liquid chemical business, both directly to customers and to our own distribution sites, as well as to general packed goods distribution," Argo reveals. "We have also made significant safety investments in areas including vehicle telematics, metered bulk tankers and enhancements to tail lifts and load security to provide built-in flexibility, as well as a TranSend Mobile Delivery Management System which we are installing for added safety and efficiency. This will allow us to address the industry's increasing need for short-term ordering and reduced shipment size."
By leveraging its position within the wider Brenntag group and its unique combination of technical, sales, commercial, logistics, added value services and an expert core of employees, Brenntag UK & Ireland is able to deliver a leading-edge service within the field of chemical distribution. "Added value is an important and much talked about aspect in the chemical distribution industry and in my view, it can come in a number of forms from improving customer service to providing technical support for our business partners including customers and suppliers," Argo reflects. "A good example of this can be found in Brenntag Blending Services (BBS), which maintains a number of operational locations across the UK & Ireland. We are also expanding our offering even further and have already started a major investment and redevelopment programme in our Bradford BBS facility, where we are investing in the upgrading of blending facilities and more particularly the application laboratory, which includes increasing the level of technical and sales resource available to the BBS business."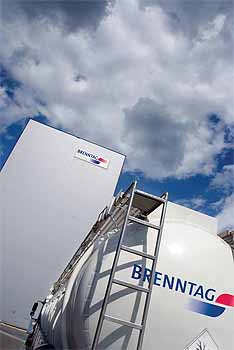 As the company continues to implement its investment into developing its infrastructure and technical expertise, Brenntag UK & Ireland will also work towards the global Brenntag Group's '2020' vision. It describes the company's strategy to pursue its goal to be the preferred distributor for both speciality and industrial chemicals, while representing an industry leader in terms of safety, sustainable growth, human resources, as well as commercial and operational excellence. "Organic growth is always our focus but we will give it a helping hand with sector specific acquisitions to enhance our added value offer across the markets. This will bring exciting new product portfolios, suppliers and customer relationships as well as knowledgeable people who can enhance our organisation. In the speciality chemicals business, relationships of trust and long-term engagement with suppliers are imperative. Industries such as paper, cosmetics and coatings will develop further on the European stage as our improving offer gives better access to customers and suppliers. Included in this will be our formulation expertise, as we aim to become the market leader in all chosen sectors. Organic growth is to be achieved by further growing our product and service offering," Argo concludes. "Alongside organic growth, one of the pillars of our strategy includes further acquisitions. At Brenntag, acquisitions have three main objectives; building up scale and efficiencies, expanding geographic coverage and improving the full-line product portfolio. We have a long and successful track record of acquisitions, as you see throughout the history of our organisation in the UK and Ireland, as well as globally. We therefore continue to seek acquisition opportunities that support our overall growth strategy."
Solvents at Brenntag
As part of its extensive portfolio, Brenntag UK & Ireland is a leading distributor of solvents. In 2012 the company acquired Multisol, a company specialising in the formulation, blending and distribution of high value fuel and lubricant additives, base oils and speciality chemicals. Since 2012 the focus of Brenntag has been to target organic growth in the solvent and performance liquid sector and the group has taken on 17 new speciality chemical distribution agreements. Manufacturing Today Europe talks to Solvents Director for Brenntag UK & Ireland, Kevin Morgan about the company's growing presence in this area.
"We supply solvents in bulk and packaged configurations from four strategic locations and can also supply bespoke solutions. These are either products that are designed for specific applications that replace more traditional solvents or we blend solvents to meet certain performance criteria," Morgan details. "Our customers are diverse and cover many sectors – they are usually the same customers as that of the Brenntag distribution arm, as our customers generally have a need for other chemicals in their processes."
Indeed, by maintaining a broad product portfolio that represents a wide range of suppliers, the company can connect an impressive number of chemicals to its customers, resulting in a one-stop-shop solution for both chemicals and solvents. This has allowed Brenntag UK & Ireland to grow its sales in solvents to record levels during 2015 and the company aims to continue to expand its strength in this market while catering to a prestigious client base. "We have a leading-edge because of our well invested facilities, as well as our knowledge and know-how of the market place. We have the technical expertise to provide unique solutions and our supplier base is the most elite in our industry," Morgan concludes. "We operate four solvent hub sites that encompass over 14 million litres of storage capacity, drumming and IBC facilities and dedicated blend tank and small pack facilities. We have invested substantially in the company's main hub in Scunthorpe since 2015, increasing our IBC filling capacity and new life science filling facility to supply more packed solvents into the food, feed and pharma sectors. We have our own dedicated technical resource who can offer bespoke solutions for customers and we are aligned with the very biggest and best manufacturers in the industry."
Brenntag UK & Ireland
Products: Full line chemical distribution