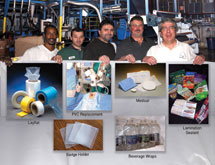 One could say that for Joel Longstreth, Brentwood Plastics' marketing manager, polyethylene PE film is in his blood. Longstreth's father, Joseph, founded Brentwood Plastics in 1961 to manufacture lay-flat tubing for the bag-making and industrial markets. An apprenticeship in making low-density polyethylene (LDPE) film for Longstreth and his brother Sam began when they were "tweens."
The original company was sold to a private equity firm in 1984. In 1987, the company was purchased out of bankruptcy and reincorporated with the original Brentwood Plastics name. In 2001, Brentwood expanded its monolayer lay-flat tubing and sheeting capacity.
In addition to its flagship lay-flat tubing, the firm offers one-stop shopping with gusseted tubing, centerfold poly film and film sheeting. Brentwood's products are also used in food packaging, medical device packaging and surgical drapes. They are made into end-products such as tape, bags, pouches and shrink-wrap. All of its plastic films are food-grade polyethylene and have true FDA and kosher approval.
Custom Blends
Most notably, Brentwood Plastics has literally hundreds of custom plastic films. "There are so many factors to consider when developing custom-tailored PE films," Longstreth explains. "Knowing the application the plastic films – not just polyethylene films – will be used for, what the client's equipment idiosyncrasies are, as well as any other hidden requirements are only critical first steps in the process."
An application-specific resin formulation is created, then the resin is transformed into a plastic film using the blown film process. "Tell us the job description and we will build a resin blend for it," Longstreth says.
"If the packaging is for individually quick-frozen food," he elaborates, "[then] the LDPE sheeting must seal through contaminants and not crack in -40 F temperatures. We always consider the nuances of the packaging such as whether the client wants the packaging to be slightly tacky for ease in stacking or level of opacity. New customers think our questions they don't yet know to ask are nosy, but we just want the film to work. "
Brentwood Plastics' informative website notes "there are literally hundreds of variations on polyethylene resins for film. The company goes into more depth in its blog post "No Such Thing As Regular Poly." Each PE resin is designed to address certain end-uses. The resins used for bags of salt, bird seed bags, bread bags, produce rolls, paper towel overwrap and shrink film are all distinctly different.
Cutting-Edge
The company's practical knowledge of plastic film resins goes beyond LDPE film resins. "My father was always interested in new resins," Longstreth asserts. "Because of this interest we have great relationships with our resin suppliers." He says that all suppliers come to it with new resins because the company thrives on testing new formulations. "We did beta testing of new resins long before the term existed." He claims that Brentwood Plastics usually knows about plastic resin innovations long before they are introduced to the industry on a commercial scale.
"Our smaller lines are ideal for testing new materials on a small scale," President Sam Longstreth notes. "It's like having a handful of pilot lines on demand. Of course, it's cultural. We're smaller and we develop formulations much faster than larger companies."
The Longstreth brothers strive to offer value. Relatively minor features such as faster cycle speeds, more forgiving heat sealability and fewer roll changes add up to better productivity for its customers.
Longstreth and his brother are always accessible to address clients' concerns. "Our clients have continuous access to both me and Sam through email or phone – we're very easy to reach," Joel Longstreth notes.
A Fresh Approach
Longstreth says the company's knowledge of resins and its continual testing enable it to recognize innovations that allow it to meet a client's needs with less plastic. "Look at milk jugs – they're much thinner than they used to be," he notes. Called "downgauging" or "lightweighting," this process involves the use of newer, more advanced resins that are stronger, gauge for gauge. In addition to the improved performance, there is a significant cost benefit to using the newer resins because less packaging material is needed versus the older technology.
However, he's frustrated by resistance to try these new products. "We have presented PE films which can cut packaging costs by conservatively 30 percent," Longstreth says. "These new materials can save a lot of money with the side benefit of source reduction but companies are afraid to even evaluate them because they're afraid of failure." Another blog post is titled "Thicker Isn't Better."
The Longstreths are excited about newer polymers, such as Metallocenes (their web page on metallocene ranks second in Google organic search rankings) that have dramatic improvements over their older counterpart, ethyl vinyl acetate (EVA). Metallocene's benefits include a lower heat seal initiation temperature, better cold temperature, stress crack resistance and no taste transfer.
After 50 years in the blown film industry, the company has a good feel for which resins are appropriate for certain end-uses. Its first YouTube video was about pairing LDPE film resins with PE film end-uses. "We won't deviate from our resin formula to save money," Longstreth asserts. "Our clients get the quality they pay for."
Ensuring Quality
To ensure its PE is defect-free, Brentwood has instituted a zero-defect bonus for its employees. "As an incentive, employees are awarded a bonus if we produce film with zero preventable defects for a 30-day period," Longstreth notes. He claims that the process is cross-checked at every step from the blending process to the finished PE film to ensure dull, predictable consistency is achieved. At shift change, the quality is checked yet again. "It's worked very well due to peer pressure," he says.
Each roll of film is tagged with the operator's name and date, which helps with tracking. "We're very proud of our dependable employees and they're proud of the film they produce," Longstreth boasts. "They're artisan craftsmen."