When Salvatore Freda Jr. says that his company makes parts that are "out of this world," he isn't kidding. But when he tells people that he's the president of a company named Brewster Washers, they often assume that he makes parts for washing machines or dishwashers. That couldn't be further from the truth.
"Our parts are truly out of this world," Freda insists. "We have parts on the Hubble Telescope, Mars Lunar Rover and we've put parts on all the Apollo and Space Shuttle missions."
Definitely not washing machine parts. Brewster Washers manufactures flat washers, shims, discs and other specialty flat precision parts for aerospace suppliers and manufacturers. "They design the part and we manufacture it," Freda says. "Our parts are used in planes. From nose to tail, wingtip to wingtip, antenna to brakes, we have parts somewhere on a plane. The companies we work with make parts that go on Boeing aircrafts – the newest being the 787."
Brewster Washers, which is celebrating its 100th anniversary this year, has a longstanding history in the aerospace industry. But over the decades, it has developed a reputation for manufacturing quality washers, shims, discs and spacers for practically every purpose imaginable.
"A gentleman from Texas called and asked me to make a part for a special machine to measure the earth's movements," Freda says. "He asked for this part, which he drew on a piece of paper, that looks like a spider. Nobody else in Texas would make it."
The gentleman from Texas, who found Brewster Washers through its website, wanted the body of the stainless steel "spider" to be .003 inches thick. By comparison, a piece of paper measures .004. "The arms were .020 wide," Freda adds. "And the eight legs were bent in an S pattern so that it can react to movement."
"We finally achieved the measurement he wanted but then he redesigned it and we made it again," Freda says. "But we were able to turn the first part over in less than 24 hours for him."
Brewster Washers typically works with materials that are .0005 to .062-inch thickness and with tolerances of +/- .0005 to .001 inches or more on inside diameters (ID) and outside diameters (OD).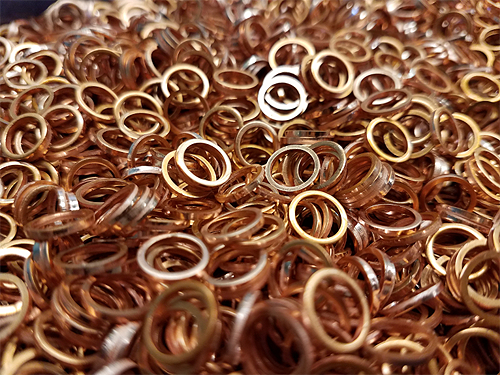 Time After Time
Time is of the essence for many customers. Another client, from the solar panel industry, recently requested four parts made out of aluminum bar stock and needed them in less than 24 hours. "It was this odd looking part for a solar panel that had gear type teeth on it in the shape of a V," Freda says.
A few years ago, Freda received a telephone call from someone at Tesla, an American automotive and energy company. "I received the call from Tesla on a Wednesday and they needed copper washers by Friday morning," Freda adds. "We made 5,000 washers in one day and shipped them there by Friday morning as requested. It's little things like this, that sets us apart – quality, service and customer satisfaction."
Once, back in the early 20th Century, Brewster Washers received a request from one of America's most famous inventors – Thomas Edison. "His company was our customer," Freda adds. "We manufactured washers for them."
Brewster Washers also receives requests from companies that want precision parts. Examples include companies that make medical components, precision gear for motion control and custom components for hydraulics.
Although the largest chunk of the company's business comes from the aerospace industry, its products appear in other industries that include automotive, defense, robotics, cameras, computers, medical and dental equipment, gear assemblies and valves.
Its products also have uses in actuators, DC and brushless motors, electric insulators, guidance systems, gyros and servos, motion controls, prototyping, specialty folding knives, robotics and in the fast-food industry.
Smaller But Faster
Brewster Washers manages all aspects of its manufacturing process within its 7,500-square-foot facility in Fairfield, N.J. From receiving raw material to tool and die building, stamping, deburring and final inspections, the company oversees all aspects of the process.
"There are many companies that can do some of the things we do," Freda says. "But what sets us apart is that we are a smaller business and we can react much faster than a larger company. More than likely, we are a month ahead of time on our shipments."
Brewster Washers works with local firms to perform specialty inspection processes such as Magnetic Particle Inspections, FPI, post-production plating, lapping and polishing to customer specific thicknesses.
"Our aerospace customers require their parts be passivated to be sure there are no iron deposits from the manufacturing process," Freda adds.
All operations are integrated into its manufacturing process and copies of all certifications are available when required. Brewster Washers is an ISO9001:2015 Certified Quality Systems Company, and has begun to work towards its AS9100 certification.
Unlike traditional washer manufacturers who produce washers that conform to either USS, SAE, DIN or other standards, Brewster specializes in manufacturing custom parts while conforming to the customer's specifications or blueprints. "Our washers are built like our byline says: 'Your blueprint is our catalog,'" Freda adds.
The company doesn't charge for tooling on orders or have any minimum quantity requirements. Its washers and specialty metal parts are made from a variety of materials: both pre-tempered and annealed steel; stainless steel in all grades and hardness specifications; copper; brass; aluminum; phosphor bronze as well as semi-exotics such as Inconel and Monel.
It also manufactures parts from PTFE, Mylar, Nylon, Nylatron and plastics in a variety of colors to meet customer specifications. "We also do a lot of plastic parts for certain automotive and specialty bicycle customers," Freda states.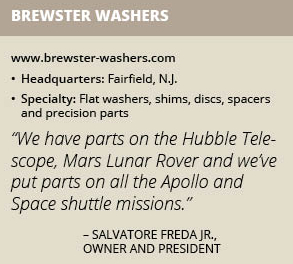 American Made
Brewster Washers takes pride in the fact that its parts are made by an American workforce using only U.S.A.-sourced materials.
"Made in the USA" is a traditional mark and label used by many manufacturers. But the statement can be misleading. In today's competitive marketplace many manufacturers seek international off-shore sources for raw materials and components. As a result, many of the "Made in the USA" bearings are finished and assembled in the United States but contain components and materials that have been produced off shore. That's not the case with Brewster Washers.
The company follows requirements and regulations defined by the Defense Federal Acquisition Regulations Supplement, commonly known as DFARS. Some of those include showing a preference for domestic specialty metals and that a certain percentage of a company's components are mined, produced, or manufactured in the United States.
"We are a DFARS company," Freda says. "All of our materials are American-made. Any material I buy has to be from an American company or an allied company – aluminum is the exception."
Reaching Its Milestone
William H. Brewster, Jr., Inc., also known as Brewster Washers, celebrated its 100th Anniversary on March 15. The company was established in 1919 by William (Bill) Brewster, an accomplished tool and die maker.
Originally located in Newark, N.J., the company used to manufacture tools, dies and metal stampings for metal working firms. A proponent of "old school" traditions, its founder was a craftsman proud of his trade, his tools and his commitment to the virtue of hard work.
He shared his passion for the industry with his two daughters, Katherine and Marguerite, both of whom he personally trained and mentored in the highly-specialized field of manufacturing precision round washers, shims and discs.
After Bill Brewster's death in 1958, the company relocated to Fairfield, N.J. Katherine and Marguerite Brewster shared the responsibility of carrying on their father's legacy.
With Marguerite's passing in 2000, and Katherine's in 2010, leadership of the company passed to Salvatore Freda Sr., a member of the Brewster team since 1952.
"Bill Brewster started the company but my father worked here for 56 years," Freda says. "We were like family. When I first walked into this factory with my father, I was 13. I worked here during high school and through college as a tool-and-die apprentice."
Upon Freda Sr.'s retirement in 2012, Salvatore Freda Jr., who now had more than 20 years experience working for the company, assumed the role of president and has opened the door to include odd shaped flat custom precision parts.
"The other precision parts that we are making out of flat materials today are manufactured on our EDM machine," Freda says.
Freda helped revitalize and modernize the company by setting up automatic presses. "We have three coil-fed presses now," Freda says. "It's faster with coils than buying the material in sheets and feeding it manually by strips."
Freda also made sure that the company developed a website and started new marketing and advertising campaigns. "I expanded the advertising into different areas and it took off," he adds.
When Bill Brewster founded the company, he wanted to deliver certain qualities to his customers. Today, the company continues with the same commitment to those qualities that its founder instilled in his employees – delivery, price and quality.
The company believes that those three qualities have kept it in business for 100 years and will continue for the next century.
"We're growing increasingly each year and the company will grow as our industries grow and as space travel expands," Freda says. "They will need new products for their technology. We just have to keep pace with that technology and the evolution of industry as it advances."