Hard and smart
Presented with a Queen's Award for Enterprise earlier in 2018, Brian James Trailers continues to grow internationally, courtesy of its strong business partnerships and the ongoing determination to exceed manufacturing expectations
Being different in a rather homogenous industry like trailer manufacturing might seem daring, but Brian James Trailers has continuously succeeded in standing out from the crowd, thanks to its insatiable thirst for innovation and the ambition to always add real value to customers.The company traces its roots back to 1979, when it started as a family business, before it became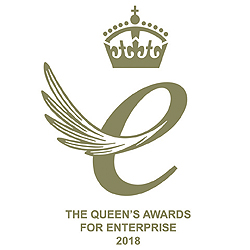 incorporated in 1999. "Early on, we would specialise in manufacturing trailers, specifically for the movement of vehicles," General Manger, Paul Stockport begins. It was in 2007 when the business' product range underwent considerable extension that would see it incorporate trailers for a larger number of marketplaces.Today, its trailers cover a variety of industries, such as motorsport, building and construction, forestry, and agriculture.
"The introduction of new products provided us with a platform to grow as a company, but what really laid the foundations for a much greater expansion outside of the UK, was the European Community Whole Vehicle Type Approval (ECWVTA) we obtained in 2012. Prior to that, our products had been sold abroad, but the approval system was quite tedious, so the European approval practically opened the global markets to us," Paul explains.
"The quality of our trailers is defined by their design.Truth being told, the majority of trailer manufacturers in Europe make 'me-too products'. If you stood them all in a line and took all of the labels off, they would look incredibly similar, because they are very similar. Our belief is that we should move to new marketplaces only if we can add value and make profit.We look at what others do, but we aim to enhance the trailers' practicality and usability," he expounds."Furthermore, we are not a batch manufacturer, we only make to order, which means that we develop only what customers want.This being said, on any day, there could be 20 different types of trailers passing through our production line."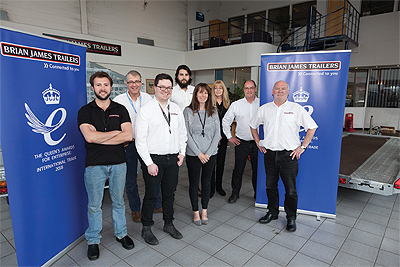 Picking up on what Paul says, it becomes clear that flexibility in manufacturing techniques must be playing a central role in Brian James Trailers' success."We apply modern methods and systems, such as fibre-optic lasers and CNC press brakes, as well as robots for welding.We have invested approximately £2 million over the last two years, chiefly in capital equipment, but also in streamlining our production processes."
While most of its trailers have enjoyed a significant amount of popularity over the years, Brian James Trailers has recently seen an increase in sales for three products, in particular – the commercial CarGO Connect, the CarGO Digger Plant2, and the CarGO Tipper2. Recognised for their product superiority and reasonable prices, the three are the current company flagmen and the result of the earnest effort the Brian JamesTrailers team puts day in and day out."People say 'work smart, not hard'. What we do here, is work hard and smart. Nothing comes easily.We have a very hard-won image within our market sector, because we have to compete against much bigger companies, punching well above our weight," Paul postulates."We really are a nice team, designing good products at competitive prices, whilst being excellently supported by our supply chain, so I definitely would not want to be competing with Brian James Trailers," he laughs.
"We have already established extremely positive relationships with our suppliers, and, even if it seems almost inevitable, we have made good personal friends with some of them.We want to continue strengthening our supply chain and set up business partnerships in geogr aphical areas, where we are not present at the moment, and introduce the concept of our products there," Paul reveals some of the company's plans for developing its international trade further.
The export side of the business has been soaring in the past few years and Brian James Trailers received nationwide acclaim for its foreign endeavours, when it was presented with a Queen's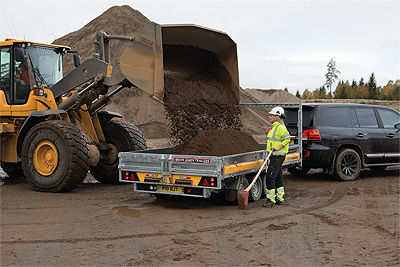 Award in the International Trade category, in April 2018.The Queen's Awards for Enterprise is the most coveted business prize in the UK, often seen as a springboard for the winners, due to the prestige it carries. Paul talks about the initial effect earning the award had on the company:"It has been very interesting how the hits on our website have grown to unprecedented levels since we won the Queen's Award," he points out the heightened interest in Brian James Trailers, adding that sales in the industrial regions of Europe, including Germany, the Benelux countries, France, Norway, and Sweden have been particularly strong and the business prospects in these areas glow as bright as ever.
"We have some new products on our drawing board at the moment, so we hope that in the next 12 months, we will have completed their designs and got ready to launch them into the marketplace," Paul discusses the company's intentions for the immediate future."First and foremost, however, we are fully focused on ending our financial year in July with as good a result as possible and we expect our turnover to be around £26 million. In the last five years, we have generally grown by about 20 per cent year-on-year and we hope to continue in the same vein in the years to come."
Finally, he opines about the current state of the trailer manufacturing industry."It is a bit immature.There are one or two large players and lots of much smaller companies and I expect that in the near future, there will be some polarisation within the industry. Medium-sized companies that are not performing very well will struggle. Given that the UK economy is not particularly strong at the moment, those who do not export will probably have problems. Overall, the industry needs to sharpen up a bit and we are trying to play our part in the process by doing what we have been doing or a long time – innovating, designing, launching new products, forming new business partnerships, and, ultimately, moving forward as quickly as we can."
Brian James Trailers
Products: Car transporter and commercial trailers