A global partner
Briar Chemicals' leading example of innovation, process development and sustainable partnerships is playing a key role in its global growth strategy
Briar Chemicals first started manufacturing back in 1956 as May & Baker, later to be renamed Rhône-Poulenc. Based in Norwich, the site was acquired by Bayer CropScience in 2002 and a decade later became an independently operated contract manufacturer, wholly owned by Aurelius AG. Throughout its history the business has built a name for itself producing crop protection and veterinary products for leading innovator companies in the international marketplace. Today, the company stands upon long-standing expertise in contract manufacturing, a high quality asset base and an established reputation for manufacturing excellence and dependability to serve these clients around the world.
From its 46-hectare facility, with a further 13.6 hectares available for future development, 220 employees help Briar to export more than 95 per cent of its production capacity overseas to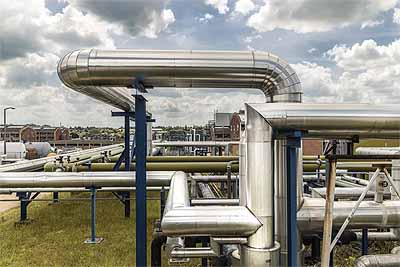 markets such as Australia, Brazil, Canada, Finland, France, Germany, Japan and the USA. Thanks to the highly focused, experienced and knowledgeable team, sales revenues for the firm currently sit around £45 million, with around £6 million of this being returned into the business in the form of CAPEX and maintenance investments every year.
The range of technologies included within Briar's expert offering to the market extends from ammonolysis, bromination, chlorination and cyanation, through diazotisation, esterification, iodination, nitration and oxidation to the recovery and recycling of solvents and copper salts, sulphonamide formation and sulphur dioxide reactions. A range of analytical support services, as well as formulation and packing from bulk down to 0.25 litres supports these activities. All of this is made possible by an extensive portfolio of solids and liquids manufacturing assets that includes a total reactor capacity of 700 cubic metres, batch and continuous distillation facilities, and bulk storage for raw materials, intermediates and finished products.
Within its formulation and packing facilities, the company operates vessels with capacities ranging from 14,000 litres to 27,000 litres, and has six packing lines capable of packing from 0.25 litres to 200 litres packs at speeds of up to 30 containers a minute. The result is a maximum daily packing output of 90,000 litres. The Kilo Lab facilities add yet another dimension to Briar's service offering with process scale-up and optimisation capability provided by walk-in fume cupboards, extensive analytical method development expertise and the ability to scale up from grams up to 50 litres.
However, Briar prides itself not only on this extensive manufacturing capability but also in the way that it is able to work closely with customers to develop products from concept to full-scale production in a timely and cost effective manner. "At Briar we provide an end-to-end service," explains Head of Commercial, Susan Brench. "This includes development through to manufacture and logistics. We will not always be the least cost option, however we add value by employing our operational excellence techniques and optimising our customers' technology."
As such, the company follows a five-stage new product implementation strategy to take an initial enquiry through costing, laboratory work, development – an intensive period of activity, which includes scale-up and process optimisation, the supply of samples, process safety testing and raw material sourcing – to trial and full-sale production. By taking care to meet a variety of demands from its clients, Briar's ultimate goal is to deliver complete customer satisfaction and, ultimately, develop long-term and sustainable partnerships.
One example of this process in action is illustrated by a successful project to introduce a three-stage synthesis within 18 months of receipt of enquiry. The project required the handling of two new hazardous raw materials, which in turn necessitated the installation of specialised, cost-effective handling facilities, using in-house design, for ammonia and sulphur dioxide. Although the process was successfully scaled up and implemented Briar did initially face some challenges such as lower than expected yield, quality issues and a problematic liquidliquid phase separation step. Fast analysis and unrivalled experience quickly identified the root cause of all problems, which, once fixed, saw yield improve 25 per cent, process impurities reduced by more than 50 per cent, phase separation improvements and a 70 per cent reduction in settling times. Crucially, the quick response and highly effective results helped to secure repeat business with the client.
Throughout its operations corporate social responsibility and environmental protection sits at the heart of everything Briar does. With the aim to minimise its impact on the environment from its activities, over six million pounds is invested every year to maintain and improve site assets. The most recent example of this is the commissioning of a new £290,000 superefficient boiler, designed to meet the site's steam requirements as well as providing hot water and heating for the buildings. Highlighting the company's energy-saving drive and longterm development, Tim Green, Site Manager, commented on the investment saying: "We've been working hard to increase energy efficiency on the site and this boiler is a big step up. It uses the latest, most efficient heat-recovery and fuel-firing systems to control burn, producing steam on demand. It is also future-proofed for emission regulations so should meet all our requirements for many years to come."
Having been in the market for 60 years in 2016, Briar is no stranger to tackling major challenges and providing the best solutions to its clients, and continuing this very much sums up Susan's outlook as the company looks forward. "Briar is constantly searching for ways to remain competitive versus global competitors, especially those in Asia, by increasing efficiency through innovation, technology or the adoption of new working practices, including greater automation," she says. "The business has been successful in diversifying its client base since we became independent in 2012 – we have for example secured a new deal to supply an American customer with a product to reduce emissions in the energy sector– and new talent is being employed to ensure that we achieve our ambitious growth targets as we grow long into the future."
Briar Chemicals Ltd
Services: Specialise in custom and contract manufacturing solutions