Opportunity brewing
With offices in both the UK and the US, Briggs of Burton (Briggs) is a world-leading manufacturer of process engineering solutions with a highly-respected reputation in the various industry sectors that it serves
With an engineering heritage that dates back more than 280 years, as well as an outstanding reputation amongst its industry peers, Briggs is synonymous with process engineering and bespoke manufacturing within the brewing, distilling, food, pharmaceutical, health & beauty, and biofuels markets. Whilst traditionally it was responsible for producing larger vessels for the brewing industry, in recent years its specialities have evolved to incorporate more intricate, high intensity process design and manufacturing systems for these same industries, which it provides to a host of blue chip companies.
"Briggs has a long history that has been shaped by a number of key acquisitions and management buy-outs," begins Managing Director Robert Buxton. Robert has been with the business for 24 years, first joining as a graduate before taking on the roles of Automation Manager, Engineering Director and now MD. "In that time, I have personally witnessed the transition from hand drawn draughting, to 2D and now 3D CAD, as well as the growth of the business worldwide, including into the US and Asia, in the provision of engineering and management services, and full turnkey delivery of process systems for the hygienic process industries."
In brewing, Briggs offers technologies from raw material intake, through mash conversion, lautering, wort boiling, fermentation, yeast propagation and storage, maturation and conditioning to bright beer. Briggs long history and expertise in mashing and lautering in the brewing industry has crossed over into the distilling industry, where Briggs Distillery Lauter Tuns help many famous whiskey brands produce their spirits. As with the brewing sector, Briggs offers full process design expertise from raw material intake through to cask filling and disgorging processes and subsequent interface with packaging. Growth into other markets meanwhile, has come as a result of a number of acquisitions of reputable brands, including T. Giusti and Richard Sizer, the former being a leading player in the food, health & beauty and pharma markets, and the latter boasting outstanding experience in cereals and raw material handling. Briggs is also a leading manufacturer of stainless steel drums, which are used worldwide for the handling and storage of a wide variety of materials, where the standard of construction is key.
"Our growth in distilling has matched brewing in recent years, boosted by our reputation for delivering novel and state-of-the-art equipment, delivered internationally to customers in countries such as USA, Mexico, Ireland, Japan and soon China," Robert continues. "The brewing market does, however, remain a core business for us with the growth of the craft market, and one of our current ongoing projects involves the complete design of a 50hl craft ale brewery not far from our own offices."
There are a number of examples of the types of innovative solutions that Briggs can take credit for delivering, as Robert goes on to highlight. "Our engineering team has carried out extensive work in capacity planning, and mass and energy modelling of new production facilities," he says. "This is particularly important as many blue-chip companies are presently seeking to reduce water and energy usage at their facilities."
Other recent achievements have included the design and manufacture of a novel still heating system using thermal fluid for replicating existing direct fired still heating technology, but with less energy usage, and the creation of high level, integrated brewery and utility design concepts for a major brewing group. It has also been responsible for the design and engineering of a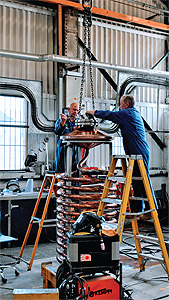 Thermal Vapour Recompression (TVR) system, implemented at a Scottish malt distillery, which supported them in achieving 'best in group' and achieves an energy reduction of over 40 per cent in the still house, the most energy intensive part of the production process
Such a track record for innovation has understandably led to the company being involved in major projects all over the world, not only in the brewing sector but also other key industries.
A recent example was its work on a new tequila production facility in Mexico. Here, Briggs was successful in delivering the initial design phase, before then being awarded the implementation contract, which includes the manufacturing of tequila stills, copper worm tubs and the integration of specialist process equipment. "Delivering this project has been very much a group effort," Robert explains. "Its success was down to a leveraging of our process engineering expertise and familiarity with the distilled spirits industry, and group level support in site management and their world class tank manufacturing and supply network."
To highlight the diversity of the business, in 2017 it experienced a doubling in annual turnover which it credits, in part, to a large pharmaceutical project in North Carolina. "This project involved the fabrication of pre-assembled units for a large-scale insulin production facility," Robert reveals. "We were involved in the mechanical design and construction of the vessels, framework and pipework of what was a particularly large project for Briggs, and one that really does highlight our capability to deliver in what are heavily regulated markets."
In 2016, Briggs was acquired by the liquid food division of CETP, the parent company of which is the Chinese powerhouse known as CIMC. The first year following this acquisition proved to be extremely successful in terms of Briggs' turnover and the company expects this to continue, particularly as it now embarks on plans to extend its footprint into Asia, with new offices in Shanghai due to open in 2019.
"Aside from growing in the Asian market, we also plan to increase the level of recognition we receive as a leading engineering and technology provider across various industry sectors," Robert adds. "As part of our growth plans, we also have a strong recruitment plan to increase staff numbers from 170 to 200 in the coming months across all aspects of the business, and we look forward to welcoming all those individuals interested in a new challenge, be it in manufacturing, automation, engineering or sales."
Briggs of Burton PLC
Products: Process engineering solutions