The employees at Bright Coop Inc. have a saying, "If you eat chicken, we probably helped put it on your plate." It's fairly likely, considering the 60-year-old company has manufactured and distributed poultry handling equipment across the world. In fact, since it is a leading innovator, it not only helps the chicken get to consumer's plates, but it gets it there faster and more efficiently, as well.
Bright Coop was founded in 1951 by brothers N.G. and Charles Bright as a wood chair manufacturing business. It quickly moved into making chicken coops after receiving requests from local poultry growers needing to transport chickens. Its early success rang in a new focus of custom-engineered wooden chicken coops.
Every decade since, it seems Bright Coop has developed another innovation for the live poultry industry.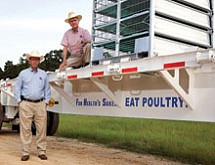 In the 1960s, the brothers created turkey coops that were permanently attached to trailers. The Bright Turkey Harvester made loading easier be­cause it conveyed the turkey from the house floor to inside the coops – a system still popular today.
In 1976, Charles Bright and colleagues introduced the cage unloading system. The cages are stacked on trailers and transported from the growing house to the processing plant. The Bright Cage Unloading System provides automated unloading of birds that are then conveyed into the plant for processing.
"In the beginning, coops were the only thing poultry handling equipment manufacturers like us made," says Wanda Russell, human resources manager and 24-year Bright Coop employee. "But when the cage un­loading system came out, that's when we became the No. 1 provider for the 'live side' of the poultry industry. It just changed the whole industry and took everything from a manual process where workers unloaded chickens by hand and brought it into an automated system. It resulted in more productivity, less injuries for people and better quality of birds."
Like the turkey harvester, this product is still used in the industry and is the preferred system throughout the United States, Mexico, Australia, Puerto Rico and Jamaica.
Russell says these Bright Coop customers depend on the company to consistently evolve its repertoire. The company still offers galvanized metal poultry cages and its pioneered loading and unloading systems, but also manufactures trailers and forklifts designed specifically for handling poultry coops and cages. These offerings make Bright Coop a single source for handling equipment needed for harvesting, transporting and delivery of live poultry. The company has every major step covered, and Russell says Bright Coop continues to stay on top of industry needs.
"We re-evaluate our products daily," she says. "You don't know what's going to change again in this industry, so we're trying to stay ahead and provide what our customers need. We have an engineering and research and development department, and we have our sales professionals who go out in the field and to the plants and listen to what customers are asking for."
New Ideas
In 2002, Bright Coop introduced a product 37 years in the making – the E-Z Catch Harvester. Instead of hand-catching each chicken, an automated machine is remotely controlled and maneuvered through the chicken house and sweeps chickens onto an enclosed conveyer belt and directly into an empty cage. This relieves stress for the chickens and the workers.
The E-Z Catch has yet to approach its 10-year anniversary, but Bright Coop is already evolving with another change. Currently in North America, chickens and turkeys alike are predominately stunned with electricity prior to being slaughtered. However, concerns for animal welfare and meat quality are leading the industry in a new direction of gas stunning. This concept is being designed into the Bright Coop systems that are already in use, which allow customers to use existing equipment and avoid capital equipment replacement cost. Bright Coop already has partnered with experts in the gas stunning field who have built turkey cages that are in use in the United States and Canada. Customers who are using the gas stunning method in turkeys have reported significant labor savings and higher yields, as well as better meat quality. Bright Coop also expects the chicken industry to pursue these operational benefits.
Bright Coop continues to work diligently on new ideas and concepts that will improve the way live poultry is handled. "Bright Coop Inc., the poultry man's one stop shop where you will find excellence, honesty, quality, service and good people since 1951," the company says.