Down a brightly-lit road
With a century-old history, Bright Steels Limited cherishes its family ownership model and applies a distinctive approach to the way it operates, focusing on continuous improvement and investment in people and machinery with the desire to offer the highest possible level of quality and service to customers
Bright Steels appears to be the true representation of what a family business looks like. Driven by its family ethos, the producer of bright cold drawn steel bars employs mothers, fathers, sons, and daughters, both in works and administration, to maintain a sense of togetherness and shared purpose in its operations. In 2019, the company is celebrating its centenary and we are talking to its Managing Director, Philip Jackson, who discusses in greater detail Bright Steels' philosophy, the success it has enjoyed, its most recent developments, and the hopes it has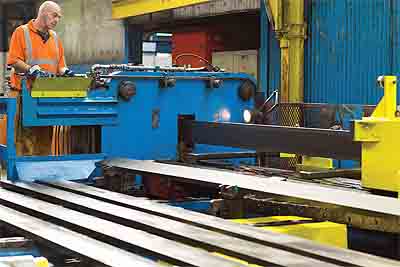 for the future.
"From the very beginning of our existence, we have been a family business and remain under the ownership and control of the Chouler family. We continue to practice what we preach not only in the ownership of the company, but also in employment. Of our 80 staff members, 11 have accumulated more than 40 years of continuous employment and a further 16 have been with us for more than 25 successive years. We aim to be a self-contained unit of professional people as much as we can, having at our disposal our own skilled tradesmen, engineers, electricians, joiners, and tool room staff," Philip points out.
Throughout its 100-year history, Bright Steels has developed an expertise in the manufacturing and stockholding of flats, squares, large hexagons, and alloy rounds. In addition, the company is capable of producing special shapes based on specific drawings provided by its customers.
"Our steel is used in every facet of manufacturing," remarks Philip. "These include commercial vehicles, motor cars, industrial motors, joiners' tools, hydraulic applications, shop fittings, machine racks, and power generation equipment – there is, indeed, a multitude of uses for our products, from heavy to light engineering purposes."
By emphasising the achievement of the highest product and service quality, and the development of long-term partnerships with customers and suppliers alike, Bright Steels has enjoyed continued success over the years. The company has become one of the most prominent producers of flats and squares in Europe, recording significant growth in sales in the last couple of years, in particular.
"2017 and 2018 were especially strong for us having experienced considerable growth in demand across all areas of the business," Philip comments. "We have strengthened our relationships with many of our existing customers, whilst also securing a number of new clients. Together with being a market leader in the UK, we are also incredibly proud of our proven track record in selling our products around the globe for many decades.
"One key element to the reputation we have built abroad, lies in our ability to swiftly react to customer demands. We stock large volumes of finished products, which allows us to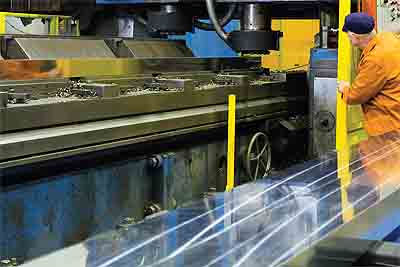 immediately despatch various items when an order comes through. Furthermore, we are flexible enough to supply a wide range of quantities at a time – from individual bars to full container loads," he explains.
In order to establish the necessary conditions for the future growth of the business, Bright Steels is committed to investing heavily both in new equipment and in the development of its workforce.
Philip presents us with an account of the company's most recent infrastructure investments: "First of all, we have installed a new heavy-duty electric platform transporter to carry completed orders from the preparation to the despatch area. Running on a 38-metre-long dedicated rail track at the side of the warehouse and incorporating flanged wheels and pressure-sensitive buffers to ensure safe operations, its utilisation enables us to reduce the use of lift trucks in the finished stock warehouse."
Undoubtedly a compelling evidence of Bright Steels' willingness to operate in the most efficient way possible, this is just one example of the company's clear-sighted investment strategy. Having identified the need to streamline its warehouse operations and the safe storage of bundles in the main bright bar warehouse, the manufacturer has also introduced a new cantilever racking system that provides an additional 840 tonnes of storage capacity.
"Another notable investment we have placed, covers the installation of a new multi-role profile straightening machine with a feeding table and entry guide, an oil spray system, and a delivery table and stacking system," Philip reveals. "It is a dedicated off-line processing machine for a specific range of sizes where bar straightness is critical, providing greater capacity for our customers.
"We have also just installed a new sawing system to increase the sawing capacity for those customers who require the bars to be cut to an exact length. As the year progresses, we will continue to bring new equipment to our factory, with particular focus on the modernising the technology of one of our main production bright drawing lines," he adds.
Owing to its family business status, the training and development of new and existing employees has always been fundamental to Bright Steels' growth strategy. Philip elaborates: "Our entire workforce comes from our local community, as we are based in a rural area in Malton, North Yorkshire. We have always been keen to invest in our staff and that includes taking on a number of apprentices. Right now, we have three of them on the books, working in our engineering, electrical, and commercial departments, we look forward to them being with us for a very long time. Our vision is to integrate our apprentices further into the business once they have obtained specific qualifications. There is a clear opportunity for them to progress through the ranks and they have the great example of past apprentices presently occupying management positions within the company in front of them."
Recapping, Philip maps out Bright Steels' future intentions: "We want to evolve as a business, seeking to continually improve and offer the best quality of service and product to our customers wherever in the world they are located. We make our moves thoughtfully but we are building the company for the long-term with the intention of making it future-proof so that a legacy is left for the next generations.
As a result, we remain careful in our steps, just to make sure that we are taking the right decisions that will make us more efficient in serving our customers."
Bright Steels Limited
Products: Bright cold drawn steel bars