Bright sparks
By combining creativity, imagination and technological expertise, Brightwake is able to deliver original medical solutions – from concept to distribution – which provide long-lasting benefits
By combining creativity, imagination and technological expertise, Brightwake is able to deliver original medical solutions – from concept to distribution – which provide long-lasting benefits
Established in 1979, family-owned business Brightwake Limited began life manufacturing technical textiles in Nottingham's old Lace Market. Moving to its present-day home in Kirkby-in-Ashfield, Nottinghamshire in the early 1980s, the company would go on to develop its expertise in textiles and textile construction to a world class level. "It was around 20 years ago, that we decided to move into the manufacture of, what were initially, low-grade medical products and class one medical devices such as bandages, tapes, and tracheal and ostomy products," explains Brightwake's Managing Director, Stephen Cotton.
"As time went on, we began producing products of a higher classification – up to class three, which are essentially medical devices with auxiliary effects – and today our range includes high-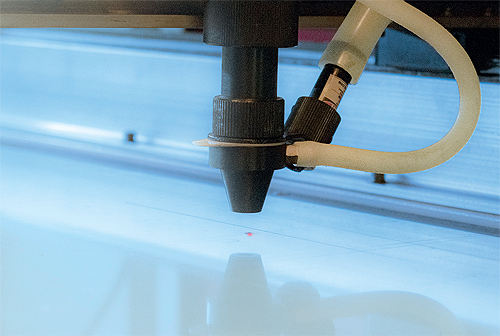 end wound care and airway management products, as well as blood processing equipment," Stephen continues. "We produce these products for a host of OEM's, including many large blue-chip organisations, and have earnt a well-deserved reputation for devising inventive solutions for manufacturing and production related problems for companies serving the medical, aerospace, industrial, cosmetic and retail industries."
Brightwake has also utilized its expertise to become a respected developer and producer of healthcare products under its own brands; Advancis Medical and Advancis Surgical. The former makes a range of specialized wound dressings, while the latter was created to launch the company's Hemosep plasma separation device, which is now available for sale in the UK & CE Mark designated territories. "We sell our Advancis Medical products worldwide, supplying goods used by the NHS in the UK, and to businesses across Europe, where we also have our own offices and sales divisions in Germany and the Netherlands. We also sell into countries including Australia, New Zealand, Korea, UAE and the United States through our network of over 100 international distributors," Stephen adds.
Increased demand
What has set Brightwake apart from other players in its field – according to Stephen – is the fact that it has always been considered to be a highly entrepreneurial business. "We take great pride in being able to read the markets around us, in being ahead of the curve, and having products ready for customers when they are needed," he affirms. "We have always operated under the philosophy that development needs to remain constant, and that once you stop developing you no longer have a relevant business.
"Our reaction time has always been very quick, and our nimbleness, flexibility and commitment towards innovation means that we are often able to turn around a product brief in a matter of months, where others might need several years to deliver it from concept to finished article. We also benefit massively from being an incredibly intellectual property (IP) rich company. We learnt early on the importance of protecting our IP, and this has resulted in a large patent portfolio that we are able to control from a manufacturing, cost and licensing point of view."
As a key supplier to the medical industry, it is understandable that Brightwake has undergone a significant ramp up in production since the emergence of Covid-19 and the ensuing pandemic that has spread across the globe. The capacity that the company has built up over the years while being a major OEM manufacturer has meant that it has been easily able to absorb the increase in demand that has come from the likes of the NHS. "We possess the required scope, breadth and depth when it comes to our manufacturing capabilities, equipment and people to take on large orders as they come in," Stephen states. "This means that, when the NHS comes to us for two million endo-tracheal holders, we have the confidence to know that this can be delivered and in a timely fashion.
"From a product development perspective, Brightwake has also been working on machinery for companies such as Surfaceskins Limited. They have devised an antibacterial system that can be fixed to doors by the way of push pads, and these pads release antibacterial gel when pressed. We have been tasked with designing and building the automated machinery to mass produce this technology, and we are currently in the process of commissioning and installing that at present."
Since March 2020, the company has responded to the increase in demand for its services by bringing in 60 additional temporary staff. "Being based in what is quite an industrialized area, we were actually able to identify and take on talent from the local area relatively quickly," Stephen says.
These new employees have – in turn – learnt just how important Brightwake values its people "We are a family business in every sense of the word with my wife and two sons all working here. As such, we take a great deal of time to ensure that we engage on a daily basis with our staff, listening to and providing them with all that they need to do their jobs safely, productively and happily."
An example of the company's efforts to keep its people well looked after came in the midst of the Covid-19 lockdown, when supermarkets across the country experienced spates of panic buying which resulted in a struggle to obtain a number of household essentials. One such product in short supply was washing powder. With Brightwake having to close its staff changing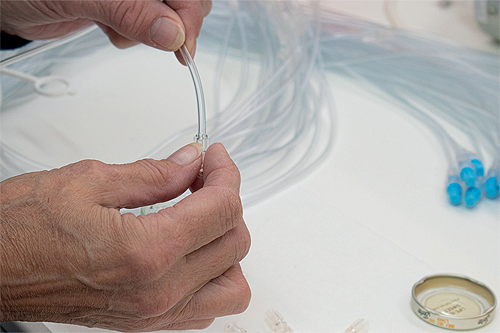 and wash facilities in order to adhere with social distancing guidelines, its staff were faced with the challenge of how to wash their workwear at home. The company's solution was to contact food wholesalers Booker Group, who were good enough to supply it with almost two pallets full of washing powder, which was distributed to its employees. As Stephen correctly points out; "sometimes it is these smaller, less well publicized gestures that can make all the difference".
Global growth
With the UK now entering the final third of 2020, the country is getting increasingly closer to leaving the European Union in its entirety at the end of the year. While a number of companies are continuing to make preparations for how this will impact upon their operations, Stephen reveals that Brightwake is definitely not one of them. "Our Brexit plans were put into place some months ago now. Virtually all of our products today are distributed from our manufacturing facility and offset warehousing facility in Kirkby-in-Ashfield, but we have also established a warehousing system in the Netherlands. Here we can hold up to three months' worth of stock at any one time, which is then distributed to our customers across Europe. The Netherlands is also where we have moved our regulatory governing body, which will assist us greatly as well once the UK leaves the EU."
Going forward, the company will in fact be investing even more heavily in the international sales side of its activities. "What we have done is bring in a dedicated business development manager to handle the global growth of our product offering," Stephen adds. "It is they who will be actively seeking new distribution pipelines to push Brightwake products into as we look to ride the economic curve that is emerging in the wake of Covid-19 lockdowns being lifted."
For the last five years or more, Stephen and the rest of the Brightwake team have been working hard to lay solid foundations around the business, making it debt free, profitable and blessing it with a product range and manufacturing capabilities that have contributed greatly to its sales growth. "As a company, we have the brands, technology and IP in place that we believe we need to grow, now it is about getting out there and selling what we have to those that need it most," he proclaims. "All of the foundations that we feel are needed for things to really take off are now in place, and we are supported by an energetic, enthusiastic workforce who are in it for the long haul. Therefore, with the right distribution network and the right international partners in place, there is no reason why rapid growth cannot be achieved by Brightwake in the years to come
Brightwake
Products: Medical devices
www.brightwake.co.uk