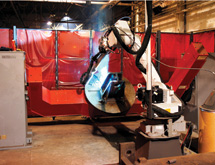 Any manufacturing company can claim to have a staunch work ethic that is passed from upper management on down to the workforce. However, the Benyo brothers put their money where their mouths were in 1996 when their new company, Brilex Industries in Youngstown, Ohio, offered a profit-sharing program with its employees to make sure they worked just as hard as they did.
"I'm proud to say, since 1996, we have given bonus to all employees every quarter and maintained profitability throughout this entire period," boasts President Brian Benyo, who founded job shop Brilex Industries with his brother, Vice President Alex Benyo. "Alex and I always try to maintain a high level of work ethic and we demonstrate that in the work we put forth to the company through sound management and profitability."
Since its founding, Brilex Industries has been one of the fastest-growing companies in the Youngstown area. The company earned the Youngstown Chamber of Commerce Pinnacle Award for having the greatest percentage of sales growth in the region between 1996 and 1997.
Today, the company is a preferred supplier for numerous OEM and end-user clients in the metals, rubber, plastics, power generation and other capital equipment industries. "Our customer base is a diverse base that is more and more gravitating toward internationally based companies in power generation, distribution, mining, metals and related machinery," Brian Benyo says.
Acquiring Locations
After starting out with one 6,000-square-foot facility and three employees in 1996, Brilex Industries has expanded throughout the Youngstown area into a variety of locations as it adds to its portfolio of capabilities.
"[In 1999,] Brilex Industries acquired a larger space and large machine tools as part of a package purchase from a company that was shuttering its operations," Benyo says. "The decision to purchase that facility, the equipment and the subsequent impact through the machining capabilities and growth it led to, is what got us to where we are today."
Brilex Industries, now with more than 250 employees across two different facilities, serves as a one-stop shop for OEMs and end-users that need fabrication, machining, assembly, quality assurance and repair and rebuild services.
The company's main facility – known as 1201 Crescent Street – houses more than 125,000 square feet of manufacturing space and specializes in fabrication and machining for a variety of applications.  Another location, Plant 2, adds another 130,000 square feet of manufacturing space and was acquired in 2011 due to the company's rapid growth and diversity among its customers. This location focuses on large fabrication, precision machining and large machine assembly to serve the power generation market, oil/gas development and other specialized machinery for various industries.
At 3200 Innovation Place in Youngstown, Brilex Industries operates Taylor Winfield Technologies. With a brand-new, state-of-the-art office complex and 100,000 square feet of world-class manufacturing space, Taylor-Winfield Technologies is a world leader in the design and manufacture of material-joining equipment, automation systems, material-handling equipment and induction heating.
Five overhead cranes, a 70-ton-maximum lifting capacity and a 26-foot hook heights make this facility one of a kind.
"Taylor Winfield was once one of Brilex Industries' steadiest customers," Benyo says. Today, it offers a variety of material joining and automated solutions, as well as the production of the Boltech line of material handling equipment.
In Newton Falls, Ohio, Quality Machine takes care of the small to medium machining of steel, aluminum and brass/bronze component needs. With both manual and CNC lathes and horizontal/vertical mills, Quality machine has grown into a reliable parts manufacturer to many OEMs as well as a maintenance component supplier to end-users.
In McDonald, Ohio, Brian and Alex Benyo, along with co-owner Jon Dorma, own and operate Amrod Bridge & Iron LLC. This facility utilizes nearly 200,000 square feet of heavy manufacturing space where it builds large structures for bridges, lock and dams, water and wastewater treatment plants, crane runways and other industrial applications.
eXcent U.S.A. is a joint venture between Brilex Industries and eXcent Group of France. This company specializes in engineering for the aeronautics, energy, defense and rail industries.
Another joint venture is with BBM Officine Meccaniche of Rossano Veneto, Italy, and Brilex Industries. Focusing on specialized equipment for the assembly and maintenance of rail components and systems, BBM Railways is having quick success with multiple projects.
Across this collection of companies, The Brilex Group of Companies operates more than 500,000 square feet of combined manufacturing space.
Growing into Acquisitions
Now that Brilex Industries has acquired all the capabilities and services it needs to become a one-stop shop for manufacturing demands, Benyo says the company must grow into these facilities to maximize the value it delivers to its customers. That will be the main focus for Brilex Industries and its subsidiaries for years to come, according to Benyo.