Unrivalled precision
Bromford Industries invests heavily in new machinery and training its staff, as the company aims to make the most of the Fourth Industrial Revolution and remain the partner of choice for the world's leading aircraft engine OEMs
Customer focus, continuous improvement, teamwork, respect, and integrity. These are the values by which Bromford Industries live, which have guided the manufacturer of complex engine, landing gear, and precision components to a continued success since its formation in 2009. Additionally, the business has grown thanks to investing in people and new technology – a trend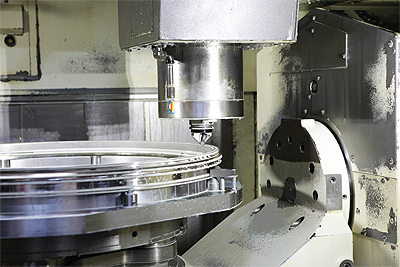 that has become ever stronger since Bromford was acquired by Liberty Hall Capital Partners in 2016.
Alan Dunbar, Group Vice President of Business Development, reflects on that watershed moment for the company three years ago: "Following the acquisition, Liberty Hall Capital Partners has invested in excess of £18 million in capital equipment, which has allowed us the opportunity to grow organically and through the acquisition of world-class technology and new businesses. Safe to say, these investments have transformed the entire business leading us to unprecedented success."
In terms of technology, Bromford purchased state-of-the-art 5-axis CNC machining equipment, focusing heavily on robotics and automation. "For Bromford, it is especially important to embrace the Fourth Industrial Revolution and integrate automation and digitalisation into all levels of our operations," Alan maintains. "The integration of new technology into our work has allowed us to reduce our operational costs and improve lead times. We have also invested in increasing our capacity, as we understand the current challenges the aerospace industry and our customers face."
At Bromford's Birmingham facility – one of the five locations the company operates from, nine 5-axis Okuma machining centres have been installed. Alan adds: "These machines are connected via machine monitoring software, which provides us with real-time data. Indeed, there are currently substantial machine movements across the facility, as we are replacing old machines to fully optimise our 65,000-square foot facility.
"Being an aerospace component manufacturer, quality is paramount for us and therefore, we have invested in a new inspection facility and CMM machines at Bromford Leicester, too," he continues. "We also have an automated inspection robot at Bromford Technologies (based in Alcester, Warwickshire), which delivers instant CAD models. Speaking of the Alcester site, the recently added capabilities there complement our existing competences in 6-axis laser profiling and drilling, fibre laser, flatbed profiling, and EDM. Our company is constantly researching emerging manufacturing trends and we are looking to utilise our engineering expertise to develop efficient processes on how to integrate these trends into our portfolio. An example of this is additive manufacturing. We use our 3D printer at Bromford Technologies to manufacture fixtures, tooling, and prototypes, and this not only reduces costs, but also shortens lead times."
By introducing new technological advancements, Bromford has also made it clear that it takes the issues of sustainability and waste management very seriously. Alan elaborates: "Our aim is to reach the ultimate 'lights out manufacturing' and we have already cut down 80 per cent of our lighting consumption at Bromford Birmingham. What is more, we now reuse coolant and other waste, and keep specific in-machine temperature without external resources, which enables us to reduce our overall CO2 footprint."
Together with purchasing new machinery, Bromford has also contributed resources for a number of employee training programmes, highlighting its commitment to developing its staff and raising their qualifications. "Six Sigma and the Management Development Programme are two good examples of our people-oriented investments. We feel that empowering and upskilling our workforce is essential, if we want to retain the expertise and level of quality, we are known for in the aerospace manufacturing industry. Moreover, we have acquired the much-needed technological competence to remain competitive during the Fourth Industrial Revolution," Alan explains.
As a whole, all of Bromford's UK manufacturing facilities are vertically integrated – from customer enquiry, to development, to concurrent engineering, manufacturing, assembly, testing, finishing, certification, and, finally, delivery. The company's extensive use of integrated computer systems for all aspects of its business process ensures excellence in information technology, process control, reporting, and documentation.
Through this lean arrangement, Bromford has attracted several major OEMs who make up the business' impressive customer base. In addition, Bromford's impeccable service has been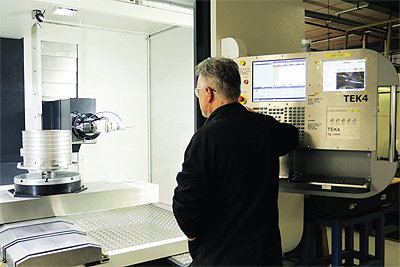 recognised by another of its major clients, who recognised the performance with five Best Supplier awards in seven years between 2011 and 2018, valuing the company's 100 per cent goal-setting mind-set.
Bromford's acquisition by Liberty Hall Capital Partners in 2016 was followed by the purchase of AeroCision – an aero engine rings and casings manufacturer based in Connecticut, two years later. The move reflects the dramatic growth in the delivery of next-generation, fuel efficient engines and supports Bromford's objective of being a fully-integrated, diversified engine component supplier. As part of the operation, an additional joint venture in Bangalore (India) was brought in to expand the company's capabilities further, thus putting it in a favourable position in the global aero engine supply and logistics chain.
"AeroCision has now been fully integrated into Bromford and we have already invested in the business by acquiring the latest simultaneous 5-axis CNC milling and turning equipment, providing the ability to run multiple parts simultaneously," Alan remarks. "Furthermore, with the integration of AeroCision into Bromford and winning new work, we have opened new jobs in the local area of Chester, Connecticut and are actively recruiting additional machinists and programmers. Now that AeroCision is officially part of the Bromford family, it is being included in all strategic plans and corporate activities, as well as in our Management Development Programme, as we seek to strengthen and expand our presence on the other side of the Atlantic."
Acquiring new businesses appears to have become a mainstay of Bromford's strategy going forward and Alan reveals that more organisations are set to join the company throughout the rest of 2019 and beyond. "These complementary companies are aligned with our overall strategic direction and will provide the baseline driver upon which further investment will be made, so that we can increase our customer footprint, global reach, and capability offering. In a nutshell, our long-term strategy is to build upon our success in the last couple of years and to continue investing, winning more work, and acquiring businesses whose competences will be of use to us in our growth efforts," Alan concludes, exuding confidence that the future for Bromford is brighter than ever.
Bromford Industries
Products: Rings and casings for aero engines; landing gear components