On your bike
Revolutionising the way people live in cities, Brompton Bicycle specialises in designing and building bicycle frames of exceptional quality
The Brompton was conceived as a product that increases people's sense of independence and freedom in urban spaces, and this concept is still at the heart of everything the company does. In 1975 a chance meeting inspired Andrew Ritchie to come up with a fresh approach to the challenge of designing a folding bike. It was just one year later in 1976 that Brompton Bicycle was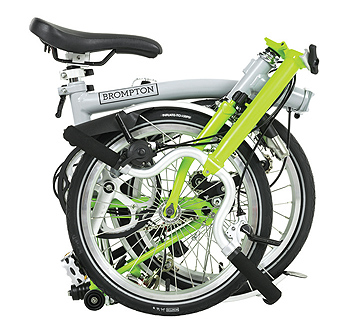 registered as a limited company, starting a history that would transform the future for intercity cycling.
Conceived as a product that increases people's independence and freedom, the company continues to develop and manufacture bikes that customers can rely on wherever and whenever they use them. The Brompton sets its users free from the constraints imposed by the combustion engine, city planners, the weather, public transport administrators, bike thieves and countless other layers of complexity.
Since previously being featured in Manufacturing Today Europe in May 2015, Brompton Bicycle has continued to evolve the same product it began with more than 40 years ago to offer enhanced rides for customers with better ergonomics. Updates include an improved handlebar shape, which includes a change to the handlebar rise that allows for longer grips and increased comfort, which thus leads to smoother transitions. Additionally, the company has completely redesigned its gear shifters for easier transitions via a new mechanism; the shifters and brass bell have also been fitted into the brake lever to ensure they are within easy reach.
"Brompton is an evolving product and in the early years you can make big strides in developing it, but as a product continues to evolve, the thought, energy and consideration that goes into performance becomes greater for a smaller return. It now takes a long time to improve things on a Brompton bicycle, and we also have to be careful of the changes we make. However, over the last three years we have been working on improvements and feedback showed that the ergonomics were not as intuitive as they could be. These days everything is intuitive, touch screens and touch phones and so on, which is why we went on to develop our gear triggers to be clever as they affected the brake levels and the bell as we integrated it all to where it intuitively ought to be. This is a unique development that stems from a vast amount of research and development," says Will Butler-Adams, CEO of Brompton Bicycle Ltd. "We also changed the handle bar design, which doesn't sound like much but a handle bar has to go through a long life and not fail, so we developed something that was different, lighter and ultimately better."
Other updates include more choice in colours, with a vibrant red and stylish grey added to the range; plus, colours no longer incur a charge so customers can have whatever combination they wish for no extra cost. This development follows the company's relocation to a new 90,000 square foot factory in 2016, which includes the addition of a new paint plant, assembly line and brazing station for making frames.
Discussing the relocation, Will highlights: "We took a huge risk to move the factory as we moved from a 30,000 square foot facility to a 90,000 square foot site; in total the move cost around £2.5 million and we then had to turn the building into a factory. We began moving in September 2015 and the relocation was complete in February 2016; we paid double rent for six months, however this enabled us to move the entire production and factory and it only cost us 2.5 days of production time. It was a successful move when it comes to our ability in delivering services to our customers during this time.
"We have been here nine months and everyone has worked their socks off and it turns out we are saving more money than the additional cost of rent, which is £900,000, at the same output. If you take the £2.5 million capex out, the operating costs are now lower than the additional rent, while we are also in a fantastic facility with incredible innovative capabilities. We are very happy."
Further adding to the excitement of this major development for Brompton Bicycle was the arrival of royalty at the new facility, which was opened by the Duke of Edinburgh. Upon his arrival, his Royal Highness met Andrew Ritchie before proceeding with a tour of the new factory, where he viewed the processes involved in designing and building a Brompton bike and met members of staff who engineer and manufacture the bikes.
Having relocated to a new factory that triples work space, been visited by royalty and developed new innovations for customers, Brompton Bicycle shows no signs of slowing down as it continues to work with Williams Advanced Engineering on the design and development of an electric bike. "Every element of this design is taken to its limit," says Will. "The gear design is completely unique, there is nothing like it in the world when it comes to this drive system, and we are now close to having a product that myself and our customers would want to buy. Because this is a unique development, we are taking time to get things right as opposed to following a tried-and-tested method of manufacture. We have a few prototypes around and they are nice, but they need to be better; it is an exciting development and when they are ready you will definitely want one."
Keen to change how people live in cities across the world, Brompton Bicycle offers customers the opportunity to change their lives by cycling to work, home or other locations as opposed to using public transport. "If we get more people out of the ground, out of their cars and onto one of our bikes we will have achieved something. If we can innovate and come up with cool products for our customers, there is no limit to what we can deliver; this is what we need to fulfill," Will concludes.
Brompton Bicycle
Products: Bicycle manufacturer