Beautiful bicycle
Brompton Bicycle changes the way people live in cities
The Brompton was conceived as a product that increases people's sense of independence and freedom in urban spaces, and this concept is still at the heart of everything the company does. In 1975 a chance meeting inspired Andrew Ritchie to come up with a fresh approach to the challenge of designing a folding bike. It was just one year later in 1976 that Brompton Bicycle was registered as a limited company, starting a history that would transform the future for intercity cycling.
Conceived as a product that increases people's independence and freedom, this concept is still at the heart of everything the business does; making bikes that customers can rely on wherever and whenever they use them.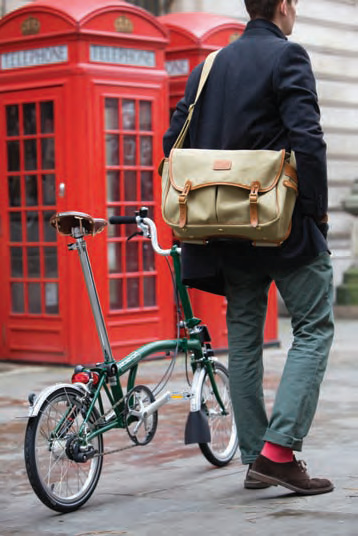 The Brompton sets its users free from the constraints imposed by the combustion engine, city planners, the weather, public transport administrators, bike thieves and countless other layers of complexity.
"All we've ever done is make one bike, which has allowed us to really invest in taking cost out – to invest in tooling, machinery, and ultimately our product. Evolving that same product, provides justification of high capex investment," says Will Butler-Adams, CEO. As a result of the efficiency generated in its process, the UK based manufacturer is able to comfortably compete with its competitors operating in Asia.
Making bicycles is a very labour intensive process, and whilst the business does employ some semi-automatic processes such as CNC and CMM machinery, its products are essentially crafted by hand. "We want to offer the best value to our customer, using a combination of cost, quality and delivering a lifetime experience. Of course, we have some clever machines to help us achieve this, but the most important technique is brazing, and that is a process that is at the heart of our bikes," points out Will. Using less heat than welding prevents distortion and weakening of the metal. As a very specialist technique, Brompton takes training its employees with the utmost importance, operating a five-year intensive apprenticeship programme to master brazier standard, and in the past 11 years has through training in growth, built the company up from 24 staff to 230.
"About 40 years ago there was a real change in cycling as it moved from being a transport solution into a recreational activity, and this changed the way bikes were built, particularly with the material selection as steel was replaced with the lighter, but weaker aluminium and carbon alternatives. The difference for Brompton is that we are not recreational; we are about transport, with our product used every single day. The nature of steel is delightful for us; it is robust and has a fantastic fatigue life. A brand to us is not built around the marketing campaign but its practicality, and being able to demand the same from the bike every day, year after year, and we have extremely high confidence in our product. Steel ensures robustness in our design, also allowing us to use smaller tubing, which is essential in creating a compact folding frame," Will explains.
With a total 1200 parts making the complete bike, of which 70 per cent are designed in-house, Brompton is far more than just a bicycle company. "The brake calipers, brake levers, cranks, spokes, internal hub gear – there is nearly nothing on the bike that we haven't designed. Whilst the average bicycle company looks to purchase off-the-shelf items to add to its frame, we have been fiddling around and evolving the design to produce a unique product that is completely ours. We have already made a massive compromise by putting breaks and hinges into a frame where actually rigidity would be preferred, so everything else must be designed perfectly to deliver the perfect ride," says Will.
As a true British manufacturer, Brompton continues to source all it can from within the UK where the supply chain still exists, as Will continues: "The absolutely core activities we do ourselves. It is our intellectual property, and it is unique to us.
"The second tier, which is unique to us, but not core to us, such as injection mould parts or spring design, we try to do in the UK. Our third chain, which consists of commodity, bog standard items such as tubing is sourced from Europe and Asia. Whilst we'd like to take it from the UK, the supply chain just simply isn't here any longer. It is also the case that the speciality of our own design of hub gears means we have had to secure a specialist in Asia to manufacture those parts, as there is nowhere in Europe where that can be done."
Exporting 80 per cent of its products to 44 countries around the world, it is essential that its products suit both different shapes and sizes of people, as well as the geography in which it is used. The angle of the seat pillar is such that the higher it is set, the further away the rider is from the grips, and the unique saddle rail allows more adjustability of the riding position to accommodate a tremendous range of uses. Choices between two-speed super light to or six-speed gearing, ensures the bikes can be used to face any climb, and furthermore interactive selection on design choices from its webpage ensures a personalisation of the product and ultimately the offer of value.
"Currently in London, there are 80,000 Brompton bicycles being used, which demonstrates our product is having an impact there. However, cycle usage in the capital is only four per cent, compared to 45 per cent in Copenhagen. As more people move into cities, and infrastructure continues to become overloaded, it is vital to push forward life-changing solutions. The Brompton costs the government no money, it keeps people fit, and it takes them off expensive infrastructure, so it is no coincidence that cities all over the world are beginning to invest in cycling, bike lanes, investing in getting people out of cars and public transport and onto their bikes. Eighty per cent of the average journey made in London is less than four miles, which equates to a 15-minute bike ride. Our ambition is to change the way people live in cities all over the world. As an inspiration – if Mr Dyson was able to build a billion pound business sucking up dust from the floor, then we should be able to do the same with our folding bike.
But we do have a long way to go," concludes Will.
Brompton Bicycle Ltd
Products: Bicycle manufacturer
Sites: London
Employees: 230