Geared for great rides
A Brompton bicycle is not like other bikes. With innovative engineering, Brompton Bicycles offers an efficient solution for moving around the city and beyond
Over the last 20 years, the bicycle manufacturer, Brompton Bicycles (Brompton), has gone from making approximately 6,000 bikes per year to an impressive 100,000. According to the President, Juliet Scott-Croxford, and Will Butler-Adams who serves as CEO, the transformation from 1975, when manufacturing consisted of a single person who made each part and then managed the assembly line, to incorporating innovation through Industry 4.0 has been a spectacular journey. "We host a Lean and efficient factory where we have batch production in frame production," Will begins. "There are also three great lines for making the bikes. In addition to that, we have around a three-minute takt time from when a bike comes off those lines that allows us to make a bike each minute, and it all comes down to the technology we utilize," shares Will.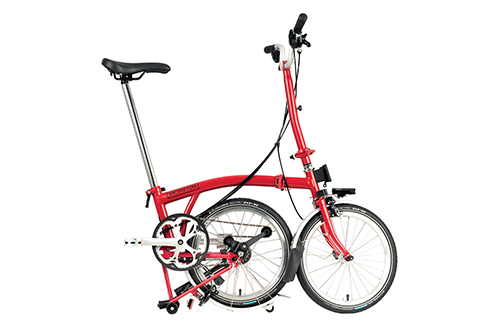 He continues to highlight that since the company adopted the Lean facility, it now has the means to track every part that goes into bringing a bicycle together. "Getting that information to the operator at the right time and place is a recurring challenge. However, the ultimate advantage is that we know about every single screw, nut and bolt that is assembled, who manufactured it, and for any safety critical screw, we know how tight the screw is made. This has allowed us to increase the level of control, quality and traceability on each of our bikes," he expresses.
This is clearly a significant transition to undertake, from working entirely with metal, to adopting state-of-the-art software. One of the results of this venture has meant that the Brompton team has also been able to increase its skill capacity. "We now have 35 people in our software and electronics team to refine our design, and develop new variants; it is a fantastically exciting opportunity that allows us to open up the market to a bigger group of customers."
When it comes to 'opening up the market', Will alludes to the possibilities of introducing the electric bicycle (or e-bike), a concept that will help encourage fitness, and contribute to a greener future. "The cool thing about this is that customers are still getting their cardio exercise. In fact, if you ride electric bikes, you're likely to get more exercise than those who ride pedal bikes, because they are so convenient. This means that customers actually cycle for much longer periods," he says.
In the US, according to Juliet, the e-bike market was valued at just under $1 billion dollars in 2021. It is now expected to reach $1.6 billion by 2027. "We talk about the first and last mile of using a bike to complete your journey, but with the electric, it's really about the last five miles. The bike has the possibility to suddenly extend that usability, and reach an entirely new group of consumers that we haven't been able to before," she says.
Intensive research
In order to meet those demands, the company recently underwent a rebranding, which catapulted its strategy to infiltrate those broader markets. "We rebranded our lines to be positioned more fundamentally around our consumer, and to make it more understandable for them to differentiate between the products we offer," says Juliet.
For example, Brompton offers the A, P, C and T Line. The T Line is 'Brompton reinvented'. Equipped with titanium, and made in a factory in Sheffield, this item is the lightest product the company has produced – ten pounds lighter to be exact.
"Our T Line features a new four speed gearing system, and then the C Line is our classic all steel folding bike. Also available is the C Line-electric, with detachable battery, and our A Line is our entry level for people just starting out," she says. For a model between the premium T Line and C Line, there's the P Line. Redesigned from Brompton's former Superlight model, the P Line is a four speed, combining both steel components and a titanium rear frame.
Will adds that the company underwent intensive consumer research processes to bring this new range together. "It was very powerful, and it helped us redesign and position our product to make the journey a lot easier for our customers. Sometimes, when you work within a business, you get so caught up in your own world that you lose sight of what the customer wants." For both of these leaders, it is so important that the business reaches new target markets in order for it to continue to grow, and at the moment, it is making great headway in North America, Germany and China, where awareness for the brand is not as strong as it is in the UK.
The conversation then takes an interesting turn towards sustainability, and how the company's products serve to have a positive impact on life in the city. "In the last 70 years," Will says, "we have seen a massive migration to cities across the globe. More people live in cities than anywhere else in the world, and the irony is that the place where most human beings live is probably the unhealthiest place. Cities have the worst air pollution; they're also spaces where you'll find the worst rates of mental health, the highest cases of obesity, and the highest level of crime. We are meant to be an intelligent species, yet we have designed cities to be unbearable. At Brompton Bicycles, we believe that doesn't have to be the case," Will exclaims.
Of course, he is right. Cities have the potential to be inspiring environments; full of culture and art, history, and architecture. With parks, canals, and monumental structures, these urban hubs could become one of the best places to live. "We need to rethink about how people exist in them, and I feel that the first place to start is to regulate the number of vehicles. A car is a magnificent tool if you want to cover 100 miles, but they are impractical for four-mile journeys in an area where space is a premium. We can carry a 90-kilogram human on a ten-kilo bike. With a Tesla, for example, you need 2,000 kilograms, to carry someone of the same weight.
"We are in the middle of a climate emergency, and we need to use less carbon, and consume less as well. So, for us as a company, the goal is to change how people live in cities on a massive scale," shares Will.
Pushing boundaries
As both leaders turn to thoughts on the future, Juliet then brings the conversation to a close in discussing the mission the company has to encourage cyclists in cities around the world to be healthier and more active. "75 percent of our production leaves the UK, and we have three tier-one markets, which we are investing heavily into. Our vision for the US in particular is to be a leading urban bike brand over the next five years.
"To make this happen, we have to focus on cities first, and if you have visited the US, you will know that every city is built uniquely. So, we are on a quest to use that to our advantage, and contribute to supporting the population to be happier and healthier. We are also trying to reach a broader, more diverse group of people who want to ride bikes.
"Excitingly, we will be launching on the West Coast later this year through a range of different channels that includes D2C through our ecommerce channel and B2B through our existing retail partners and networks. We are also expanding our own retail footprint by opening a new store and building partnerships and collaborations with those that align with our values. It might not necessarily be in the bike industry, it could be with other brands or corporations that have the same sense of purpose for sustainability, happiness and wellbeing.
"Our mission going forward is really about getting the right foundations and capability in place. From my perspective, I believe that our goal will only be achieved through the effort of our incredible people, by maintaining our focus, and refining our systems to deliver our urban bike brand across the globe," Juliet says, and with nearly 50 years of experience, Brompton seems well-equipped to take on this mission. Its team of dedicated engineers are committed to pushing the boundaries of what is possible when it comes to creating sustainable solutions, with only two wheels and a frame.
Brompton Bicycles
www.brompton.com
Services: Bicycle manufacturer