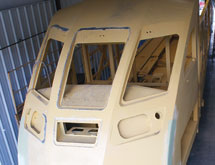 Brookville Equipment Corp
Since it was founded in 1918, Brookville Equipment Corp. has continuously proven that necessity really is the mother of invention. Located in Brookville, Pa., that company began its foray into the world of specialized mining, tunneling, locomotive and streetcar solutions when a local Ford dealer started installing flanged railroad wheels on gasoline powered trucks. Today, the company continues to look for ways to push boundaries through the skillset of its American work force.
In the 1970s, the company entered the mining industry and has since grown into a leading underground mining and haulage equipment provider throughout the United States and around the world. From there, Brookville's vehicles evolved into larger locomotives for hauling freight and passengers. Today, the company remains privately owned and has about 295 employees.
One of the defining qualities of the company is the fact it continues to manufacture products in America. The company takes advantage of its location in central Pennsylvania, which has a strong history in industrial manufacturing.
"We compete against the largest companies for workers and customers," Marketing Manager Michael White says. "We don't need to outsource because we can get the skilled people we need right here."
Doing Things Better
To ensure its people have the skills they need, Brookville leans on local trade schools for education in areas such as specialty aluminum welding. The company sends people out for certified welder certificate training, and it supports employees financially when they pursue continuing education. Also, the local Penn State campus regularly sends professors down to Brookville's facility to run a blueprint reading class for the company.
"Our people are eager to do things better and have a vested interest in improving their skills," White says. "They can work with our human resources department to find ways to get the training they need."
Innovation still comes into play for Brookville with new products. This is most notable with its work with the South Florida Regional Trans­portation Authority, which selected Brookville to supply 10 new BL36PH commuter locomotives.
These new locomotives feature reduced fuel consumption and emission levels as well as improved safety. They have a modern all-steel aerodynamic nose and a semi-monocoque frame, which is lightweight and safe. Powered by a single MTU 20V4000 engine that produces 3,620-horsepower, they are the first EPA Tier 3-certified passenger locomotives to operate in the United States.
"Our management team's vision was for us to be better prepared for the transit market," White says. "It is a growing area, and we want to be diversified in both mining and transportation. We did everything we could to come up with a new design for a locomotive that was safe, attractive and cleaner in terms of emission requirements." The BL36PH commuter locomotive is a collaborative work effort of Brookville utilizing its advanced underground diesel emissions expertise and its new traction control innovations for the passenger rail markets.
In the last few months, Brookville has continued to announce new innovations and opportunities. In March, the company delivered its second completely wireless streetcar to Southern California. The design features induction charging of on-board batteries, allowing the vehicle to operate off-wire and utilize non-contact charging at each passenger pick-up. In April, the company also released the design of its unique modern streetcar design. Brookville's Liberty Streetcar features oversized windows and a one-step low-floor blueprint. The car is ready for an eager U.S. marketplace that is developing light rail systems.
Recent news hasn't all been about streetcars. In April, the company released details of its work with an Appalachian coal customer to develop a diesel-powered fuel buffalo, which is now running underground at the customer's Pennsylvania mine location.
Another mining announcement came in June, when Stillwater Mining's Nye, Mont., operation received two new Brookville diesel locomotives, which operate using a Cummins Tier 3 engine. The locomotives have air-conditioned and sound-deadening cabs and a digital gauge panel, which functions as the rearward camera's display. Also, a handheld remote control system allows the tandem set of locomotives to operate flawlessly through RF signals.
Also in June, Brookville announced that four of its locomotives are hard at work supporting the East Side Access project enhancing New York City's subway infrastructure and connecting Manhattan and Queens. These 20-ton diesel-powered units with car brakes operated around the clock to provide the tunnel boring machines concrete segments and other supplies for the lining of the tunnels.
Prepared for the Future
White says the key internal investments the company must make to continue to support growth are in people. They are the key resource, which is why Brookville has brought in key people over the past few years to lead the charge for the company in terms of ideas.
"We are a systems integrator; we don't make engines or wheels, but we put them together into a value-added vehicle," White says. "Systems integrators need key people who can organize things, talk to vendors for products and make strategic alliances so we can assemble better equipment."
As the company aligns itself for the future, it intends to look for more ways to innovate and devise new designs and models. White points to the company's work with a vendor on the development of a traction control system the company uses on several types of its units. It is a multi-use modular unit that can be customized. The system can store operational data and offers real-time troubleshooting. A USB drive also can allow access to data that can be downloaded.
"If what is available on the market won't meet their needs, we can really connect with those customers, work with them, listen to their needs and design a custom solution to provide a product that meets their needs," White says. "We can do that in underground mining and passenger rail transportation. We are encouraged by working with forward-thinking clients like the South Florida Regional Transportation Authority, and we want people to know they can rely on this U.S.-based, central-Pennsylvania manufacturer."