Game changers
Driven by innovation, Broshuis has experienced years of considerable growth. Relocating to a new factory in 2018, the Dutch-based manufacturer is significantly cutting production times to serve its respectable list of clients even more efficiently
The vast experience Broshuis has garnered over the 130 years of its existence, has given the manufacturer of trailers and loaders for special transport the confidence to innovate boldly.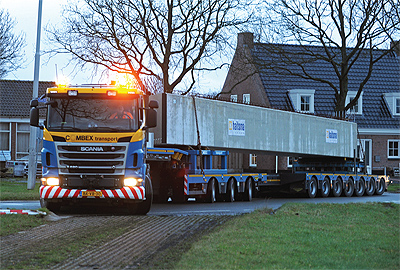 Indeed, it is the urge to upgrade its fleet time and time again that can be pinpointed as a main reason for the company's ongoing success. Broshuis' CEO, Pieter-Bas Broshuis agreed to discuss with us the key competences of the business.
"We have always been driven by innovation," he begins. "Our fleet consists of wide varieties of low and semi-low loaders and platform trailers that serve special transport purposes in a number of industries, such as construction and infrastructure, defence, agriculture, and wind power. We are the most innovative manufacturer of trailers, having launched a number of original solutions. A couple of years ago, for example, we introduced independent suspension for our SL2 trailers, which offers a lot more advantages to the customer than conventional axles and pendle axles," he adds. The trailer in question boasts a 12-tonne load carrying capacity and offers a greater stability, thanks to its independent hydraulic suspension and its wide tipping point. Its low load floor of just 790 millimetres allows the transportation of higher loads, something Pieter- Bas appraises highly, because, as he says: "every centimetre counts."
We could not help admiring Broshuis during our interview for their understanding of the responsibility they bear while their trailers are in operation. "For us, quality is everything. We are definitely not the cheapest manufacturer in the market, but we try hard to be the best. We are fully aware that our trailers must always deliver, because if one fails while on the road, the costs for the client are huge. To give you an example, if a windmill is being put up, and a trailer is unable to deliver even one part of it, say, a blade, then the whole process has to stop," Pieter-Bas insists.
Just how instrumental reliability is, can probably be estimated most accurately if we consider the work Broshuis does for the defence industry and look at the portfolio of clients it has created. The company has specialised in undertaking special projects for the armies of countries like Belgium, Denmark, and the Netherlands, and a remarkable recent benchmark for it, was the beginning of its collaboration with the US army. Pieter-Bas comments: "Our trailers do not have engines in them and are fully operational in extreme meteorological conditions. They can manifest their reliability in places like Afghanistan, for example, where you do not want to have any problems."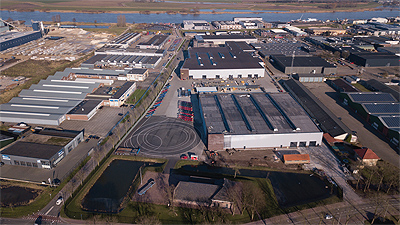 Having seen a year of growth in 2017, when the company's turnover reached 65 million euros, the beginning of the new year showed no traces of Broshuis slowing down its activities. The family-owned business presented a new item – the PL2 pendle axle system, at a company organised event, which attracted approximately 10,000 visitors. The new item can provide a variety of trailers with a minimum ride height of 810 millimetres and thereby achieve a stroke of 600 millimetres. This, in turn, allows the load to be jacked up so that it can navigate more easily even on uneven terrain. "We are planning to demonstrate the product during an event in Hannover in September, but, interestingly enough, we have already received multiple orders for it, so some clients are buying it even before they have actually seen it," Pieter-Bas remarks contentedly.
By optimising the manufacturing process in its factory, Broshuis will gain a crucial advantage over other similar businesses in the industry. The company will soon be capable of managing all the steelwork-related activities itself, giving it the flexibility to constantly produce and customise new trailers that accurately reflect the specific needs of any customer. Pieter-Bas takes us behind the scenes to outline what will be going on in the factory from the second half of 2018 onwards. "The key thing for us is that we will be able to manufacture much more quickly in-house, thanks to the enterprise resource planning (ERP) software we are introducing. For instance, a steel plate can be loaded automatically on the laser machine, and have one or more parts of it cut out. The software then knows that these components have been cut out and can assess if they might be available for use on another project, which is very smart and helpful. This way, we can customise a lot of trailers. We have about 100 different models, all of which can be tweaked a little bit, regarding their dimensions or accessories. Being able to apply this smart production technique, will allow us to start the actual assembly of the trailer much sooner than normal. It is perfectly possible for us to deliver a trailer in four weeks (or up to eight, if it is more complex), while elsewhere, it takes between nine months and one year to get it produced.
"Another benefit of the technique we are employing, is that it will give us a much-needed flexibility in developing and redeveloping our items. In case a part is not okay, it goes directly to the engineering department, where it gets remade and then put in line for laser cutting, so the new part can be ready in half an hour. The speed and the responsiveness of the method is a real game-changer," Pieter-Bas enthuses.
As Broshuis prepares for its relocation to the new factory, its CEO expects 2018 to be a year of consolidation after the rapid growth the company experienced in the last two years. "We do not expect significant growth this year, but we will certainly be well-poised for future progress. It depends, however, on the market conditions. If the market allows us to grow, we will be able to do so. If not, we can stay where we are. It is necessary to remain flexible in our capacity to ensure the stable future of the business."
Broshuis
Products: Trailers and loaders