A multitude of possibilities
Bruderer UK had a year of unprecedented growth in 2018, courtesy of winning a number of long-term contracts that will keep the company's order book full in the coming years
The work Bruderer UK secured in 2018 is believed to have a significant impact on the company's long-term future. For Adrian Haller – Managing Director of the UK division of the world's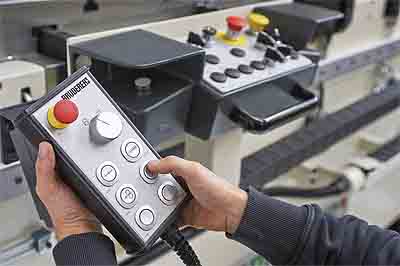 leading high-speed punching and stamping technology producer, the long list of projects the business has cracked on with, will keep Bruderer UK incredibly busy for the next five to ten years.
"It is interesting to see that despite all the negativity emanating from Brexit, investment from our clients seems to be going forward and 2018 turned out to be our best-ever year, with regards to sales. More encouraging still, we have experienced growth in each and every of the sectors we are actively involved in – from the food industry all the way through to microelectronics, the automotive, and the construction industries," Adrian begins.
"Bruderer UK has a key role to play within all these sectors where high-volume, mass production, and high-precision entities are involved. For example, we are working closely with the medical industry, which seems to be growing into an even more prominent part of our business," he continues. "Furthermore, following the recent building fires, the legislation has changed, in terms of how construction internally is established for example certain fixings to any wall. They now need to be supported by metal fixings, as opposed to the plastic ones previously used, and this will send even more business our way."
Adrian goes on to explain the reasons why Bruderer UK's partnership is so valued by its clients: "We have found that the companies we are working for, have not got the necessary skills in-house, so they turn to us with a requirement to be a one-stop shop for them and provide them with a full turnkey solution. Owing to our capability of setting our production line up, tooling and thus making the product, and handing it over to the customer in a straightforward manner, we can take the pressure off our clients by assuming full control of the manufacturing process. In addition, the after-sales support we provide is also absolutely paramount, with us being able to back our machines up 24/7."
In order for it to maintain the efficiency of its backup services, Bruderer UK has fully embraced the concept of Industry 4.0, recognising the importance of making its various machines 'talk' to each other and to the customer. "We have been in tune with this trend for the last ten years," Adrian notes.
"This is also something our clients are asking for and, today, we can provide real-time analysis on OEE (overall equipment effectiveness), which feeds operators with valuable and actionable information about the performance of their machines.
"Regarding the other investments, we have placed as of late, we are constantly looking to equip our machines with new control systems, because some of the older ones have become obsolete. Notably, we do this not just for our latest machines, but for some of the pre-owned presses during refurbishment. It is also key to highlight the integration of our BSTA 510-125B2 press with the BPG22 planetary gearbox and the state-of-the-art BSV300 servo feeder. The result was a game-changing technology that allows the customer to control the development of the stamping process an increment at a time and ram shut height being able to be adjusted a micron at a time, for pin point precision," Adrian discusses.
At this point in time, handling the orders for its machines comes on top of Bruderer UK's list of priorities. As Adrian puts it, "the demands of the whole world have grown immensely, with requirements for bigger output and higher production levels dominating the discourse in the industry.
"We are focusing on this agenda so we meet deadlines required, however in the background we are working on new future technologies that will further improve the high-speed precision pressing industry in accuracy and reliability.
"In the meantime, we will continue looking after and engaging with our customers and try to identify new avenues where we can apply our machines to achieve higher production levels, whilst driving the costs down. There are a number of areas that are set for future growth and we are particularly interested in the move towards the electrification of vehicles, new energies which will considerably increase the opportunities within the automotive and electronics sector," Adrian observes.
Amidst a frenzy of activity, Bruderer UK is currently pondering a relocation from its current base in Luton to the more strategic Midlands area. The company's Managing Director details: "The Midlands is the heart of UK engineering and by moving there, we expect to be able to source new talent much more easily. It is no secret that, these days, it is getting more and more difficult to recruit the right personnel. We have engineers that have been with us for 25-30 years and it is a major challenge to find new employees with the same work ethic and, indeed, intellectual knowledge about electromechanical engineering."
Bruderer UK has adopted another tactic to secure the services of highly-qualified professionals. The organisation has decided to look outside of its own niche sector, recruiting, instead, engineers from the automotive and other industries, whose skills it then adapts to the kinds of technology utilised in its operations. What is more, Bruderer UK intends on launching an apprenticeship scheme to help fight the widening skills shortage gap across the UK's manufacturing industry.
"This will be an initiative that will offer massive support to local enterprises such as the EEF (formerly, the Engineering Employers' Federation) and In-Comm, as we are all very keen on upskilling the youth of the UK," Adrian comments. "Personally, I am convinced that more young people need to be trained in manufacturing, because, going forward, it will be only through manufacturing that the UK is going to ensure its continued prosperity. We regard our involvement in promoting apprenticing as a mission and we look forward to it being a big part of our activities in the years to come," he concludes.
Bruderer UK
Products: High speed and precision punching/stamping technology