Combining tradition with innovation
Celebrating its 50th anniversary in the UK in 2018, Bruderer is preparing for future success through investment and innovation, which will ensure it remains at the forefront of the high-speed precision stamping market
Formed in 1968, the Luton-based company is part of the global Bruderer group, a world-renowned pioneer in high quality punching technology that can trace its origins back to 1943, when it was established by Egon Bruderer. Taking a few years to develop from its humble beginnings into a global player, the group's huge success can be attributed to three key features: innovative and high quality products, extremely high levels of quality production, and a customer-orientated approach to sales and service.
Bruderer UK operates under the slogan of 'one name, a multitude of possibilities.' It provides its customers with a single solution for all their press shop machinery and ancillary equipment,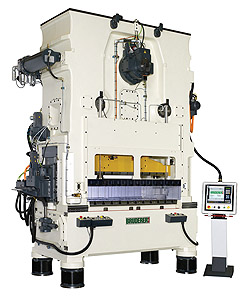 including tooling, coil handling, feed equipment and complete turnkey packages.
The firm also sells control systems, die handling, in-line vision quality inspection, lubrication rollers and spray systems, monitoring equipment, multi-slide bending and forming machines, pre-owned presses, spotting presses, tooling, and carrier and virgin strip welding – all from its Luton headquarters and a satellite facility in the West Midlands. Those seeking services can also tap into the Bruderer UK expertise for machine refurbishment and overhaul, operator and setter training, machinery moves and relocations, machinery installation and commissioning, maintenance and spares.
"We work very closely with our parent company in Switzerland to look at the latest advancements and how we can integrate new technology into our machines. This way we are ensuring we meet our customer's ever-changing requirements for more performance, more versatility and more reliability," says Adrian Haller, Managing Director at Bruderer UK.
A recent example of the company's commitment to technological innovation is its latest model of the BSTA series: the high-performance, fixed-stroke BSTA 280F-88 B2 stamping press, which excels in terms of micrometre precision and higher productivity levels – up to 47 per cent more efficient compared to a press with adjustable stroke. Ideal for the mass production of micro-parts for the electrical, electronics and automotive industries, the BSTA 280F can be operated at higher speeds than a press with an adjustable stroke at the same given length.
This reputation for innovation and quality has resulted in a number of contract wins for the UK company during 2017, including a high-profile contract to support EWS Manufacturing with upgrading its press capabilities. As part of this £500,000 investment, EWS installed its first 250-tonne Zani Power Master press and is already achieving higher stroke rates as it seeks to provide annual volumes of several million units.
The Wolverhampton manufacturer of cold roll formed products now has technology that provides greater speed, control, accuracy and a tool bed of 2000mm x 1400mm. On top of this, it is fitted with cutting edge servo feed technology and is fully integrated into a rolling mill line. A challenging project due to the stringent timescale, the successful delivery of the Zani Power Master further proves Bruderer UK's ability to listen to the needs of customers and work alongside partners.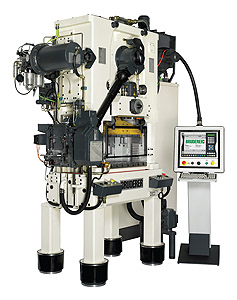 "The reason we were chosen by EWS is because we have a full team of experts on board, from sales personnel to project and service engineers," highlights Adrian. "We can install and procure any kind of turnkey solution for customers and this approach was reflected when we put several Zani machines into Sertec and the ongoing work we do with Clamason. The latter has recently taken machines from us that are now part of a world class medical component production cell."
With UK manufacturing gaining major contracts throughout Europe, China and the Middle East, there is a need to invest in modern and efficient machinery that not only ensures products are manufactured swiftly, but also to high levels of quality.
"Manufacturers know they need to hit the ground running with machines that use as much automation as possible and can deliver high output at a competitive price. We have seen this time and time again with our clients. Through working with us, our customers receive a working system and full training so they can operate the machinery successfully and have a full maintenance and service contract in place," concludes Adrian.
Bruderer UK has enjoyed a record 12 months in which turnover is set to pass £5 million for the first time in its history. The company will enter 2018 in excellent spirits and will look to celebrate its 50th birthday in this country by securing new contracts with manufacturers that require a single source solution for world class, high speed punching technology.
Bruderer UK
Products:
Precision high quality presses and turnkey solutions