The ability to adapt and evolve is necessary for survival. With 30 years in the metal fabrication industry, BTD Manufacturing Inc. has clearly learned how to make adjustments — whether through manufacturing processes or company acquisitions — to maintain its place in the market.
BTD noticed the recession was causing many companies to scale back on inventory, which caused BTD to refine its production process. Regional Sales Manager Jared Lotzer explains that prior to the recession, BTD was able to take more time in production as companies placed orders based on forecasts. However, customers are now making orders based on demand, and asking BTD to supply them quicker. BTD recognized this and made the needed adjustments to retain its clients and stay successful, Lotzer says.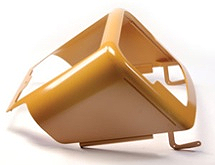 "We worked with an outside consultant group on refining process so we can streamline production and reduce lead-time in half," Lotzer ex­plains. "Our promise to each other inside BTD and to our customer is to reduce our lead-time for newly awarded part to production ready by 40 percent, and we will achieve this."
During production, workers do not wait for one process to finish before beginning the next step. "When the product is half done, we begin working on its other needs for finishing," he says. "We can perform the whole capability and have a full tool room, stamping shop, fabrication, tubing department and welding shop working united. We don't have to send a product out and bring it back; thus reducing our lead-time."
He adds there has been change in behavior and communication styles at the company. "We're starting the process of getting the whole organization in sync," Lotzer says. "From our standpoint, speed is more important than ever with accuracy in delivery a must; it's a build-to-order world now."
A Long Reach
Lotzer points out that BTD's owner, Fergus Falls, Minn.-based Otter Tail Corp., also helps to set it apart from competitors. The parent company generates more than $1.2 billion in revenues with subsidiaries in electric utility, health services, food ingredient processing, plastics, construction and transportation.
Through Otter Tail, BTD has a solid financial backing, which Lotzer explains is important today. "A lot of customers are backing away from suppliers who are mom-and-pop organizations and don't have the cash flow," he says. "While many organizations run up against capacity restraints, we invest in technology and continue to grow with our customers. I like to think we have unlimited capacity."
Over the past year, BTD has worked with many of its clients to consolidate their vendors, which Lotzer says brings price down by creating buying power and improves quality.
"We have a wide breadth of capabilities and we can make the entire product, instead of needing five suppliers," he states.
BTD's recent acquisition of Miller Welding & Iron Works last May added to those capabilities. Located in Washington, Ill., Miller brings more than 40 years of experience to BTD as a custom job shop that manufactures heavy machine parts, metal assemblies and finished components.
"We are pleased to be part of an organization that reflects the customer care and standards on which our success is based," Miller stated at the time of the merger.
With Miller, Lotzer says BTD can expand its operations as well as enter into new markets. "We're working with a new customer base and [Miller] is giving us a greater logistic reach," he explains. "It will be easier for us to work with companies in Illinois, Missouri, Kansas and Oklahoma, with a new shipping location to spread our breadth of capabilities across."
BTD uses three manufacturing plants to increase its production levels and has four warehouse distribution locations so it can service a wider region of clients.
Lotzer explains that if a customer needs BTD to ship part of its order to a plant in Minnesota and part of its order to a plant in Iowa, BTD can ship from two different warehouses, which provides less cost to the customer, as well as faster and more accurate delivery.
Hall of Fame Supplier
In July, BTD Manufacturing was in­ducted into the supplier hall of fame at Polaris, which designs, engineers, manufactures and markets off-road vehicles, and has annual sales of $1.9 billion. Lotzer explains this was a great accomplishment for BTD and a first for Polaris.
"We are the first fabrication supplier to make it into their hall of fame," Lotzer says. "We have been with Polaris for over 25 years and they are our largest customer."
Lotzer points out that BTD's customer list will only grow after the hall of fame induction.
"We get a lot of business from word-of-mouth recommendations from other companies," he says. "Our best advertising is our customers and our solid reputation."
​