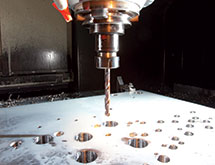 When large OEMs such as a John Deere, Honda, Polaris or The Toro Co. need custom metalworking services, they turn to BTD, Business Development Manager Chris Kambeitz says. "[We're] a total solutions company," he declares.
BTD's history goes back to 1979 when Erling Rasmussen and Paul White Jr. established it in Bismarck, N.D., as the Bismarck Tool and Die Co. Initially, "It was a tool and die shop that made tools for Bobcat," Kambeitz explains.
When the company needed more space, it moved to Detroit Lakes, Minn. In 1984, BTD experienced a 350 percent growth in sales, which required it to move to its current location. There, it installed its first punch press. In 1991, the company entered its current incarnation when it merged with MN-Kota Stamping Inc.
Today under the leadership of President Paul Gintner, BTD also has locations in Otsego and Lakeville, Minn., and Washington, Ill. Additionally, "External tooling is less than seven percent of our overall sales," Kambeitz says, noting that the company's array of services have grown to include assembly, finishing, fabrication, stamping, tubing and machining.
"We're always interested in getting into something new," he says. "Whatever opportunity comes along, we're willing to take a good hard look at it to see how it fits our business in the future and how it may relate or grow our core fabrication plan."
BTD stands as one of the leaders of its industry, thanks to internal growth, Kambeitz says. "[That] has kept us right at the top, size wise and capability wise," he says, noting that it plans to expand its facilities in Minnesota with a large facility addition planned for 2015.
"Capability-wise, we're going to have a better flow through [the facilities]," he says. "Product flow will be better through the shop, with less handling of parts."
Rave Reviews
BTD has won recognition for its work, such as when Minnesota Business Magazine named it the large manufacturer of the year in 2013. "It was a well-deserved award to win for our employees," Kambeitz says. "It's a thank you not only to BTD employees but to our customers and suppliers."
This July, Hearth & Home Technologies also named the company as a preferred supplier. Kawasaki also recognized BTD during its supplier conference in July. The company awarded BTD with its Service Award for the second year in a row. "Kawasaki's Service Award recognizes its suppliers for delivery, production, quality and customer service," BTD says, noting that it was the only metal parts supplier to receive the award from Kawasaki this year.
Going With the Flow
Kambeitz notes that BTD's markets range from agriculture to energy to recreation. "That's how we want to keep it," he says. "If there is an economic downturn, we remain stable in order to support our customer base. There's always a wave of positive and negative flow." He says the mining industry is experiencing a downturn. "Companies that are dependent on the mining industry are extremely slow right now."
Because of such economic conditions, BTD has to carefully consider how much it wants to participate in a market. "When markets dip like the mining industry, we need other industries that are doing well, like the recreation market," he says.
Looking ahead, Kambeitz notes that BTD will be appearing at the FABTECH expo this November in Atlanta. Meanwhile, within BTD's market, he predicts that many OEMS will turn to fully integrated suppliers, which is a status that BTD has nearly achieved.
"[We want to] be our customer's 'first choice' by making 'it' right and making 'it' fast," he says. "I think we're a total solution supplier."