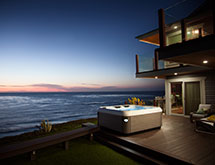 For Bullfrog Spas, ensuring that its products meet the needs of its customers is of equal importance to its bottom line. "The way we approach business is somewhat unique in our industry, in that we place weight on the financial perspective as well as making sure we hit the customer value proposition," says Jerry Pasley, president and CEO of the Bluffdale, Utah-based company. "Most companies maybe focus just on profitability, but we believe in framing that equally with customer value and building plans accordingly."
The company's strategic approach to the luxury hot tub products it manufactures and markets keeps both Bullfrog's dealer base and end-user in mind. "We strive for a customer experience that is best-in-class," he adds. "We look at our dealers and end-users as business partners and not just as customers."
Products are designed with customers and manufacturability in mind. "We do our best to identify what our consumers' needs are and design for eye appeal as well as functionality, so the consumer experience is paramount," Pasley says. "We're constantly coming to market with innovative new products in terms of design and technology."
This approach to business has allowed the company to continue to grow in a luxury market dependent on discretionary spending. "For most consumers, a spa is on the top-10 list of items they'd love to have but won't necessary run out and spend money on," he adds. "It's our job to move that up the list."
Unique Technology
The company's focus on design and innovation extends back to 1989, when founder and inventor David Ludlow set out to create the world's first leak-proof hot tub. Instead of working with the then-existing hot tub technology, Ludlow rethought the entire hot tub system itself. If leaks occur in pipes and because of perforations in the hot tub, the elimination of that infrastructure would help to eliminate the leaks themselves. Ludlow created an entirely new technology that reduces pipe and pipe fittings by up to 90 percent, which today is called the JetPak Therapy System. Bullfrog Spas was founded as a company in 1996.
The highly-engineered JetPaks are removable spa seats, each equipped with an individual array of jets.  The jets in each JetPak are supplied with water and air by an advanced manifold system that eliminates the need for individual pipes.  This H2Air JetPak Manifold and the resulting reduction in plumbing decreases water friction in the plumbing system, enabling a more powerful spa. This reduction in plumbing and the location of the H2Air manifold in the spa's water also make Bullfrog Spas the most energy-efficient in the spa industry. Furthermore, because there are few, if any, holes drilled into the seatbacks, Bullfrog Spas are virtually leak-proof.
Users can choose from 16 different JetPak configurations allowing them to completely personalize their massage experience. "The patented JetPak system really differentiates us in the market," Pasley says, "This technology allows the consumer to customize the product, yet still allows us to operate our plant in an efficient and effective manner."
All Bullfrog spas are supported by a molded ABS plastic structure, dubbed the EnduraFrame, which is made without wood or metal, so it will not rot or corrode.  A molded base has three convenient electrical chaseways, a retractable exterior drain for easy access, and a rodent screen to keep out unwanted visitors.
The base supports a series of injection-molded Z-beams that create an exact connection between the base, shell and cabinet. These injection-molded components are stronger than a traditional wood structure and will last much longer than a metal frame that can rust. The laser precision process used to create each component means the structural columns and spa base are molded the exact same way every time with no human error, resulting in a well-built, durable and worry-free product. Portions of this precise and durable frame and base system are also protected by U.S. and international patents, adding to Bullfrog Spas' differentiation advantage.
Custom Yet Efficient
Bullfrog Spas' manufacturing floor utilizes CNC router equipment provided by Diversified Machine Systems (DMS) to mold, cut and trim JetPaks and spa bases.  "We value our consumers and dealers as partners, but equally value our suppliers and also treat them that way," Pasley says. "Our relationship with our suppliers is paramount to our success."
Suppliers also play a critical role in Bullfrog Spa's lean manufacturing efforts. The company practices lean, Six Sigma, 5S and just-in-time methodologies. "Suppliers help us maintain low inventory levels and ensure components meet our specification and arrive on time," he adds.
Each spa on the company's manufacturing line is built to order based on JetPak configurations, designs and colors. "Our business is custom by nature, but still very lean and efficient," Pasley says. "We've designed our products in such a way that they can be customized without slowing down manufacturing."
Bullfrog Spas recently added tooling and product distribution capabilities to its 100,000-square-foot manufacturing facility in Salt Lake City. "We're very committed to keeping this product in the United States," he adds. "We have the size and capacity at our current facility to handle the next three years of growth and demand."
Appealing Designs
The company regularly refreshes its existing products and introduces new product lines. "We have a three-year plan for products we're going to introduce, and employ a very structured and focused design and development team that ensures regular and exciting product launches that meet consumer needs," Pasley notes.
Bullfrog Spas in November 2014 launched its newest spa, STIL. The highly designed, square-shaped hot tub features two lounge seats and an open seating concept that give users freedom to sit either upright or at a recline. The spa features an elegant modern contemporary design that immediately distinguishes it from competing products, the company says.
"We've designed a true cubistic product that stands out from what you'd call a hot tub today, which typically feature soft corners and distinct contours," Pasley adds. "The clean aesthetics of STIL will appeal more to modern buyers, but it will also fit in nicely in a traditional backyard."
The STIL spa's design has won a number of awards including the 2015 International Forum iF Design Award for excellence in product design.
Pasley credits the company's success in design, manufacturing and marketing to its internal focus on continuous development as well as the work of its staff. "Our team works very effectively in a non-hierarchal, horizontal structure," he says. "The people here have a strong passion to learn and grow in our skillsets and in the ways we develop and manufacture products.
"Ultimately, we're a group of people building products that consumers want, and we take that really seriously, and have built a process and system that allows that to happen," he adds.