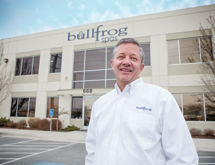 The only thing better than having a unique product, is having the evidence to back up the claim that your product is, in fact, unique. A commissioned salesperson touting the innumerable benefits of a particular product is one thing. Having credible third-party sources make that claim on the product's behalf is entirely different. And having the latter on hand, makes the former that much easier. With independent evidence verifying a product's unique performance, the selling essentially handles itself.
"We are engaged in the manufacturing of hot tubs but more importantly we're engaged in the business of selling and marketing hot tubs," explains President and CEO of Bullfrog Spas Jerry Pasley. "We sell to specialty retailers who sell to the end-consumer and what helps us is our very strong passion for innovation – and that's innovation in the technology and beyond, such as innovation in design."
It all started in 1989 when founder and inventor David Ludlow set out to create the world's first leak-proof hot tub. He created a technology that carries six U.S. patents, multiple foreign patents and has other pending U.S. and foreign patents.
Distinct Design
Instead of working with the then-existing hot tub technology, Ludlow rethought the entire hot tub system itself. If leaks travel through pipes and holes in the hot tub, the elimination of that infrastructure would help to eliminate the leaks themselves. Ludlow created an entirely new technology that reduces pipe and pipe fittings by 90 percent, which is today called the JetPak Therapy System.
The engineered JetPaks are removable spa seats, each equipped with an individual array of jets. JetPaks allow most of the plumbing and jets to be positioned within the spa bathing area, below the water line. The reduction in plumbing reduces water friction through the pipes, enabling a more powerful spa, and the reduction in plumbing and its location within the spa's water makes Bullfrog's spas the industry's most energy-efficient spa. Because there are  few if any holes drilled into the seatbacks, Bullfrog Spas are virtually leak-proof.
"Our key technology is the JetPak," Pasley says. "The end-user can customize the hot tub and pick what jet configurations they want rather than the standard off-the-shelf hot tub. This allows for customization so users can get the water therapy and experience they are looking for. It's a unique patented technology that differentiates Bullfrog from other hot tubs in the world."
It's not the only technology, however, that makes Bullfrog's spas stand out from the competition. Bullfrog Spas are precision-engineered with 100 percent wood-free structures. Dubbed the EnduraFrame, all Bullfrog spas are supported by a molded ABS plastic structure made without wood or metal so it will not rot or corrode.  A molded base has three convenient electrical chaseways, a retractable exterior drain for easy access, and a rodent screen to keep out unwanted visitors.
The base supports a series of injection-molded Z-beams that create an exact connection between the base, shell and cabinet. These injection molded components are stronger than a traditional wood cabinet and will last much longer than a metal frame that can rust. The laser precision process used to create each component means the structural columns and spa base are injection molded the exact same way every time with no human error, resulting in an extremely well-built, durable and worry-free product.
"We are constantly improving our product and we run a true R&D process," Pasley says. "We are not just a bunch of people sitting around redoing the same lines again and again. We truly implement the R&D process that allows us to improve products and move projects forward and prove them out before going to market."
The R&D process always results in Bullfrog Spas answering new customer needs and trends such as sustainability. For instance, when compared with many of its competitors, Bullfrog Spas proves to manufacture products that are more energy efficient. The company's technology is proven to lock in heat thereby reducing energy bills. Bullfrog's full-foam design insulates the spa completely to prevent heat escape. Every single Bullfrog Spa model meets or exceeds the stringent energy guidelines of the California Energy Commission (CEC). Also, because the JetPaks are submerged in water, any heat from water in the JetPak manifold transfers directly to the spa water rather than being lost to the cold outside environment.
Process in Place
Pasley explains that Bullfrog Spas' infrastructure is set up in a way that will support this continuous innovation. With 150 employees, the company's manufacturing operation is based in Salt Lake City. It's able to scale the capacity of its 81,000-square-foot facility up or down based on market demand but the overall trend has continued upward. In fact, since 2003, Bullfrog has experienced an average growth rate of more than 17 percent each year.
"To meet the needs of shareholders and our customers, we need to build an infrastructure to support that growth," Pasley explains. "You can drive topline growth, but if you don't have internal processes in place, it's difficult to execute. We have strong core competencies and embrace planning far enough ahead to have the right people and processes and infrastructure in place, whether it's IT, tools, CNC machining, vacuum processes and all the things we need to manufacture and stay ahead of the curve when growth comes. We want to continue to experience double-digit growth over the next 10 years."
To achieve that growth, the company has adopted lean and Six Sigma practices that allow the company to keep up with the customizable nature of its products without forsaking efficiency and quality. The company's unique SpaDesign software allows end-users to design personal Bullfrog Spas that cater to their individual needs, preferences and styles. Customers can choose JetPak configurations, colors, accessories and other custom options both online and within specialty dealers that carry the spas.
"Some customers will walk into a dealership and select something in stock that they can buy immediately, but that is rarely the case," Pasley explains. "Ninety-five percent of our business is built to order, which is unique for consumer products. The reason is because of the customization of the JetPack system. Customers can pick which configurations they want and the size and types of jet, and then we customize to their needs through our patented technology."
Changing Market
"The person that is very aware of quality or performance or technology with a very strong design eye really recognizes Bullfrog as hitting those targets," Pasley says. "We've broken out of the mold of just baby boomers buying hot tubs. We are successful with young mid-level executives that are aspiring to have a very nice hot tub in their backyard that has good technology and design. We are also gaining awareness with young families and the tech-minded individuals. But any person who has an eye for the BMW and Mercedes is the same customer that responds to Bullfrog Spas."
That's because like those luxury vehicles, Bullfrog Spas meets quality engineering with quality design. The company often works with third-party design firms, such as Rocketship, that come in with unbiased opinions regarding exterior designs.
"We like to bring in forward-thinking, young groups of designers and architecturally minded people and we give them room to say, 'Here is what I think a spa should look like,'" Pasley says. "That's a discipline we put in three years ago to make sure we keep the product fresh. We try to avoid stagnation and instead focus on truly innovating from all aspects – from design to technology to color to the overall experience."
That innovative spirit is what has helped Bullfrog continue its global growth. It has an exclusive license agreement with SCS Industries for the manufacturing and distribution of the Bullfrog product line in Australasia. In 2005, Bullfrog Spas entered into private-label agreement with Villeroy & Boch for distribution of JetPak-equipped spas in Europe. Pasley says the company continues to grow in these markets and is also seeing strong potential in emerging markets such as South America, Africa and the Caribbean.
"Bullfrog's success story comes from the fact of really differentiating ourselves through patented technology," Pasley says. "We are not trying to build the same thing everyone else is building and calling it different. It's truly a success story of how a company can take an idea – especially a patentable idea – and build on it and make a significant difference in the industry."