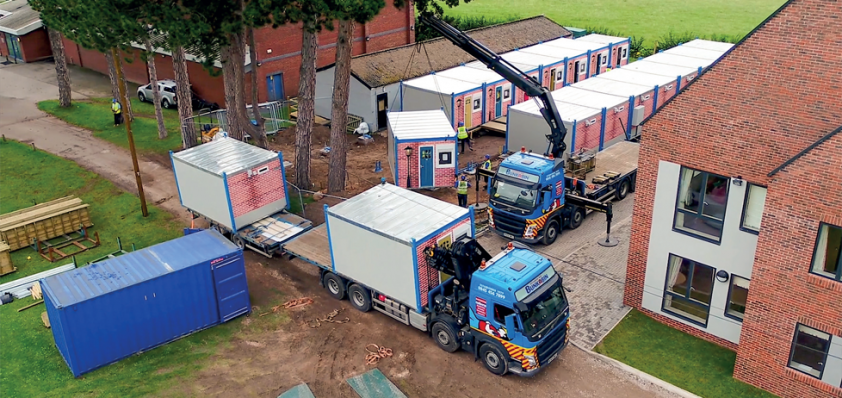 Home away from home
Since 1979, the Rothwell's family company has been buttressed with passion for solutions and determined to deliver excellent accommodation under the Bunkabin name
The story goes that Manchester Cabins, then Frank Rothwell Plant Hire, began in Frank's driveway. A solution-driven and industrious man, Frank would come home after a day's labour and get straight to work on building his first cabin, which he sold after a single advert was placed in the classifieds of the Oldham Evening Chronicle. Towards the early 90s, when construction boomed across England, Frank noticed a trend in the number of deaths amongst builders; a result of carbon monoxide poisoning caused by living in inappropriate accommodation during projects.
"Back then portable units, which served as offices, were being used as living quarters by workers who were supplementing the heating in them and sadly this would result in some deaths from excessive exposure to carbon monoxide," shares Frank's nephew, Ben Rothwell, who also serves as the Business Development Manager. "Frank wanted decent units for workers staying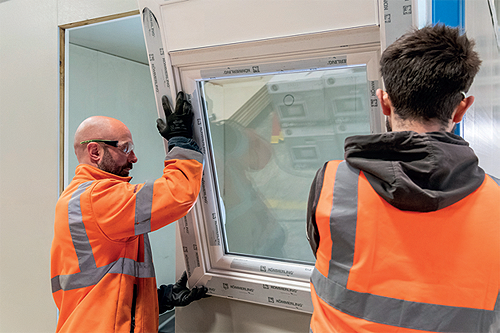 away from home and hadn't even finished building his second one when he received an order for a third and before he knew it, he had a fleet of 300. The company needed its own identity and so Bunkabin was born. We are now the biggest in the country and still have many of the same staff as when we started."
A pioneering family business, the company prides itself on an authentic and versatile product that has been depended on for portable sleeping accommodation since its inception. Now with 3000 units in its fleet, including Junior Deluxe and Bespoke sleepers, diners, toilets, showers, and six lorries to assist with transport, Bunkabin has expanded its market to provide for the likes of the construction industry, events and festivals, universities, agriculture and healthcare, with the BBC, Glastonbury Festival and the Ministry of Justice as part of its clientele. "We haven't done any commercial adverts other than a couple of magazines and we have been lucky that previous clients have believed in our products so confidently that they happily pass on recommendations to others, which is how we grew so quickly. Our units are so robust and energy efficient that in certain circumstances, they are the only ones you can use," says Ben.
The G7 Summit, which took place between 11 and 13 June in Cornwall, recruited Bunkabin to provide accommodation for the security staff, owing to the company's pride in efficient service delivery and quality sleepers. "We had several hundred units down there that are designed with a low-level lifting for safety and we always try to deliver it on our own transport. We are aware that in most cases the only person you might see from Bunkabin is the delivery driver and in that sense, we like to take control and have our own drivers and lorries. We do need support so we use three additional companies that we trust to make sure that when their driver arrives with our product, he is courteous and respectful," explains Ben.
This ethos of respect and excellence is also deeply embedded in the company culture to ensure that each employee takes as much pride in their work as Frank did in his, and in return the management team ensures that every member is valued and well cared for. "We ask people to work hard for us and we reward them for that. From the get-go, we have been a very honest and family-orientated company so we look after our staff and that also feeds into how we excel at innovation and change because everyone trusts in how we do things here. I am a big believer that processes can continually be updated and we should always be looking to improve to make sure our operations are working right, which is why we have an open culture for change, feedback and criticism," says Ben.
With a tightly-knit team, an effective work ethic and affordability, Bunkabin was able to serve as a helping hand during the pandemic by providing suitable accommodation for essential services. "To ensure our own staff were safe, we took everybody's temperatures when they came into work and we put new sanitizing stations everywhere. I think my biggest concern honestly was whether the cabins would still be necessary but as I mentioned, our product is so versatile that we were inundated with services that needed them. We supported the NHS when the doctors didn't have time to go home or couldn't risk taking the virus back to their families. For schools and universities where they have staff and student housing, our units helped increase space for those who had to stay on campus. It actually got to the stage where we didn't have enough units to help everybody," Ben informs us. Across many frontline services, a number of
workers were unable to return home and desperately required accommodation where they could rest well enough to perform their jobs to the best of their ability, regardless of the stressful circumstances. "There are so many services that continue in the background that no one really knows about, which require people on-site. We were able to supply units to those working on the national grid for example, to make sure that the country got electricity while everyone else was at home. Throughout 2020, we didn't stop and because of how hard we worked, we gave everybody a bonus as a 'thank you' for sticking with us. It seemed bizarre that a company could do so well, but its team and staff not be rewarded across the board. That is something we have always prioritized; recognizing staff when the company does well," shares Ben. The team took its passion for company care one step further by gifting £30,000 – approximately the amount of furlough funds it received for those who were entitled due to health reasons – back to Oldham Council, the borough in which Bunkabin manufactures its units. The money was used specifically for those negatively affected by Covid-19.
Even after one of the busiest years of business, the company has no intention of slowing down and wants to continue to push innovation to ensure it remains a leader in the portable accommodation hire industry. "We are constantly looking at reducing the power consumption on our units. We have the largest solar farm in the North West of England right here on our factories, so we want to use that to our advantage and help provide more energy-efficient and eco-friendly sleepers. The other thing is that social distancing has changed the logistics of people sharing a sleeper. Of course, there is a cost implication to letting everyone have their own room, just like there is in a hotel, but we are aiming to reduce that. We want to design a cabin that will cater for single occupancy with the usual en-suite comforts our units already provide. At the end of the day, we are selling sleep to a location that suits our customers and no matter where that location is, our product needs to be of the highest quality so those using our units can continue working at their best because they have rested, slept well and had a great shower," explains Ben.
Frank's values continue to be a sturdy cement holding Bunkabin together. His nephew is incredibly proud of how the company is determined to continue striving for Frank's visions and provide the most trustworthy accommodation for those working on-site across the UK. "He shared the profits, he shared the love and the responsibility and all he asked for is that every person working with Bunkabin does what they can to the best of their ability. His two children, Luke and Su, have now taken over and I see how passionate they are to improve and expand, and I have no doubt that under their guidance and leadership, the business will achieve great things," concludes Ben. Even though Frank has left, there is a fresh sense of excitement as the company heads into its second generation of leadership to continue building on the legacy that he created.
Bunkabin
Services: Producers of portable accommodation to hire
www.bunkabin.co.uk