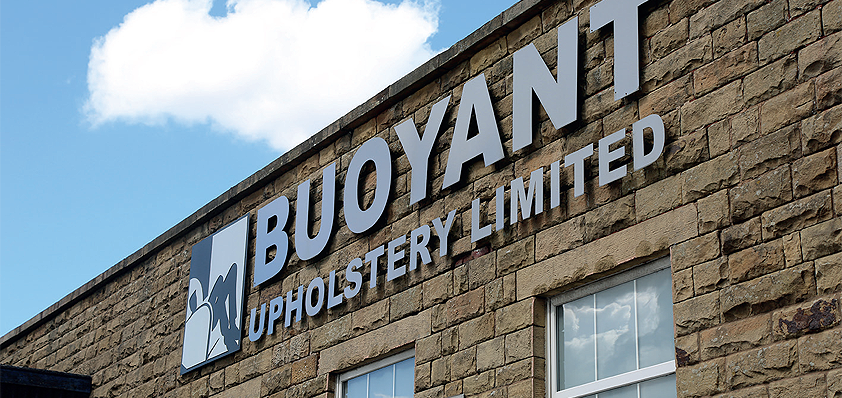 Sofa so good
Having made it through a challenging start to 2020, UK furniture manufacturer Buoyant Upholstery is now experiencing historic levels of demand for its products
After more than a century in business, there isn't much the world can throw at Buoyant Upholstery that the company hasn't seen before, but 2020 has been a year like nothing the firm has ever experienced.
Established in 1909, the company built its reputation as a leading supplier of upholstered furniture for cinemas, theatres, and luxury cruise liners. The firm has since been privately owned by Charles Wade of the Wade Furniture Group, and most recently, in 2013, was subject to a management buyout by private equity group NVM. Now predominantly focused on the production of living room furniture, life at Buoyant has never been quiet, but nothing in the company's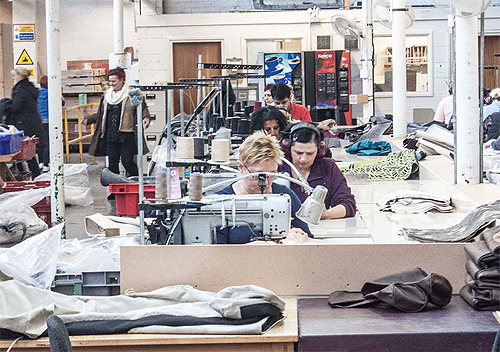 history truly compares to the events of 2020.
"It's been a crazy year," declares Managing Director Mike Aramayo, a 20-year Buoyant veteran who knows the company better than most. "We started fantastically well with a strong order book following Christmas, winter sales, and an exhibition at the NEC. We started working on those orders and in the early part of the year, we were flying. It was then, in March, that retailers had to close down and we couldn't manufacture for them because we had nowhere to deliver the product. We had a struggle throughout April and May obtaining money we were owed, but luckily for us, we dealt with the right retailers and managed to arrange a payment timescale so that we could pay our people what they were owed before fully opening up in June.
"When we started back up in June, nobody really knew what to expect," Mike recalls. "What transpired was something I've never experienced in my 30 years in the furniture industry and I deal with a lot of other MDs who said the same thing. Furniture became the new toilet roll. It was ridiculous. British manufacturing of sofas has never been so busy. Our normal order intake would be somewhere between 1500 and 3000 at its peak, but we were getting weeks of 5500, 5000, 4000, and 4700, continuously. Very quickly, we all realized that there had been a demand built up during lockdown as people began working on home renovations and the minute they could get out and buy a sofa, the market went berserk. For us, it's been phenomenal. It's history in the making."
Having started out in Nottinghamshire, Buoyant is now based in Nelson, Lancashire, where it operates out of three sites, divided into four separate factories. Each factory makes different products, combining to produce the company's full product range of living room mainstays, sofa beds, recliners, foot stools, accent chairs, and similar complimentary pieces. The subdivision of the firm's manufacturing process allows Buoyant to seamlessly increase and decrease production in specific areas in line with demand, an ability that has been particularly useful in supporting the fluctuating requirements of 2020.
In terms of the company's production methods, Mike describes how buoyant blends traditional manual processes with a modern focus on environmentally friendly materials and practices. "Though we do use various technologies and machines for tasks like cutting, we are heavily reliant on manual labor," he says. "Among the benefits of manual fabrication are that it is easy to control and you can increase and decrease production levels very quickly. Of course, it creates the possibility for human error, but you reduce the chances of that happening when you combine manual work with automation, skilled people – our Production Director George Smith has been running an upholstery factory for 40 years – and the best materials.
"Over the last ten years, the environmentally friendly situation has become a big part of our factory operation and now we only deal with traceable FSC accredited timber from replenished forests. Compliance has been a big area of development for us too," Mike adds. "We have two or three people working in our Compliance Department, making sure we're up to the latest British manufacturing standards and compliance efforts. As a result of these endeavors, we are preparing to launch a new model next year, which will benefit from environmentally friendly, reusable fabric. If all goes well, it will be released at the NEC exhibition in January 2021."
Before a product reaches the factory floor, it must be designed. Innovative in its approach, in the early 2000s, Buoyant became one of the first companies in the sector to use external designers as part of its development process. Today, the firm puts a team of six designers – two internal, four external – to work on every one of its projects. For Mike, it's all about gaining different perspectives and a fresh pair of eyes.
"If you're just working with one designer in your factory, you're only getting that person's vision, whereas if you're working with four, five, or six people, you're getting different visions and a broad range of designs put in front of you," Mike remarks. "We pride ourselves on leading in design because design is so important. You can have the nicest team in the world that produces the best furniture, but if your designs are not acceptable to the customer then you are struggling.
"I think there has been a massive change in people's expectations on design over the last ten years. You used to be able to associate different age groups with different designs, but I think that, now, people have a different mindset. Customers will buy a broad range of products from a variety of categories regardless of their age or background. You've got 25-year olds buying products a 50-year-old would buy and vice versa, so it's more important than ever to understand a retailer's customer and manufacture accordingly, producing something you think would fit on their floor.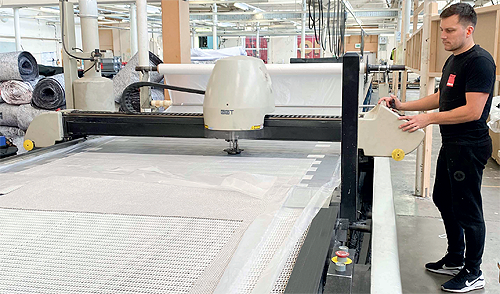 "At Buoyant, we target the middle to slightly upper-end of the market. There is a lot of competition, so we try and design a lot of extras into our product that you wouldn't normally find in our entry-level price point. We always try and give our customers more."
The notion of 'doing more' is not reserved for Buoyant's design process and is evident across all facets of the business. Over the last ten years, the firm has adopted an investment strategy that continuously provides the business with more equipment, more vehicles, more staff, and more training. Buoyant is also committed to doing more for its local community, a sentiment the business put into action in early 2020, when it turned its hand to manufacturing PPE for the NHS.
"At the height of the crisis, we reopened the factory and made gowns for the NHS," Mike reports. "We did it at absolutely no profit to ourselves. I think we actually lost a bit of money, but it didn't matter, we just wanted to do our bit."
Buoyant continued to produce safety equipment up until the resurgence in demand for its own products in late summer. Since then, the company has been inundated with orders and has already been forced to stop taking Christmas delivery requests due to the exceptional levels of activity.
"We are normally well into November before we have to cut our order book off for Christmas deliveries, but this year we did it in early September," Mike reveals. "In terms of production, foam is our most pressing issue right now. Foam is one of the major components for sofas, in particular, for seat cushions. Prices for the material have recently soared due to a shortage of a chemical called TDI used in the foam-making procedure. British furniture manufacturers are now panicking that there isn't enough TDI for the foam companies to supply us with our cushions. It means that we have massive order books but are tackling a week-to-week situation with the procurement of the foam products we need."
This latest challenge rounds off a testing year for the furniture industry, but it is unlikely to derail a company as resilient as Buoyant during what could be a lucrative winter. Though the firm's short-term goal may simply be to fulfill its bulging order book by the end of 2020, Mike is confident that the backing of NVM, and the strength of Buoyant's well-gelled management team, will help lead the business to more success in the future.
"NVM are going to be with us for the long-term, so for now, I think it's a case of stabilizing the business again, getting it back on track, removing the massive peaks and troughs that we've seen this year, and then just seeing where the future takes us," Mike suggests. "I've been here for 20 years now and three of our directors – George Smith, Hans Jansen and Glen Ainsworth – have been here just as long. If I've learnt anything over that time, it's that we have possibly the best team in the industry and that will continue to be one of our major assets going forward. We know each other inside out because we've worked together for so long. Everyone gets on really well and everybody is very good at their individual jobs. It's a group of top professionals that go above and beyond."
Buoyant Upholstery Ltd
Products: Furniture manufacturer
www.buoyant-upholstery.co.uk