Built to last
Having established a world leading position in the hospitality market, Burgess Furniture continues to innovate and meet customer demand to expand into an
ever-growing industry.
In 1959 Gerald Burgess was approached to make stacking aluminium chairs for the Mayfair and Metropole Hotel in Monte Carlo. The company's first order was for 1000 chairs, half of which were to be exported to Monaco, and what followed was a long history of success founded on the core values of innovation, quality and value for money. Since then Burgess Furniture has supplied to some of the most prestigious venues around the world and now exports to over 50 countries every year.
"Burgess has a very clear focus and that is hospitality," begins Sales and Marketing Director, Simon Richards as he outlines the company's client base. "We focus very much on the hotel market, for conference and meeting rooms, as well as banquet furniture and we supply all the main brands such as Marriott, Radisson, Hilton, Starwood, Accor, InterContinental and so on. We are also the brand of choice for many other businesses that have a need for seating and tables such as exhibition centres, training and meeting companies, and sports facilities like Wembley, Cardiff Millennium, Kempton Park, Sandown and Ascot."
'Innovation, Quality and Value for Money', is the company's strap line and is an ethos adopted across the business. "This sums up why we continue to be the leader in our market," says Simon. "We spend a lot of time developing products in conjunction with our customers so they get exactly what they need. Also because we are a manufacturer and not just a component assembler we are able to be very flexible in our approach to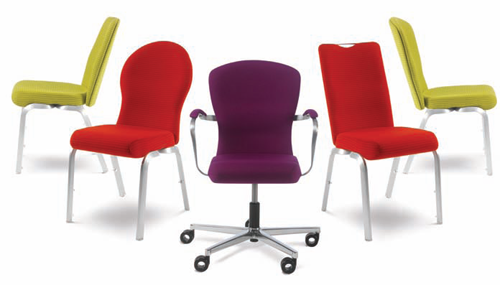 requests from our customers. We continue to invest heavily in design and machinery in order to maintain our competitive edge and offer the best value."
Amongst its extensive range of chairs, tables & accessories, Burgess's portfolio features some iconic and hugely successful products. Simon highlights some of the most popular from the company's history: "The Turni was the very first chair the company made and has changed very little over the years; 56 years on people still want to buy it which is amazing." In recent years Burgess has also launched the Vario, Orvia and Mendola ranges, which have all proved to be very popular. All three are designed withfuncionality, comfort and lightness in mind. "The Mendola takes on board one of the latest innovations in seating, which is Probax," he details. "This is a very clever system of foam inserts of specific geometric design, which leads to a much improved seating position for the user, giving greater comfort and posture. A highly comfortable seat is a major selling point for any venue."
One of the company's most recent successes is the Evosa range of chairs, which was launched in May 2015. "The reaction to this new range has been amazing," expresses Simon. "It has a very slim chromed base and can be supplied as a seat stacking or frame stacking chair. Its unique construction has meant we have taken a large amount of weight out of the chair. Lightweight products are a real selling point, as any operator moving 400-500 chairs on a daily basis will tell you. It's this design and innovation that I believe sets us apart from others in the market."
Another exciting new development from Burgess is the soft seating range, for a more relaxed offering. "More and more hotels require meeting and breakout space that is flexible," explains Simon. "Of course they still want the traditional meeting tables and chairs but they also want the flexible relaxed meeting space as well. We are starting to see these products used front of house and in hotel bedrooms as well, particularly in hotels with a more contemporary design."
Current activity for Burgess illustrates a continued enjoyment of growth and success with a number of new contracts developing with major hotel chains. One particular area that is seeing major growth at the moment is the Middle East, and the company has now established a showroom in Dubai. As Simon highlights: "The Middle East and Africa are the major growth markets for the next few years judging by the number of hotel projects that have been announced. The reaction to this move has been excellent and we are getting hoteliers and owners come along to see the range of products we offer on a daily basis."
The company's global spread is growing all the time. With a joint manufacturing venture in the US, which caters for the American market, and opportunities emerging in the Eurozone as it leaves the recession behind, Simon is confident that this is only set to continue. "Our aim is and always has been to maximise our potential," he concludes. "We have some great customers and some great products. We will therefore continue to develop and innovate in our designs, keep our customer service at the highest level and focus our resources on growing markets as we move forward. To achieve this we will also carry on investing in our people and our production facility."
Burgess Furniture Ltd
Products: Specialises in manufacturing steel and aluminium tables and chairs, including soft seating ranges and accessories
Sites: Four