When manufacturers are managing a global footprint, they must take care not to lose sight of what local customers need. That flexibility is what sets Burke Porter Machinery apart from other makers of intelligent machines and testing systems, CEO David DeBoer says. "We build what the customers want," he says. "We don't push what we want to build."
With 24 locations in 11 countries and a customer base that  spans the globe, Burke Porter understands it needs to be available whenever the customer comes calling. The company makes an effort to have 24-hour support wherever possible because a single downed machine can halt production at an entire factory. "Our goal is to be able to respond within 20 minutes on the phone and 24 hours in person," DeBoer explains. "Our attitude is to leave our cell phones on at our nightstands when sleeping."
Burke Porter's customer-oriented approach has been a part of the company since its founding in 1953. It was family owned and operated for more than six decades before being sold to a Chinese investment financial services company, China Everbright Ltd., in 2015. Today, Burke Porter employs 600 people directly and subcontracts another 90 workers. DeBoer says it also has more than 130 people who handle sales and servicing in the field through other agencies that Burke Porter founded but does not own.
Automotive OEMs such as Volkswagen, Audi, Fiat Chrysler and Ford Motor Co. make up Burke Porter's largest customer base. It also provides equipment to Tier I suppliers such as American Axle, a manufacturer of drivetrain components and systems.
Burke Porter's capabilities go beyond the automotive industry, however. The company also supplies machines to agriculture equipment makers, the aerospace industry and Argonne National Laboratory. "We're one of the leading suppliers in niche markets," DeBoer says. "We expand when the market expands."
More than half of the company's sales comes from its four end-of-line testing machine types: Wheel alignment stations, headlight aiming calibration, adaptive cruise control and roll testing. Its laboratory products include chassis dynamometers to gauge horsepower and emissions.  Smaller segments of Burke Porter's business include noise, vibration and harshness (NVH) testing; manufacturing of small-volume, high-performance parts such as engine components and superchargers; industrial balancing; and specialty machines for wind turbine gearbox testing, waste energy reclamation and aerospace brake testing.
Global Footprint
Burke Porter's global aspiration began in 1988 when the Michigan-based company started shipping to South Korea . It acquired a factory in Europe in 1997 and opened a factory in China in 2004. More recently, Burke Porter has moved heavily into the United Kingdom through acquisitions in 2010 and 2014, and Poland by buying out a local company last year. Its four North American locations are all in Michigan – and its headquarters is in Grand Rapids – but Burke Porter now operates facilities in the United Kingdom, Belgium, Germany, Brazil, India, Poland, China, Japan, South Korea and Indonesia.
DeBoer says that international growth was driven by its customers, who wanted Burke Porter to replicate what it was doing in Michigan near their overseas plants. Further, foreign automakers needed a systems maker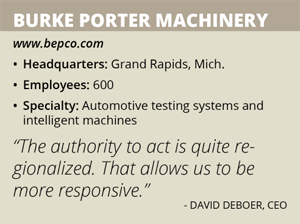 that could provide testing equipment that met U.S. regulations, allowing them to import their vehicles for sale.
Its global presence is a key advantage Burke Porter has over many of its competitors; however, the company still wants to provide customers with the feel of a local operation. That has been accomplished through the company's decentralized manufacturing philosophy. Instead of having one global manufacturing location that outputs all of its products, each region has its own primary production spot – located in Grand Rapids, Belgium and China – with other facilities handling specialized work such as machining, assembly automation integration or industrial balancing.
Decentralized manufacturing can also save customers money. A customer such as American Axle might first develop a product in the United States, but later decide to bring it to market in Europe or Asia. Instead of making the part domestically then shipping overseas, the customer can work with Burke Porter's internal facilities to replicate the manufacturing process abroad. "Building locally gives rise to a distinct advantage: It can buy more machine and less shipping," DeBoer says.
To manage its global production, Burke Porter empowers its plant managers to operate based on regional demand. "The authority to act is quite regionalized," DeBoer says. "That allows us to be more responsive." Because of its regional leadership, the company can talk with customers in their language and know their local customs.
But that decentralization also runs the risk of a region becoming insulated from the rest of the company. DeBoer says the key to avoiding that danger is to develop relationships between the corporate office and local managers so that there is no hesitation to work collaboratively. "That becomes a lot more complicated as our sites, office and product lines expand," he says.
Burke Porter facilitates those relationships through the use of meeting software such as WebEx, regular travel and late-night phone calls. Even though he is based in Grand Rapids, DeBoer says he has gotten to know the people in Burke Porter's foreign factories on a personal level.
Everbright Future
The sales to China Everbright last year opened a path for Burke Porter that was not possible under family ownership. China Everbright acts as a non-managing financial entity. When it was family owned, DeBoer says there was sometimes a caution to invest in the market, even when the market demanded that investment. But now China Everbright is providing the resources for Burke Porter to accelerate its growth. "It has liberated us to react more quickly to market needs across borders."
With financial backing from China Everbright, Burke Porter was able to make three  acquisitions last year. Its expanded lineup now has the company going through a rebranding transition to become the Burke Porter Group. Internally, DeBoer says the company's customer-oriented culture has been unfazed by the ownership change. While he got a new boss, employees throughout Burke Porter saw it as simply a bigger family.
The renewed push for expansion has DeBoer thinking about the next evolution of the company. Burke Porter plans to retain its technology base, but may expand in the automotive sector by working with more OEM and Tier I customers. DeBoer says the company is also considering other industries that need intelligent machinery, but isn't ready to reveal those plans. "We are migrating to a more aggressive growth mentality," he says.