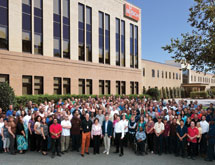 Some companies limit themselves to a single niche, but not Busch USA. Instead, President Charles W. Kane says, Busch USA offers products that meet the needs of many industry sectors. "We sell to more than 50 different industries," he declares.
Based in Virginia Beach, Va., Busch USA manufactures vacuum pumps and systems for industrial vacuum users for markets such as pharmaceutical and chemical, foodservice, vacuum packaging, oil and gas, and semiconductor, Kane says.
"We really do try to provide a complete solution to the customer's industrial vacuum needs," he says. "We'll build systems and integrate [them] into their production process, and support those systems through [their] lifetime."
The company, a subsidiary of Busch GmbH, opened its first location in Virginia Beach in 1975 with a 5,000-square-foot facility and three employees. Over time, Kane says, the company expanded its staff to nearly 400 and serves industrial vacuum users across the United States.
Additionally, Busch GmbH is celebrating its 50th anniversary this year, Kane says. "We just had our global celebration in Maulberg, Germany, on Sept. 12," he says, noting that Busch USA recently held a celebration in Virginia Beach.
Extra Value
Busch USA has doubled its size in the past seven years as it has grown to nine locations across the United States and in Puerto Rico. This has been accomplished even as many of its competitors have moved out of the United States, Kane says.
Its success often leaves competitors puzzled, he notes. "One [thing I hear from others] is, 'Virginia Beach can't be the cheapest place to produce a pump,' which is correct," Kane admits.
But the value of Busch USA's products helps justify that extra cost, he insists, with attributes such as better performance and reliability. "When you look at the total cost, the value proposition is really there to provide the best value to [customers]," he says. "[With] what we do here in the United States, we can justify expanding."
Lean and Green
Busch USA has utilized lean manufacturing methods to eliminate waste for the past five years, Kane says. "Over time, we've been extending it throughout the business," he says. "We do a lot of things with kaizen and continuous improvement."
The company also follows green practices, including the use of alternative fuels, recycled packaging and an initiative to reduce wastewater. In its production process, "We re-purify and reutilize the water," he says.
"If you take a look at the amount of raw materials that goes into landfills, we've reduced that number," Kane boasts. "We've almost had a 40 percent reduction in the waste since implementing these changes."
Busch USA also follows the ISO 14000 environmental management standards. Although it has not attempted to achieve the certification, "We use those objectives as guidelines to run our business," Kane says.
Locally Focused
Kane joined Busch USA nine years ago after working for General Electric and Eaton. He praises Busch GmbH's leadership, which has long strived to stay on the cutting-edge. For instance, "They were the third company to incorporate in China in 1978," he says.
Additionally, as Busch GmbH expanded, it stayed focused on the vacuum industry and hired locally. Although many firms appoint one of their own staff members to lead an operation in a foreign country, Busch GmbH prefers to hire a native.
"They said, 'We think there's a value to [having a local person],'" Kane says. "In most cases, local nationals are running all [our] different companies around the world. They've been that way since the very beginning."
The Big Picture
Kane says Busch USA will stay focused on growing and evolving as necessary to keep up with changing market trends. "We always have to have our heads up and looking at what's going on," he says. "It's really [based on] being the total value solution to the customer."
For instance, Busch USA has paid close attention to what's going on in the oil and gas industry, Kane says. "[They've] had a rebirth over the last couple years," he says. "There's a lot of activity in offshore as well as pipeline transportation."
Kane also expects Busch USA to continue its path of growth.
"We'll probably start to [take] a bigger role in the United States," he says, noting that its staff members can participate more in its customers' growth. "We [will help our customers] come up with a solution and support it through the lifespan."